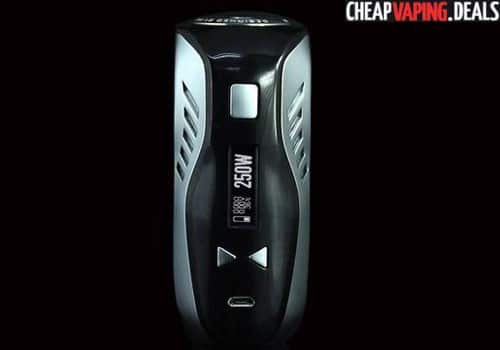 Here's a fantastic price for the HCigar VT250 DNA 250 Box Mod.  I received one in the mail from Gearbest, and this DNA 250 is absolutely sweet with durable materials and great feeling in the hand.
Update: This Item Is Out Of Stock Everywhere – Check  Similar DNA250C Mods Below
Overview
The VT250 is the latest Hcigar DNA Box Mod and it packs a punch.  It is built with a DNA 250 chip board from Evolv allowing it to put out up to 250 watts of power and accurate temperature control with most coil wire types.
The mod utilizes a DNA 250 chip that is popular in  the vaping marketplace for precise temperature control and easy customization via Escribe software.   The previous VT167 by Hcigar also utilized a DNA 250 chip, but it could only fire up to 167 watts due to the fact that it only stored  two 18650 batteries.  The VT250 is powered by triple 18650 cells allowing it to fire up to 250 watts, down to a resistance of  0.10ohm and can utilize temperature mode in the range of 200 to 600 degrees Fahrenheit with titanium, nickel and stainless steel heads.  With these features, this mod will support virtually any build, tank or atty you intend to use it with.  And, there's up to 8 firing presets that can be personalized by using the Evolv website to download Escribe software and installing it on your PC or mac.  Preheat functionality also allows for higher initial output for temperature control users.
As always, Evolv ensured that their chip boards are one of the safest in the marketplace.  The Hcigar VT250 is built with reverse polarity protection, high temperature protection, short circuit protection, low resistance protection and low voltage protection.
The dimensions of this brand new DNA mod come in at 40mm x 95mm x 51mm, making it a small for a triple cell mod.  The unit is constructed from zinc and aluminum alloys, has an elevated silver connection bezel with a springloaded pin for easy atomizer installs, features water resistant buttons and is built with a large 0.91 inch DNA 250 OLED screen that features an intuitive menu.
The battery bay door easily slides off and is made from a leather-like material that features a VT250 logo to further add to the unit's premium look.  Batteries are easily swapped out with clearly marked polarities and gold plated contacts to prevent voltage drops.  If you prefer to charge the cells while they are in the unit, you can simply use the on-board charging technology that will top off the cells at a fast 2 amps in a balanced and safe way via the USB port.  Although it is not listed in the specs, you should also be able to continue vaping the VT250 while it's plugged in.
Video Review
Features & Specs.
Utilises the DNA 250 Chip by Evolv
Measurements: 40mm x 95mm x 51mm
Weight: 215g
Made from zinc alloy and aluminum alloy
Colors: black only
Springloaded 510 connection
0.91″ OLED screen
Water resistant power and adjustment buttons
Magnetic battery cover
Uses triple 18650 external batteries (not included)
Micro USB 2A fast charging port
Balanced charging technology
Micro USB firmware upgrades
Passthrough vaping technology
Power output range: 1W to 250W
Temperature control range: 200°F to 600°F or 100°C to 300°C
TC mode supports SS / Ti / Ni200
TC modes lowest resistance: 0.10Ω
Power mode lowest resistance: 0.20Ω
Voltage output range: 0.5V to 9.3V
Voltage input range: 9V to 12.6V
Maximum current output: 55 amps
97% efficient
Escribe desktop software for easy customization of settings
Short circuit protection
Low resistance protection
Low voltage protection
Over-temperature protection
Reverse battery protection
Pictures
Total Views Today: 1 Total Views: 291