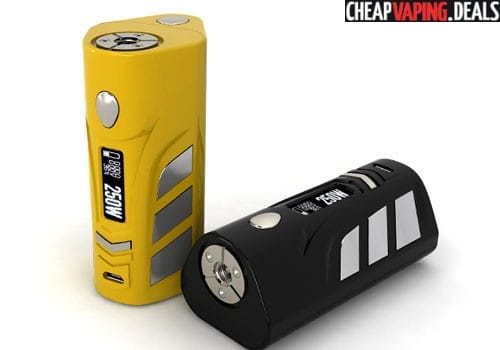 Here's a fantastic price for the HCigar VT250S DNA 250 Box Mod. 
Update: This Item Is Out Of Stock Everywhere – Check  Similar DNA250C Mods Below
Review
Overview
The VT250S is the upgraded version of Hcigar's VT250 DNA Box Mod.  As was the case with its predecessor, the VT250S is built with a precise DNA 250 chipboard, but is newly designed, features a completely different paint finish, and can be used with 2 or 3 batteries.
What really sets this mod apart from the previous version is that you can power it with either two (167W) or three batteries (250W) by using one of two battery covers.   The process of removing/installing these is very convenient with a simple press of the button or by flipping a switch depending on what setup you've chosen.  With three 18650 batteries installed, the HCigar VT250S is slightly smaller than the previous version with measurements that come in at 38mm (W) x 49mm (L) x 86mm (H).  The width and length are reduced by  4mm and 9mm respectively with only two cells in the VT250S battery bay.
The design and colors of the unit are completely new. The new unit is still made from zinc alloy but features a brand new "body of toast" paint finish that is available in black or yellow with silver accents. The firing button is also oval instead of square, the two adjustment buttons are integrated into one arrow instead of two, the atomizer bezel is no longer built with an elevated ring and the form factor is rhombus shaped instead of oval.  But, this mod's 510 atomizer connection is still spring-loaded for flush installs, the buttons are still water resistant and the 0.91″ inch DNA 250 screen hasn't been changed.
With three cells, this DNA 250 chip is capable of up to 250 watts of power, while two installed batteries allow for a maximum of 167 watts.   The mod's temperature range is  200 to 600 degrees Fahrenheit and the lowest atomizer resistance comes in at 0.10ohm.  Variable temperature modes will work with stainless steel, titanium, and nickel coil heads.  Eight memory slots can be customized by visiting the Evolv website and installing Escribe software on your computer.  In temperature control, there's also a preheat system for customized output levels during initial firing.
As usual, this DNA 250 chipboard includes low voltage protection, low resistance protection, short circuit protection, over-temperature protection, and reverse battery protection.  There's also a balanced charging system to the top of the cells while they are inside the VT250S.  Charging occurs at a fast 2 amps and allows for continued vaping while the mod is plugged in.
Overall, the VT250S may be an excellent buy because it combines the best of the  VT250 and VT167 into one mod.  But, it is uncertain if the new design with an alternative paint finish looks and feels as good as HCigar's previous devices.
Features & Specifications
Built with a DNA 250 Chip by Evolv
Use with dual or triple 18650 batteries
Two included battery covers
Measurements: 38mm x 49mm x 86mm (triple batteries) or 34mm x 40mm x 86mm (dual batteries)
New design
Zinc alloy toast paint finish
Colors: yellow or black
Springloaded 510 connection
0.91″ OLED screen
Water resistant buttons
Fast Micro USB 2A charging
Balanced onboard charging
USB firmware upgrades
Pass-through capable
Power range: 1W to 250W (3 cells) or 167W (2 cells)
Temperature range: 200°F to 600°F or 100°C to 300°C
TC mode: SS / Ti / Ni200 compatible
Lowest resistance in TC mode: 0.10Ω
Lowest resistance in power mode: 0.20Ω
Voltage output: 0.5V to 9.3V
Voltage input: 9V to 12.6V
Highest current output: 55 amps
97% efficient
Escribe desktop software for easy customization of settings
Short circuit protection
Low resistance protection
Low voltage protection
Over-temperature protection
Reverse battery protection
Gallery
VT250S Review
Coming soon…
Total Views Today: 1 Total Views: 127