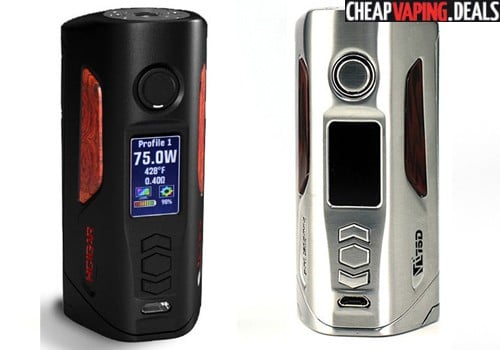 Update: The H
Cigar VT75D DNA 75C Box Mod
 Has Been Discontinued – Check  Newer Evolv DNA Mods
Or
All Mod/Kit Deals
Here's a discount for the HCigar VT75D that features an updated Evolv DNA color chip.
Overview
The VT75D is another Hcigar box mod that utilizes the latest Evolv DNA 75 color chip.  The device features a compact design, works with single or dual 18650 batteries, is completely customizable with Escribe software,  has an additional adjustment button for effortless menu navigation, and a full-color 0.91-inch screen with themes that can be uploaded.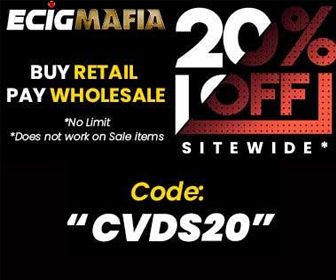 This mod is made with a  DNA 75C color chipboard that allows the use of several themes.  Simply install Escribe software to upload your favorite look.  On the control face, there's a full color 0.91 inch TFT screen with a vertical menu that looks amazing and of which the fonts can be changed. The menu's vape data includes current power/temperature, resistance, a brightness icon, a settings icon, a battery level bar, and a battery percentage left indicator.  Underneath the TFT display are three adjustment buttons so you can easily change settings and modes or change the wattage/temperature. Fonts on the full-color display can also be changed.
The device is compact, measuring 35mm x 39mm x 89mm, while the zinc alloy construction makes it light and durable.  Available colors are black or silver.  Both colorways have two wood inlays to add to the box mod's high-quality appearance.   At the top, you will see a 510 connector bezel that prevents leakage, is spring-loaded for easy atomizer installs, and is made with gold plating for maximum conductivity.
Powered by one or two 18650 batteries, the battery bay is accessed on the bottom via a sliding cover that flips open.  Inside, you will see clearly marked polarities. The cells can also be topped off while inside the mod by plugging in its USB port to any wall outlet or computer, with the included cable. Although not indicated in its specs, the Spider 200W's micro USB port should charge at a 2 amp current, so you can get back to vaping in no time.
In addition to amazing customization with Escribe and the color screen, this DNA 75C is also capable of accurate & precise operation. The maximum output is 75 watts, the highest temperature is 300 degrees Celsius and the lowest atomizer resistance is 0.15ohm.  A full suite of precise temperature control works with nickel, titanium, stainless steel as well as TCR.
Spider 200 Features & Specs.
Updated Evolv DNA 75C chip board
Dimensions: 35mm x 39mm x 89mm
Weight: 115g
Colors: Matte black, silver with wood inlay
Made from zinc alloy'
510 threaded connection

Springloaded pin
Gold-plated for electrical conductivity
Anti-leak design

Fire button with LED indicator
Large full color display

TFT
0.96″
Vertically orientated menu
Customize wallpaper
Upload themes
Change fonts
Easy customization with Escribe computer software
Three adjustment buttons

Easy menu navigation
Plus button
Minus button
Additional confirm button

Utilizes dual 18650 batteries

Also works with one battery
Fast 2A micro USB charging
Easy bottom sliding battery cover
Balanced charging system

Power output range: 1W to 75W
Temperature Control range: 100°C to 315'°C or 200°F to 600°F
Output modes: TC-Ni/TC-Ti/TC-SS/VW/TCR
Resistance range: 0.15Ω to 3.0Ω
Output voltage range:0.2V to 9.0V
Included with purchase:

VT75D without batteries
Micro USB cable
Warranty card
User's manual
Gift box
Pictures
Total Views Today: 1 Total Views: 282