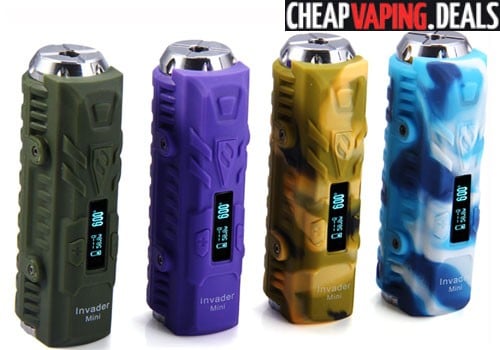 Update: The Heatvape Invader Mini 50W Has Been Discontinued – Check  Newer Box Mods & Starter Mod Kits Below
Overview
The Heatvape Invader Mini 50w is the toughest mod ever created.  You can throw it against a wall and the wall will lose every time.  It's amazing how much mistreatment the Mini can receive and still work.   Just check out the video below where the reviewer runs it over with his truck.    And, the device is also resistant to shock, water and dust.  It's constructed of brass, zinc alloy and silicon and is available in gray, black, green, blue, yellow, purple and blue camo.
But, don't let the Invader Mini's toughness and portable size fool you.  The mod features very precise temperature control up to 600°F and can fire atomizers as low as 0.1Ω. The unit also has intelligent coil detection functionality: it will only fire in temperature mode when a nickel coil is installed.  For a small device, it boasts a generous power output of up to 50W.  With all these technical features, the Invader Mini is compatible with almost all atomizers or sub ohm tanks out there.
Because the Invader Mini was designed to be water resistant, the connector is revolutionary with an adjustable connector cap that will be compatible with any 510 atomizer.   This setup is also compatible with any RDA builds.
The device is powered by one 18650 battery which is hidden behind a screw cap which features an o-ring to keep any water out.   The side of the device features one 0.69″ diagnal OLED with an easy-to-navigate menu which displays battery level, resistance, temperature and wattage.
With the Invader Mini, you get all the features of a regular box mod in a extremely strong, portable device.   If you are looking for a reliable device to take with you when you're going out, this one may be for you.
Features
Dimensions: 31.5mm x 39.5mm x 102mm
Eco-friendly materials
Body constructed of zinc alloy and brass
Silicon sleeve with rubberized finish
Shock and dust resistant
Waterproof level of IPX4
Power output: 1 to 50W
Variable voltage: 1V to 9.9V
Automatic temperature control
Temperature control range:  200°F to 600°F
Power mode resistance range: 0.16Ω to 2Ω
Temperature control mode resistance range: 0.1Ω to 1.0Ω
Intelligent coil detection
Powered by one external 18650 battery
510 threaded connector cap to ensure water resistance
Atomizers sit flush
Connector fits RDA
Many available colors
More information on the Invader Mini on the Heatvape website
Video Review
Total Views Today: 1 Total Views: 399