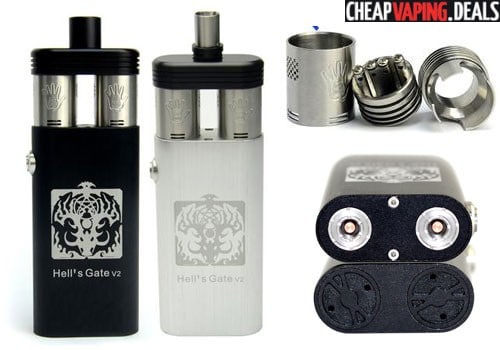 Update: The
Yep Hell's Gate V2 Kit
Has Been Discontinued – Check  Newer Mod & Vape Kit Deals Below
Overview
The Hell's Gate V2 kit features a new version of the Hell's Gate Mechanical box mod and includes the Yep V2 RDA that features dual RDAs. With the newer setup, resistance has been lowered to 0.1Ω and the mod, battery removal has never been more easy can now fire up to 170 watts with a fully charged battery.  You can get this kit in either white or black.
The V2 mod has never been easier to use.  In addition to the lowered resistance level, the bottom is now hand screwed making it more convenient than ever.  Safety has also been upgraded with built-in PCB protection in case your atomizer's resistance is too low for the mod.  And, the two RDAs are also upgraded for huge vapor and flavor.  You can choose to vape the mod with either one or both of the RDAs or your own.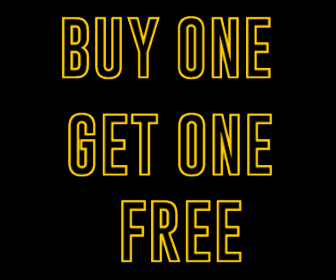 The mod uses dual 18650 batteries for long vape times.  The battery caps at the bottom have been changed to be easily removed by hand and they also features 4 holes for battery ventilation.  At the top of the device, there's a 510 threaded connection with a floating copper center pin for maximum conduction and flush RDA installs.  And the side fire button is ergonomic for ease of use.
The dual RDAs in this kit measure 22mm across and feature a quad post deck with a split center posts for easy building.  The juice well is quite deep to prevent frequent dripping and airflow is adjustable via multiple air holes on the sleeve.   To produce maximum vapor, the unique airflow control ring can easily set the the denseness of the vapor and a tornado effect further enhances flavor and vapor production.  Air slits at the bottom also keep the RDAs cooler.
The drip tip hole measures 14mm across but you can also use your own with the included 510 adapter.
Video Review
V2 Mod Features & Specifications
Aluminum construction
510 threaded connection with copper springloaded center pin
Utlilizes dual 18650 batteries
Easy screwed dual battery covers with ventilation
2 air holes on the each bottom cover (total 4 air holes)
Up to 170W of output with fully charged cells
Lowest atomizer resistance: 0.1Ω
Over puffing protection
Low voltage protection
Reverse polarity protection
Short circuit protection
PCB protection
V2 RDA Features & Specifications
Diameter: 22mm
Two included for massive vapor or mixing e-liquid flavors
Drip tip: 14mm hole
Drip tip adapter
Copper 510 center pin for maximum conductivity
510 threading connection
Quad-pole deck for dual coil builds
Split center post
Heat fins for cooling
Massive juice well
Adjustable airflow control via multiple holes on the sleeve
Bottom air slits for additional cooling
AFC allows for changing denseness of the vapor
Swirling air effect
Showering effect
Pictures
Total Views Today: 1 Total Views: 860