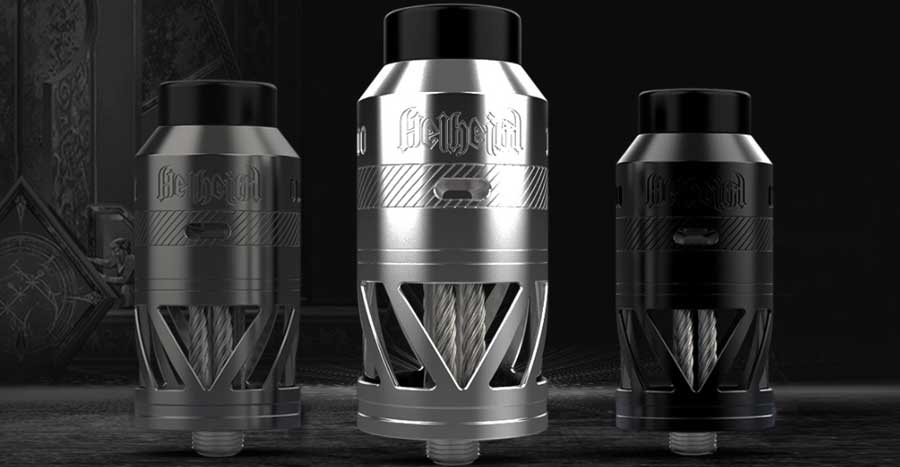 Here are cheap deals to buy the Hellvape Helheim S RDTA. With 5 available colors, this top coiler RDTA features easy coil building, dual honeycomb versatile airflow, excellent wicking, easy refilling, and a 5ml juice capacity.
Overview
The Hellvape Helheim S RDTA was designed and developed in Germany and features a postless deck that is compatible with single coils.  Because there are no posts, there is a large and open space with plenty of room to build your favorite coils. And, 10 internal air holes are located right underneath the deck for the best possible vapor production.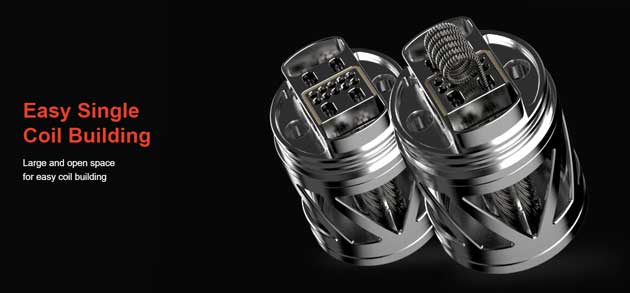 The Helheim S RDTA also has versatile airflow that consists of dual honeycomb top slots with 10 small holes for huge vapor and indisputable flavor production.  And, there is also a bottom air slot which means you can set the RDTA to bottom & side airflow, bottom airflow only, or top airflow only.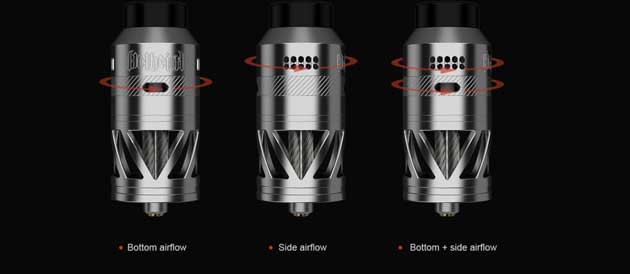 Juice flow to the coils is also enhanced with this rebuildable dripping tank atomizer.  As you may see, inside the chamber there are two strands of steel wire that effectively transfer vape juice to the coil's cotton to prevent spit back and dry hits.  These 316 stainless steel wire strands measure 7mm x 7mm by x 3mm.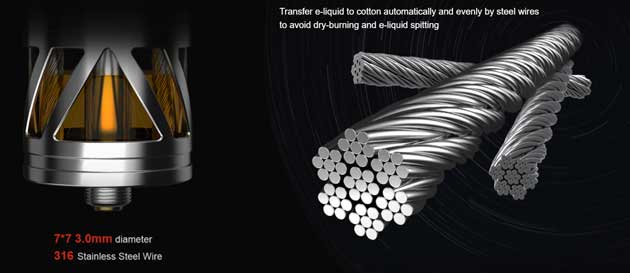 Refilling the 5ml  reservoir is said to be a breeze thanks to dual e-liquid holes to easily inject with vape juice.  However, if you are in the European Union or the United Kingdom, you will receive a 2ml version of the Helheim S RDTA due to regulations.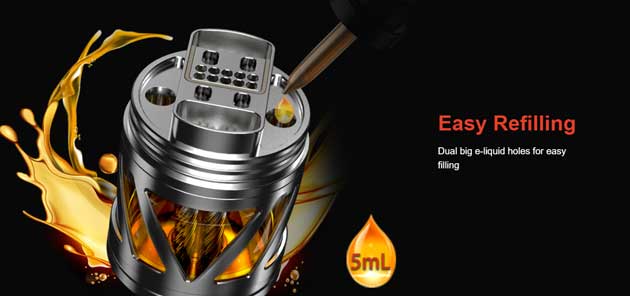 Choose from 5 colors: gunmetal, stainless steel, gold, matte full black, or blue.
Features & Specifications
Measurements: 59.8mm x 25mm
Weight: 77g
Developed in Germany
Top cooler RDTA
Colors: blue, gold, SS, black, gunmetal
5ml juice capacity
TPD juice capacity: 2ml
Dual top filled juice ports
Single coil build deck
Lots of room for building
Postless deck
Dual honeycomb airflow system

Top honeycomb airflow
Single-slot bottom airflow

Steel wire inside the chamber for incredible cotton wicking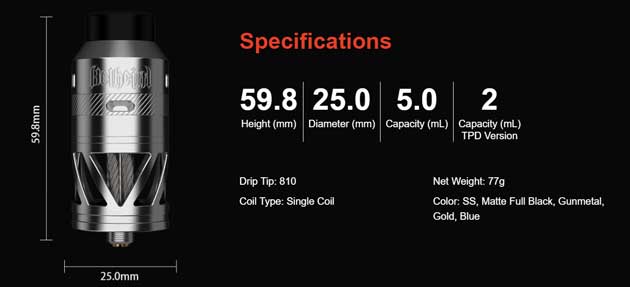 What's Included
Helheim S RDTA
Extra Glass Tube
1 x Ni80 0.37Ω coil
2 x Steel Wire
Coil Cutting tool
Bag Of Accessories
Manual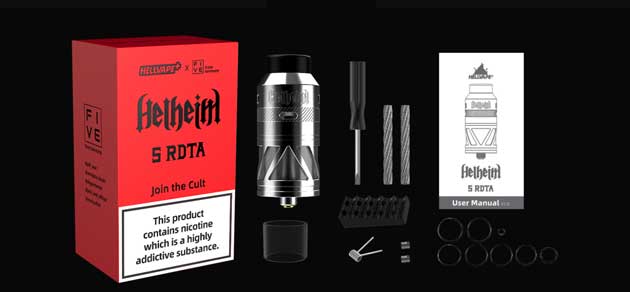 Comparable Products
Total Views Today: 2 Total Views: 789