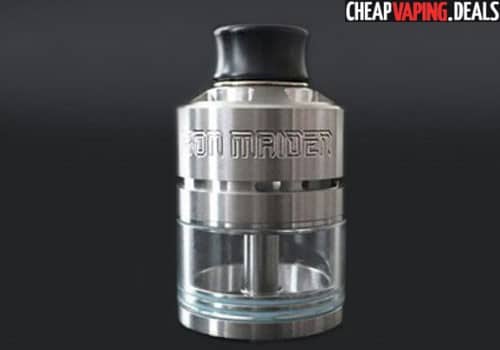 Update: The
Hellvape Iron Maiden RDTA
Has Been Discontinued – Check  Newer RBA Deals Below
Overview
The Iron Maiden RDTA by Hellvape features a large dual post build deck, huge 3.5mm post holes and a massive 8.5ml tank capacity.  It was designed to create an RDA vape experience, but without the hassles of continuously dripping e-juice.
The RDTA is made from stainless steel, glass and is quite large with dimensions of 30mm x 56mm.  This allows for a huge tank reservoir which comes in at 8.5ml and is easily topped off with a one-of-a-kind filling system.  The design looks amazing with a fine appearance that really stands out due to the delicately carved Iron Maiden logo.   At the bottom, there's a standard 510 connection pin for easy installation on any mod.  Included with purchase, you'll receive a gold decorated Delrin wide bore drip tip and a 510 adapter to use with your own mouthpiece.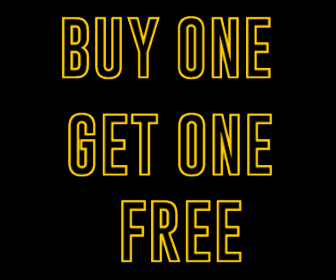 Airflow is also quite unique on this RDTA.  It is adjustable at both the bottom and at the top via a one-of-a-kind airflow control system that allows for a more customized vape experience.
The Iron Maiden is built with a dual post deck that is located in a full ceramic chamber.  In combination with the Peek insulation, the ceramic results in good heat insulation, making the device easier to clean and providing pure vape flavors.  The deck itself measures 22mm in diameter and each post has two massive 3.5mm wire holes that will take any wire you can think of, including hybrid builds.  For maximum conductivity, the posts are gold or silver plated.
The tank is also built with an anti-spitback design to prevent e-juice from entering the drip tip and mouth.
Video Review
Features & Specs
Measures 30mm x 56mm
Made with pyrex glass and stainless steel
Tank capacity: 8.5ml
510 threaded connection pin
Detailed carved logo
Top and bottom adjustable airflow
One-of-a-kind top fill system
Prevent spitback system
Insulated full ceramic chamber
Wide 22mm deck with silver/gold plated posts
Dual 3.5mm post holes
Gold-decorated Delrin wide bore drip tip
Gold-decorated 510 drip tip adapter
Peek insulation
Works well with hybrid builds
Pictures
Total Views Today: 1 Total Views: 242