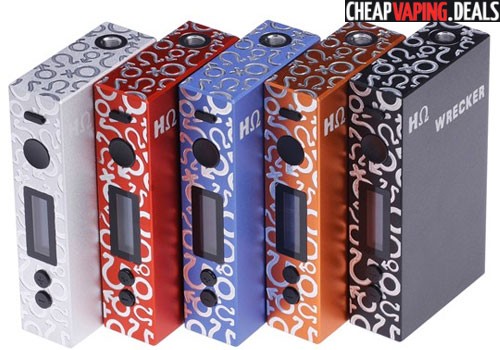 Update: The
Hohm Wrecker G2 151W TC Box Mod
Has Been Discontinued – Check  Newer Box Mods & Starter Mod Kits Below
Overview
The Hohm Wrecker G2 is nicknamed to Mr. Bond of box mods because it is able to fire atomizers with just 0.007Ω of resistance in both temperature and power modes.  It features an amazing menu with easy access to advanced perameters and highly efficient operation.
This next generation of Wrecker mod measures 4.31″ x 0.94″ and is made with a full CNC casing that is constructed from aluminum with high strength T2024-T3 to make it extremely resistant to damage. You can go ahead and drop this mod from a 10th floor of a building!  The CNC casing has the Hohm symbols integrated throughout for an amazing look.  And, the buttons are made from electrostatic tempered aluminum which prevents them from scratching and button flex.  At the top of the device, there's a 510 connection with a push pin that is build with a high-tensile strength spring.
The G2 is made with an FSK chip that reads coil wire via time, resistance and power flow for extreme accuracy of volts and wattage.  The chip is able to measure kanthal and nichrome and all metal temps.  The OLED also has dedicated menus specifically for Ni, Ti, SS or any other metal.  And the advanced sanity menu setup permits fast access to advanced settings and parameters.
The mod has a wattage range of 10W to 151W, has a temperature range of 200 Fahrenheit to 700 Fahrenheit and has an insanely low resistance range of 0.007Ω to 3.0Ω.  Temperature is adjustable in .1W or 1W and temperature in 1°C or 10°F.  Temperature control will work with Ni, SS, Ti, NiCr, K & all permutations.
Overall, this looks like an amazing mod with too many specifications to list here.  Check out the G2's homepage on the Homtech website.
Video Review
Total Views Today: 1 Total Views: 347