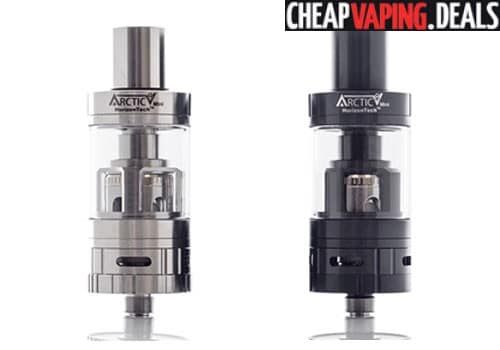 An awesome price just posted on the Horizon Arctic V8 Mini Tank.  
Overview
Yet again, Horizon is changing the way you vape with the Arctic V8 Mini Sub Ohm Tank.  It features a beautiful design, quad adjustable airflow and an easy top fill setup.    The tank has a really clean look and is constructed of stainless steel and glass.  It has an e-liquid capacity of 3ml.
What sets the Mini apart is the wide range of coils, with ingenious design, that can be installed.  These new coil structures result in excellent flavor and vapor production.  The Hive and Tiger coils that are included with the tank feature both flat and round wire with twisted kanthal.  This allows for a unique coil heating system which improves performance, vapor production, flavor and allows the Mini to take up to a massive 120W of power.
At the bottom of the V8 Mini, you will find quad adjustable airflow.  All four airslots have dimensions of 7mm x 2mm permitting an amazing amount of airflow. The tank also sports a unique splash proof vent to eliminate e-liquid spit back while vaping.  And, it's topfill to make refilling a breeze thru the large juice ports at the top.
Overall, the Arctic V8 mini is said to have excellent flavor and vapor production.  If you are into upgrading your tank collection, don't forget to add this one.  In addition to the tank, you will also receive a 0.35Ω hive coil, 0.30Ω tiger coil, a replacement tank tube and extra o-rings.
Features
Diameter: 22mm
Body made of stainless steel
Glass tank tube
510 threaded connection
State-of-the-art V8 coil structure
Works with standard V coil heads
Unique heating elements
Includes 0.35Ω Hive coil rated at 80W to 120W, made with double dual twisted kanthal
Includes 0.30Ω Tiger coil rated at 60W to 80W with flat and round twisted kanthal
All coils made with 100% Japanese organic cotton
Top fill to easily add e-liquid
Large juice ports to prevent mess
Quadruple adjustable airflow
Airslots measure 7mm x 2mm
Spash proof vent to prevent spit back
Video Review
https://www.youtube.com/watch?v=HR2-ACmqRgU
Total Views Today: 1 Total Views: 52