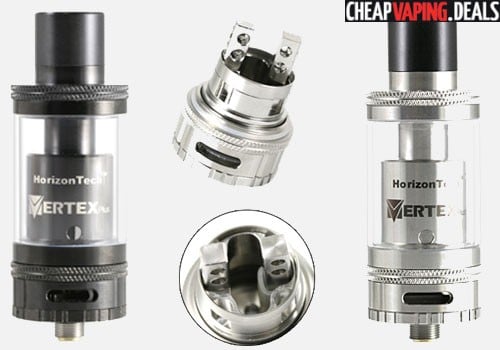 Update: The
Horizon Vertex Plus RTA
Has Been Discontinued
– Check  Newer RTA Deals Below
Overview
The Horizon Vertex Plus is an RTA that features large post holes, plenty of build space, amazing airflow and adjustable wick holes.
The device is made from stainless steel with a glass tube tank.  It features a gold plated 510 connection for maximum compatibility and electrical conduction.  And, it comes with a food grade 10mm Delrin widebore drip tip that effectively resists heat and also a drip tip adapter, so you can use your own.
The RTA is capable of holding 4ml of e-liquid to allow for vaping without frequent refills.  The device features a threaded top fill setup which allows for mess free refills via large dual ports below the top cap.
The Vertex Plus measures 25mm in diameter which allows for ample building room and easy coil installation. The RTA features an elevated build deck with dual posts that feature large 3mm diameter post holes.    The positive post is built with peek insulation for high wattage vaping while the negative post is milled onto the base. There's also quadruple 4mm half circle wick holes that are adjustable to permit easy control of juice intake.
The unit is also built with amazing airflow to allow for smoother vaping.  The internal airflow has a giant 10.5mm x 5.5mm airflow corridor that crosses the entire diameter of the RTA to allow for maximum internal airflow to keep vapor cool.   The internal airflow is fed by triple external 10mm x 2.5mm air holes.  Because air travels quickly and directly to the deck, the Vertex Plus is said to be perfect for high wattage vaping with amazing flavor.
Overall, the Vertex Plus looks like a solid RTA with huge airflow, a large tank capacity and a big build deck that is easy to work with.
Features & Specs
Diameter: 25mm
Made from stainless steel and glass
Gold Plated 510 connection
Widebore Delrin drip tip
510 drip tip adapter
Top fill system with two large fill ports
Tank capacity: 4ml
Large build deck
Dual post with two 3mm wire holes each
Four 4mm adjustable wick ports
Peek insulation
Triple exterior airflow 10mm x 2.5mm
Huge internal airflow 10mm x 5.5mm
RTA stays cool
Video Review
Total Views Today: 1 Total Views: 161