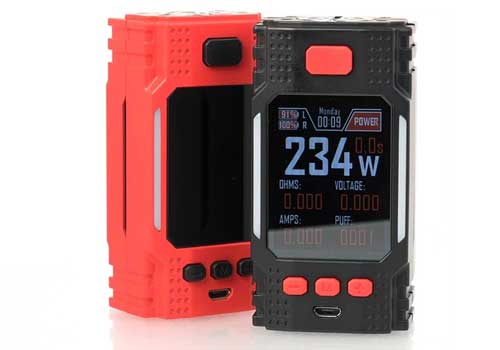 Here are cheap deals for the Hugo Vapor Ranger GT234W Box Mod.
Review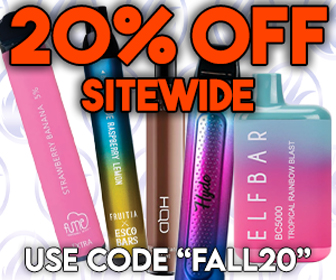 Overview
The Hugo Vapor Ranger GT234W features a massive 2 inch full color display, a brand new design, an adjustable RGB LED, 234 watts of power, nickel/titanium/stainless steel temperature control, TCR mode, dual 18650 battery compatibility, fast micro USB charging and firmware upgrades.
Design-wise, both the black and red color options look amazing thanks to an asymmetrical appearance that is said to be ergonomic in the hand and small dimensions of 45mm x 31mm x 88mm. At the top, there is a 510 threaded connection that is compatible with atomizers up to 26mm without overhang. On the front, there is a humongous 2 inch IPS display screen that shows vape data with super larger font and in an extremely clear manner. The resolution of this screen is an incredible 320 x 240 pixels. Included vape data you will see on the menu are two battery bars, a real time clock, current mode, puff time, current power or temperature, resistance, voltage, amperage and puff number. Additionally, you may choose to display a real time analog style clock. On both sides of the Ranger GT234W mod, you will find two LED light stripes that of which the color can be set to your liking.
On the technical level, the Hugo Vapor Ranger GT234W can operate in the following modes: power, nickel/titanium/stainless steel temperature control and TCR mode. Or, you may put it in RTC mode which displays a real time clock on the screen. As its name indicates, the GT234W can put out up to 234 watts of power and is compatible with atomizers down to 0.06ohm. Powering this mod are two 18650 batteries that are accessed at the bottom or can be recharge via the micro USB port underneath the screen. The charging system works with a fast 2 amp current so the process will be finished in no time at all.
Features & Specifications
Dimensions: 88mm x 45mm x 31mm
Made from die casting zinc alloy material
Ergonomic design
Colors: red, black
510 threaded connection

26mm diameter without overhang

2 inch IPS screen

Full color
Clear and large font
320 x 240px
Real time clock

Dual LED lights can be customized
Built with GT234 M4 MCU chipboard
Powered by dual 18650 batteries
Fast 2A charging system
Power output range: 0W to 234W
Minimum atomizer resistance: 0.06ohm
Temperature control with nickel/titanium/SS
TCR mode
Unique customer user mode for ramp style vaping
Firmware upgrades
Gallery
Comparable Products
Total Views Today: 1 Total Views: 439