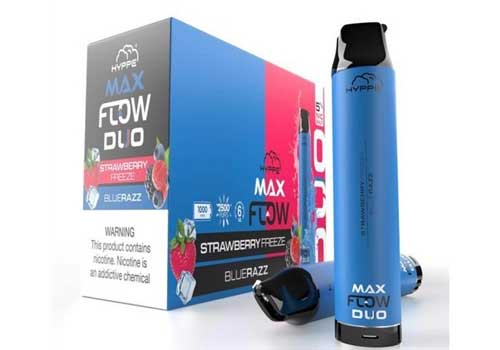 Here are cheap deals to buy Hyppe Max Flow Duo Disposable at a low price.  This disposable pod kit features a 1000mAh integrated battery, 6mL pods filled with 50mg salt nic vape juice, 2 flavors per pod kit, and about 2500 puffs.
USA Deal:

$10.49/Each

  Use coupon code WeLoveYou30 at checkout (exclusive 30% off sitewide – rock bottom prices on everything)
Description
The HYPPE Max Flow Duo Disposable is the latest, high-end disposable that is portable and that you may just toss when it meets its lifespan.  This particular device  features up to 2500 puffs, eliminating the need for refilling, charging or annoying maintenance.
Best of all, each Max Flow Duo Disposable has 2 flavors that you can switch between by rotating a convenient bottom ring. And, there is no fire button so simply take a draw on the mouthpiece to fire the device.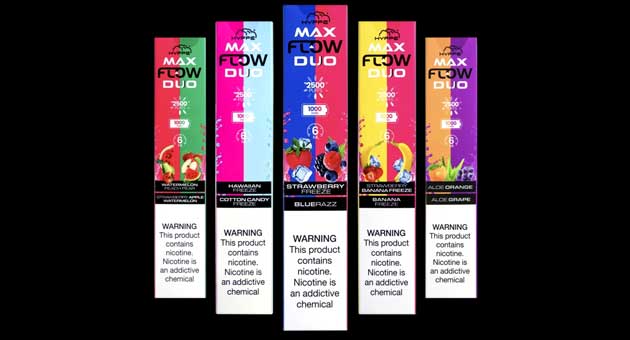 Flavor Options
Lush Freeze/ Peach Freeze
Kiwi Strawberry/ Strawberry Guava
Strawberry Freeze/ Bluerazz
Aloe Orange/ Aloe Grape
Chewy Watermelon/ Blue Gummy
Strawberry Banana Freeze/ Banana Freeze
Lychee Freeze/ Lychee Guava
Hawaiian Freeze/ Cotton Candy Freeze
Aloe Grape/ Aloe Lush Freeze
Features
2500+ puffs
Adjustable airflow control
6mL pods
Two flavors per device
50mg nic salt vape juice]
1000mAhj integrated battery
Related Deals
Total Views Today: 3 Total Views: 223