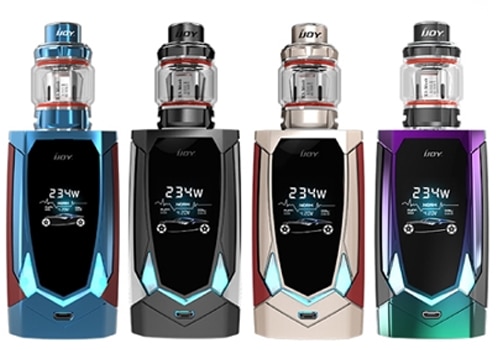 Here's a cheap deal for the iJoy Avenger 270 Box Mod or Kit. 
Similar Products
Review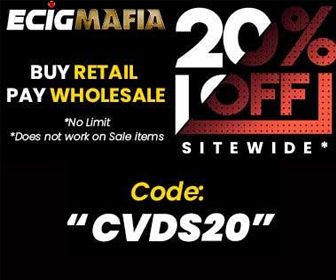 iJoy Avenger Mod Overview
The iJoy Avenger 270 Mod is said to be the first "voice control" box mod, meaning its software and hardware were made so the device can recognize speech, understand spoken commands, and carry them out. This is a brand new concept in vape devices, and iJoy claims the Avenger 270 Mod will eventually be capable of AI!
For voice control of the Avenger 270 Mod, you simply say the words "Hello iJoy", followed by one of these recognized commands: auto power, auto watt, power high, power low, lock device, unlock the device, turn on light, change color, music light, romantic light, light off or shut down. With future firmware upgrades, this mod should be able to additional commands, so stay tuned to this page for that!
From a design perspective, the mod looks to be compact to easily be carried on the go. The appearance is similar to iJoy's Diamond PD270 and the unit is available in these colors: mirror rainbow 1, mirror rainbow 2, mirror purple, mirror green, mirror silver, mirror blue, matte champagne gold, and matte black.  By looking at the picture, it appears that the front of the device features triple LED lights which are sure to light up while the device fires and provide visual feedback. These lights can be customized via voice control with some of the options including romantic and music lights. Above the lights, there is a big screen that has a visually pleasing menu and allows for navigation by way of two adjustment buttons underneath. Two battery bars are hidden inside the wheel of the car at the bottom of the menu which looks pretty cool. On top, the Avenger 270 is built with a centered 510 atomizer bezel that should be compatible, without overhang, with 30mm diameter builds or tanks.
On the technical level, this new voice recognition box mod utilizes two 20700 batteries for longer vaping times. The unit is also compatible with 18650 cells, but you must use an included adapter to use the less powerful cells. A micro USB port allows for charging the batteries while they are inside the mod. The port is sure to also support firmware upgrades, especially with the voice recognition software that will hopefully be continuously updated. Power-wise, the Avenger 270 Mod supports up to 234 watts of power, up to 600 degrees temperature output (nickel, titanium, stainless steel heating elements & TCR), and can fire with a resistance as low as 0.05ohm. A unique custom user mode will allow for ramp-style vaping and there will be other taste modes including soft, normal, hard, and max.
iJoy Avenger 270 Kit w/ Avenger Tank
If you get the full Avenger 270 Kit, you will also receive the Avenger Tank. It measures 25mm x 51mm, and can hold up to 3.2ml of e-liquid, but if you install an included bulb-style glass reservoir, the juice capacity goes up to 4.7ml. Refilling this atomizer is a breeze thanks to a threaded top cap that can be removed to reveal dual fill ports that you may simply squeeze juice thru. Two external air intakes are adjustable at the bottom for huge airflow, especially in combination with the wide-bore drip tip that comes with the Avenger Tank.
Up to 5 differently rated coils work with the Avenger. With purchase, you will receive the X3 C1S coil that has a 0.35ohm heating element and fires in the range of 40 to 80 watts. Or use the X3-Mesh Head which is a unique coil with a large heating surface for massive flavorful vapor. It should be used from 40 to 90 watts.
Features & Specifications
Avenger 270 Mod
Dimensions: unknown
Voice control technology

Say "Hello, iJoy" and one of these commands

Shut down
Light off
Auto power
Auto watt
Power high
Power low
Lock device
Unlock device
Romantic light
Music Light
Change color
Turn on light

Portable & compact design
Adjustable LED light
Colors: matte black, matte champagne gold, mirror blue, mirror silver, mirror purple, mirror green, mirror rainbow 1, mirror rainbow 2
Ergonomic feel
Centered 510 threaded connection

Compatible with atomizers up to 30mm wide

Large firing button

Spans the entire side for easy firing

Large front-located OLED display
Works with dual 20700 or 18650 batteries

Use the included adapter to install 18650 cells
Micro USB charging

 Operating modes: VW/TC-Ni/TC-Ti/TC-Ni200/Memory mode (including TCR)
Taste modes/custom mode

Soft, normal, hard, max, custom

Power mode output range: 1W to 234W
Temperature control range: 100℃ to 315℃ or 200℉ to 600℉
Output voltage range: 0.5V to 9V
Power mode resistance: 0.1Ω to 2.5Ω
Temperature control resistance: 0.05Ω to 2.0Ω
Safety protections
Firmware upgrades
Avenger Tank
Measurements: 25mm x 51.0mm
Tank capacity: 3.2ml (standard glass) or 4.7ml (bulb style)
Top fill setup
Dual bottom adjustable airflow
Dual bottom adjustable air slots
Wide bore drip tip
Pre-installed: 0.35Ω X3-C1S coil /40W to 80W
Included: 0.35Ω X3 Mesh coil /40W to 90W
Optional coils

Optional: 0.20Ω X3-C3 coil /90W to 110W
Optional: 0.30Ω X3-C2 coil /60W to 100W
Optional: 0.40Ω X3-C1 coil /60W to 90W
In the Package
iJoy Avenger PD270 Box Mod
Micro USB cable
18650 battery adapter
2 manuals
Warranty card
Avenger Tank
Two coils
Extra glass
Tool pack
Gallery
Total Views Today: 1 Total Views: 7,297