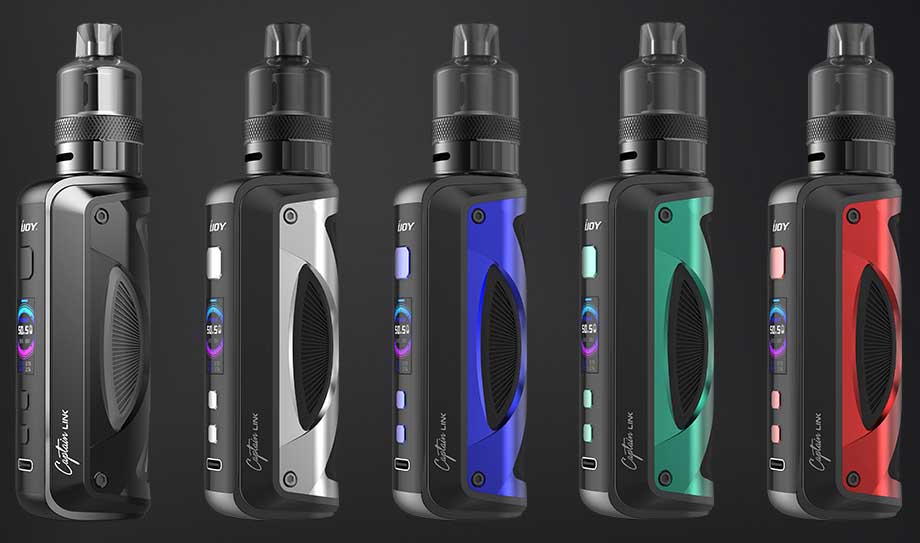 iJoy Captain Link: 100W TC Pod Box Mod Kit
Here are cheap deals to purchase iJoy Captain Link Box Mod or Kit.  The mod features portability, a full-color screen, 18650/21700 battery support, TC mode, TCR mode, power mode, and USB-C charging. Meanwhile, the pod in the kit has a 5mL juice reservoir, a 0.15ohm mesh coil, a 0.5ohm mesh coil, an adjustable air intake, and easy bottom-fill system.
Deals
Review
Exquisite Appearance & Portability
With measurements that come in at only 40mm by 30mm by 140mm, the iJoy Captain Link Kit is small, making it easy to carry around.  And, even though the dimensions are small, the attached pod tank can still take up to 5ml of juice, so you'll be able to vape quite some time, without a need for a refill.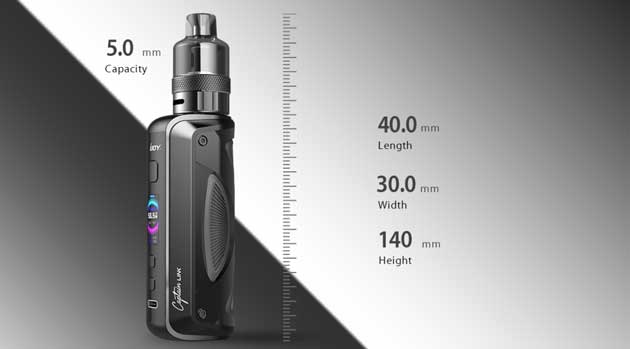 As you may know, there are already a variety of Captain mods and kits in the vape marketplace, but the Link introduces five brand new color options: black, stainless steel, blue, green, and red.  At first glance, this setup looks amazing thanks to four beautiful shell-style inlays that is sure to turn heads.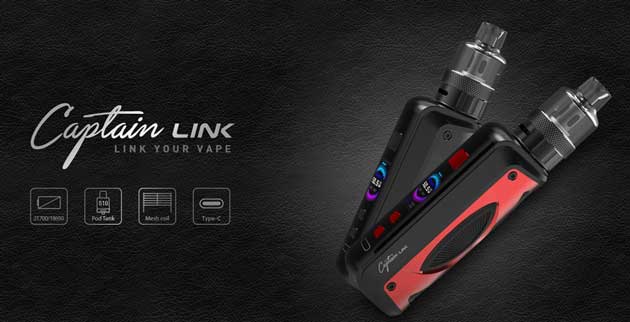 On the control face, there's also a brand new 0.69″ screen that features a full-color user interface and tons of vape indicators.  On the display, you'll be able to see data such as current wattage, current mode, atomizer resistance, battery charge level in a crystal-clear fashion.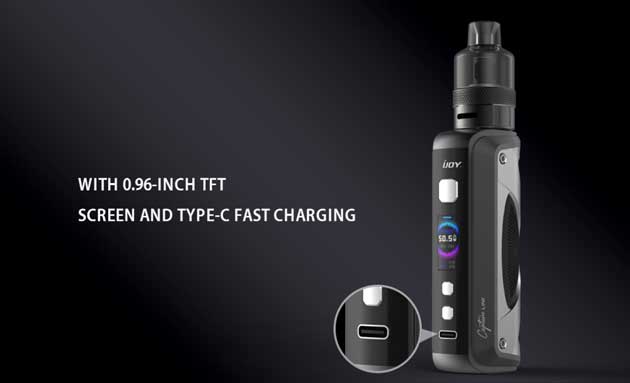 Powerful UNIV S Chipset For 100W Of Power In 3 Modes
Inside the iJoy Captain Link mod, you will find the latest UNIV S 2.0 chipset that is said to be safer, more intelligent and is capable of producing up to 100 watts of power.  Moreover, the device is able to operate in three different modes: power, temperature control, and TCR mode which is virtually unseen in competing devices.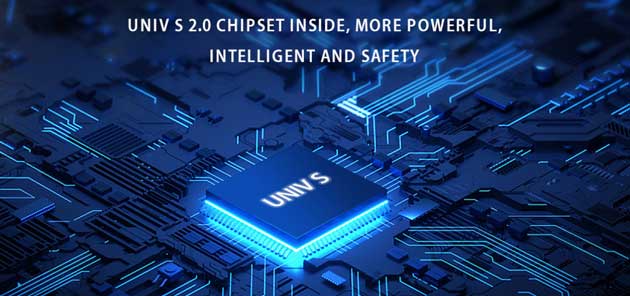 The setup may also operate with either a 18650 or 21700 battery, both of which are rechargeable via a USB-C port located on the control face.  To swap out the cell, simply twist the bottom cap to expose the battery bay.  It is important to note that you'll need to use the included adapter with the 18650 battery.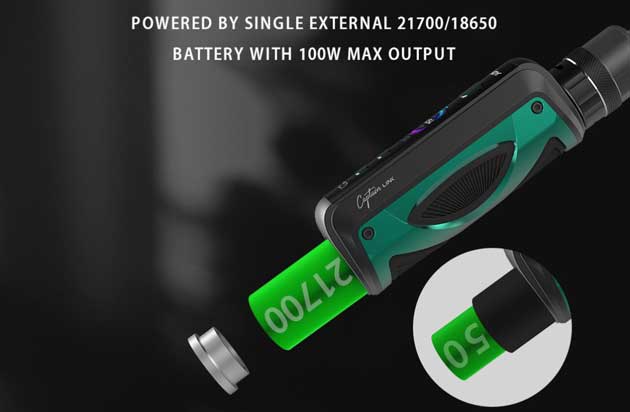 The chipset also provides for a multitude of protections and indications.  This ensures a safer vape experience.
Lower power protection: when the battery voltage goes under 3.4 volts, power is stopped and a red LED light will flash
Atomizer connection indication: the mode indicator flashes when the cartridge makes contact with the battery
Short circuit protection: if there is a problem with the atomizer, the output is stopped and a red LED will flash 8 times
No atomizer indication: if there is no contact or poor contact with the atomizer, a red LED will flash 3 times.

Two Mesh Coils Inside A 5ml Pod
At the top of the iJoy Captain Link kit, you'll attach the Captain Pod Tank that can hold 5mL of e-liquid and is transparent so you may see if a refill is required. Adding vape juice is quite easy and occurs via a bottom fill port: simply unhook the atomizer from the mod, open the silicone plug at the bottom and squirt e-liquid into the exposed opening.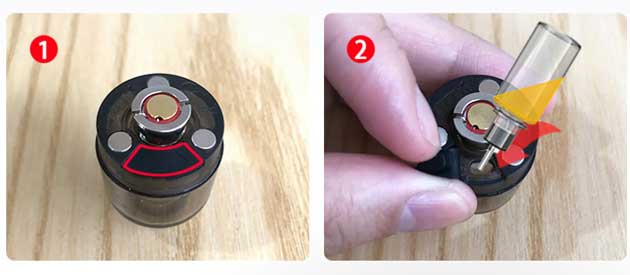 Little other information in regard to the pod has been released at the time of this writing.  However, what we do know is that it includes a 0.15ohm mesh coil (pre-installed) and a 0.5ohm L5 mesh coil, both of which are sure to heat fast and create flavorful vapor.  And, there is a single adjustable airflow slot at the bottom, as well as a 510 connection which means the atomizer can be used with a variety of box mods in the marketplace.
Features & Specifications
The entire iJoy Captain Link pod mod box kit measures 97mm x 40mmx30mm and is constructed with zinc alloy, silicone, and PCTG.  With a range of 5 to 100 watts or 300 to 600 degrees Fahrenheit, the mod works in power, temperature, and TCR modes,  And, it is compatible with any atomizer above 0.05ohm resistance.  For power, the mod utilizes a single 18650 or 21700 battery, recharged by way of a 5V/1.5A charging port.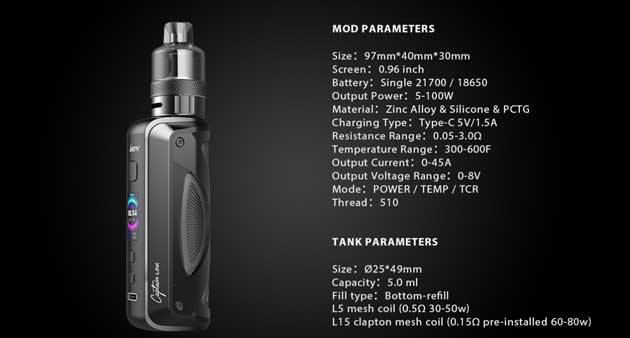 The 5ml pod tank attaches to the mod section via a 510 threaded bezel. Near the bottom, there is an adjustable airflow slot to change air intake to either an L15 0.15ohm or 0.5ohm L5 mesh coil, both of which can be found in he box.  And, a bottom refill juice port makes adding e-liquid quite simple.
Package
With the purchase of the iJoy Captain Link,  you will receive the mod, a pod tank, a 0.15ohm coil, a 0.5ohm coil, a 18650 battery adapter, a Type-C cable, a manual, and a warranty card.

Related Deals
Total Views Today: 1 Total Views: 1,814