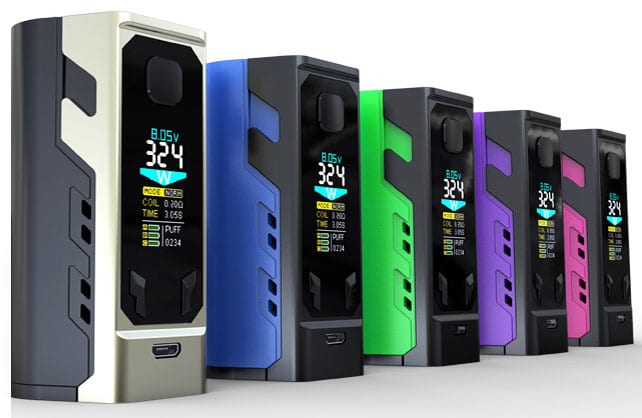 Check out these cheap deals for the IJoy Captain X3 324W Box Mod or Kit w/ 8ml Captain X3 Tank. This powerful mod works with triple 20700 batteries  for extreme vaping times. You will get long vaping times from this smallest triple cell mod in the marketplace!
Overview
The IJoy Captain X3 box mod is quite groundbreaking. The device features triple 20700 batteries for a whopping 9000mAh capacity, a large full color display,  temperature control with a number of heating elements and is compatible with large diameter atomizers.
With a maximum output of 324 watts, this device is one of the most powerful mods in the market place. The unit utilizes three 20700 batteries that have a combined capacity of 9000mAh for really long vaping times without recharges. The three 3000mAh 20700 cells are loaded into the bottom battery compartment that is built with a flip door for easy access. The cells can be recharged via the micro USB port on the front which is also utilized to perform firmware upgrades. Best of all, you may also use triple 18650 batteries with the included battery adapter.
In addition to the massive output in power mode, the Captain X3 mod is also capable of operating in temperature control with nickel, titanium and stainless steel heating elements. And, there's a TCR mode for veteran vapors who want to enter custom resistance information for their coils.  Unfortunately, neither the maximum temperature or resistance range are indicated in the specificatons, but we would imagine they come in at 600 degrees Fahrenheit and 0.05ohmm respectively. The mod is also designed with a custom user mode that is sure to make it easy to set ramp vaping times during initial firing or a taste mode such as powerful, normal or soft.
On the design level, the unit measures 79mm x 51mm x 44.6mm, so it is extremely compact and is said to be the smallest triple cell box mod in the marketplace.  Available colors include black, silver, blue, green, purple and pink. On the control face, you will see a large rectangular fire button with rounded edges and adjustment buttons that have a modern shape. In between, there's an huge full color display that uses a vertical format that indicate vape data. On the menu, you will see voltage, wattage/temperature, mode, resistance, puff time, puff counter and triple battery bars.  At the top, there's a 510 springloaded connection for flush atomizer installs. The stainless steel threaded bezel was designed to handle builds or tank up to 26mm wide.
Features & Specs
Dimensions: 79mm x 51mm x 44.6mm
Smallest/most compact triple cell mod
Colors: pink, purple, green, blue, silver, black
Utilizes triple 3000mAh 20700 batteries

Combined capacity of 9000mAh
Extreme vaping times without recharging
Also compatible with 18650 batteries
Micro USB charging

USB port is also used for firmware upgrades

Hinged bottom battery door
Battery ventilation holes

Full color display

Vertically oriented menu system
Triple battery bars

510 springloaded connector

Stainless steel threaded
Level atty installs
Compatible with 26mm atomizer, tanks, builds

Maximum power output: 324W
Operating modes

Power
TC Ni
TC SS
TC Ti
TCR

Unique custom user modes for ramp vaping
Input voltage range: unknown
Output voltage range: unknown
Temperature range:unknown
Resistance range: unknown
Pictures
Total Views Today: 1 Total Views: 469