Here are cheap deals to buy iJoy JoiBar S Disposable at a low price.  With 25 flavor options, this disposable vape pen kit features incredible taste, a dazzling appearance, 300 puffs from a 10ml prefilled cartridge, adjustable airflow control, a charging port for the 650mAh battery, and a 1.0ohm mesh coil.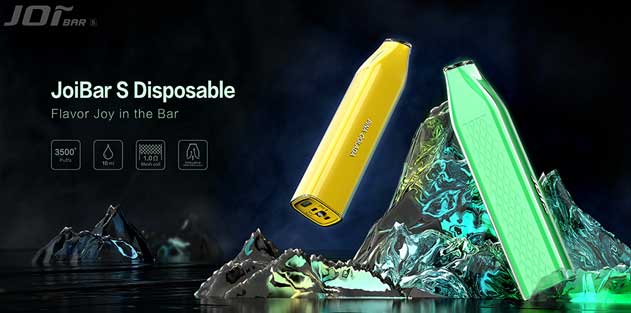 Description
The iJoy Joibar S Disposable is said to provide smooth and tasty vapor that brings out the original flavors of the vape juice inside its 10ml integrated tank.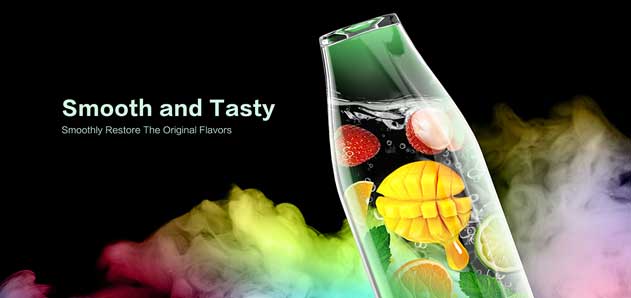 Thanks to the dual mold injection technology used in the manufacturing process, this new vape kit has an exquisite appearance and should feel comfortable in the hand.  Moreover, the unit only measures 24mm x 110mm, so it may be placed in the pocket or purse without a problem.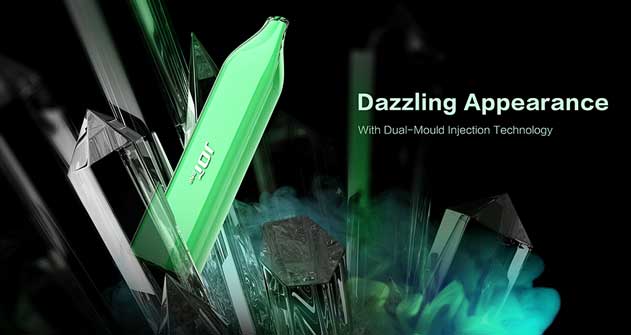 And, the Joybar S kit produces up to 3500 puffs, so it will last quite a long time.  This is thanks to a 10ml prefilled cartridge with either 30mg or 50mg nic options.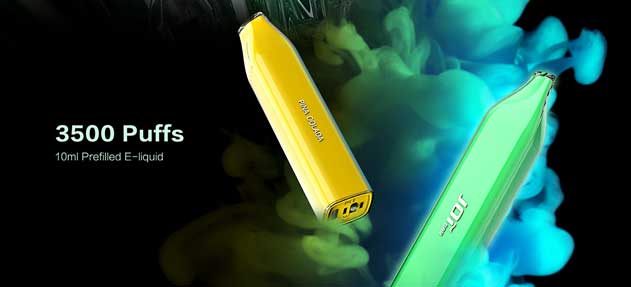 Yet another reason this disposable is unique is that it is rechargeable, so the cell will never run out until the vape juice does.  To recharge the 650mAh integrated battery, simply plug the device into any USB-C charging port.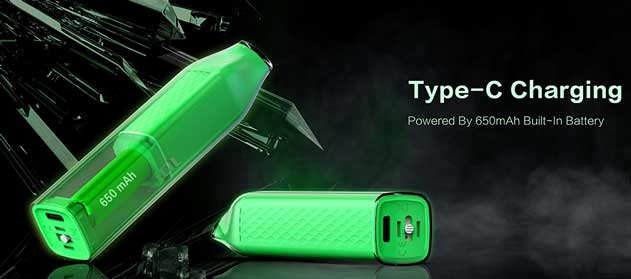 The battery produces 12 watts of power which is ideal for the 1.2ohm coil inside. This head looks to have a mesh design to ensure proper flavor production.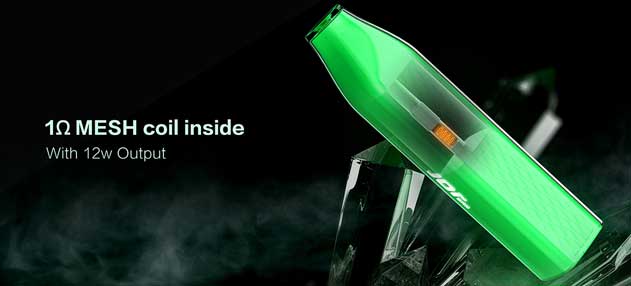 Finally, to guarantee a user gets the throat hit or puff style they enjoy the most, airflow control is adjustable at the bottom via a small slider.  Simply move this grooved button to expose 1, 2, or 3 air holes and produce the desired puffs.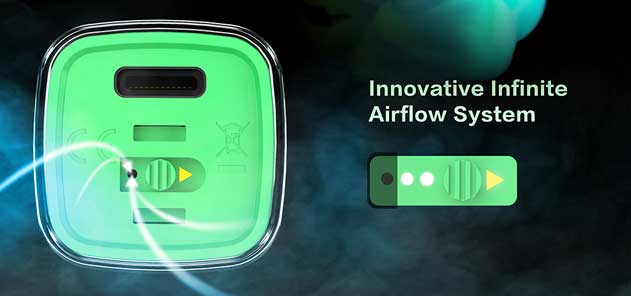 Specs
Size: 24mm x 24mm x 110mm
Battery Capacity: 650mAh
Charging Type: Type-C charging
Output Mode: 12W
Material: PC & ABS
Resistance: 12Ω Mesh Coil
Prefilled E-liquid Capacity: 10mL
Nicotine: 50mg / 30mg
3500 Puffs
Innovative Airflow Control System
Dazzling Appearance
Original Vape Juice flavors
25 Flavors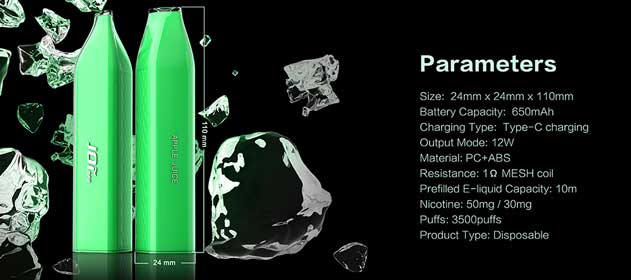 Flavor Options
Summer Passion
Lychee Ice
Or-mango Watermelon
Apple Juice
Cola Ice
Lemon Candy Ice
Pina Colada
Strawberry Banana Ice
Mixed Berries
Strawberry Ice
Rainbow Candy
Sunny Grape
Strawberry Watermelon
Super Mint
Strawberry Kiwi Pomegranate
Watermelon Bubblegum
Mango Ice
Peach Soda
Energy Drink
Blue Razz Ice
Raspberry Lemonade
Strawberry Daquiri
Fruit Punch
Fresh Lush Ice
Black Berry
Similar Disposables
Total Views Today: 1 Total Views: 257