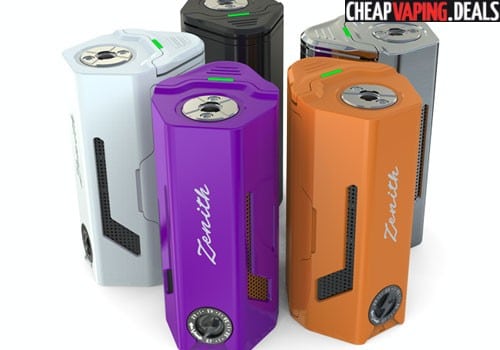 Update: The iJoy Max Zenith Has Been Discontinued – Check  Newer Box Mods & Starter Mod Kits Below
atlist template=alternate id=101 thumbnail=yes thumbnail_size=thumb-featured thumbnail_class=lcp_thumbnail numberposts=2  excludeposts=this]
Here's a fantastic price for the Ijoy Maxo Zenith Mod.
Overview
The Maxo Zenith by Ijoy  is a variable voltage box mod that features massive output.  With  an amazing design, a voltage adjustment knob, a simple LED battery indicator and 300 watts of power on a full battery, this looks to be an amazing box mod at a very low price.
The device is made from zinc alloy and has measurements that come in at 50.5mm x 40.7mm x 88mm.  It features a very stylish appearance, has a durable construction and is available in orange, purple, black, white or silver.  The unit does not have an OLED screen. Instead, there is a green LED  that lights up when in use and to indicate battery levels.
At the top of the Maxo Zenith, there's a 510 spring loaded connector for convenient build/tank installation.  Adjacent the bezel, you will see the fire button which is large for ergonomics and easier mod operation.  On the side of the device, there's an adjustable voltage knob that can be set in the range of 2.7V to 6.2V .  The knob has the form of a lightning strike for easy grip and an amazing look.
The Ijoy Zenith Box Mod is powered by triple 18650 batteries that are located behind a magnetic cover on the back.  The battery bay looks to hold the cells in a similar fashion as other high powered mods that use three batteries.  Inside the bay, you will find gold plated contacts for best electrical conductivity.  It looks like there is no on-board charging technology integrated into this device, so you will need an external charger to top off the cells.
Overall, the Maxo Zenith looks like a high quality box mod that is easy to use and has plenty of power.  And, the price makes purchasing this device a no-brainer.
Video
Features
Measurements: 51mm x 41mm x 90mm
Made from zinc alloy for durability
Stylish design
Colors: silver, white, black, purple, oragne
LED light for battery level and during firing
Over-sized fire button
Easy to operate
Variable voltage knob with lightning strike shape
Working voltage: 9.3V to 12.6V
Voltage output range: 2.5V to 6.5V
Maximum output power: 300W with full battery
Max output currency: 50A
Quiescent current: less than 30uA
IWEPAL chip
Powered by triple 18650 high drain batteries
Magnetic battery cover
Spring-loaded 510 connector
Pictures
Total Views Today: 1 Total Views: 502