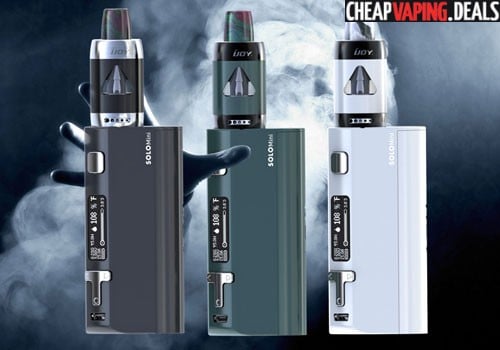 Overview
The Ijoy Solo Elf is a portable all-in-one setup for vape beginners for use while on the go.  The kit features the Elf Tank with a 2ml tank reservoir, mouth-to-lung vaping and amazing vape flavor.  Also included is an 80 watt Solo Mini box mod that is compact, includes various stickers with designs for a customized look, utilizes a single 18650 battery and has a temperature control system.  The kit is available in dark grey, teal or white.
The included Solo Mini Mod has dimensions of 40.4mm x 84mm x 23.4mm, making it extremely portable.  But, don't let the small size fool you as this device has plenty of advanced technology thanks to its Iwepal chip board.  The unit can fire with 80 watts of power, features temperature/taste control mode and has a USB charging port to charge its single 18650 battery.  The cell is easily interchanged because of the convenient magnetic battery cover on the back.
The display screen is found on the side control face and displays resistance, voltage, current, battery level, power and working time in a concise way.  In the advanced taste control mode, the OLED will also show an e-liquid indicator, a thermometer and temperature percentage.  At the top of the control face, you will also see a large square firing button for easy mod operation and the T-formation adjustment buttons at the bottom allow for a more convenient switching between operating modes.
The Ijoy Elf Tank in this bundle matches the color of the mod and features a curved, elegant design. It measures 53mm x 22mm to make it compact.  The atomizer features an easy top fill system, a 2ml tank capacity, a unique resin drip drip, good flavor production and precise airflow control.  At the bottom, there's 24K gold plated connection to assure the best possible electrical conduction to the attached mod.  Two different coils are available.  There's the 0.5ohm head that fires in the range of 25 to 35 watts and there's also a 0.7oohm coil that should be used in the range of 15 to 25 watts.
Overall, if you are looking for a mouth-to-lung vaping experience, similar to hitting a cigarette, the Ijoy Solo Elf Kit may be just right.  With easy operation, amazing technology and compact size, this all-in-one bundle may become quite popular.
Ijoy Elf Starter Kit Features & Specs
Ijoy Solo Mini Box Mod
Dimensions: 40.4mm x 84mm x 23.4mm
Stickers included for customized look
Compact and portable
Large firing button
T-style adjustment buttons for easy mode swapping
OLED screen with easy GUI
E-liquid indicator
Springloaded 510 connection
Utilizes a single 18650 battery
Integrated magnetic battery cover for changing battery
Micro USB charging
IWEPAL chip board
Maximum power output: 80W
Temperature/taste control
User manual
Warning card
Ijoy Elf Tank Specs
Dimensions: 22mm x 53mm
Stainless steel and glass construction
Unique resin drip tip
510 connection
24K Gold center pin
Tank capacity: 2ml
TPD compliant
Pinpoint accurate airflow control
Mouth-to-lung vaping
Convenient top fill system
Pre-installed Elf coil: 1 x 0.7Ω – 15W to 25W
Included Elf coil: 1 x 0.5Ω – 25W to 35W
Spare glass tube
O-rings
Pictures
Video Review
Coming Soon!
Total Views Today: 1 Total Views: 113