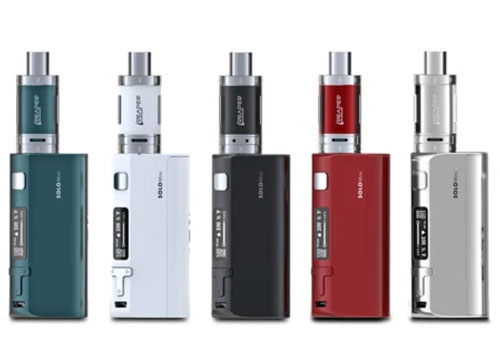 Here's an awesome deal on the iJoy Solo Mini 75W Box Mod or Kit.
Update: This Item Is Out Of Stock Everywhere – Check  Similar Mini Box Mod & Kit Deals Below
Overview
iJoy has just released their compact version of their Asolo box mod.  The Asolo Mini has a maximum output of 75 watts so it packs a punch, yet it's compact.  With a beautiful curved design, this small mod will fit nicely in your pocket or hand. It's perfect if you need a small but reliable device on your night out.
The Solo Mini features a sturdy, aluminum body with a teflon coating .  This provides for a very smooth surface that is wear resistant.  For additional prevention of denting and scraping, a protective sleeve is also included.   You can get one in red, light green, dark green, light pink, gold, white, black or stainless steel
The device modifies temperature control to taste control.  Taste control is said to produce warmer vapor and prevent dry hits.  The Solo Mini supports temperature control with both nickel and titanium coils in the range of 150 – 315℃ or 300 – 600°F.   Subject to the coil type, the mod will fire atomizers with resistance as low as 0.08Ω.  That means that the mod will work with virtually any sub tank or atomizer in the marketplace.
Depending on the mode, the 0.91″ OLED menu displays ohms, volts, amps, battery level, wattage, working time, e-liquid indicator, temperature and/or temperature percentage.  The Isolo Mini utilizes an external 18650 battery, which is hidden behind a magnetic door panel.  On the top, there's an adjustable, spring-loaded connector made with stainless steel threads for high adaptability.
With your purchase, you will receive the box mod, a USB cable, a warranty card, a silicone sleeve and an instructions manual.
More information on the Solo Mini on the iJoy website
Features
Dimensions: 84mm x 540.4mm x 23.4mm
Constructed of aluminum
Compact, ergonomic design
Comfortable to grip
0.91″ OLED display
Stainless steel stretch button
Variable wattage
Power output: from 5 watts to 80 watts.
Voltage output: from 1V to 8.0V
Current: 1.0A to 35A
Supports all coil types
Temperature control mode (nickel and titanium coils)
Temperature range: 300 to 600°F or 150℃ – 315℃
Nickel and Titanium coil resistance: 0.1Ω to 1.5Ω
Regular coil resistance: 0.08Ω to 3.0Ω
Kanthal coil resistance: 0.5Ω to 2.5Ω
Stainless steel spring-loaded connector
External 18650 battery (not included)
Magnetized battery door
Safety features: Over-current, short circuit, low resistance, low voltage, single battery independent, parameter lockout and reverse polarity protections
Review
https://www.youtube.com/watch?v=5yXqU8QQ9KY
Total Views Today: 1 Total Views: 169