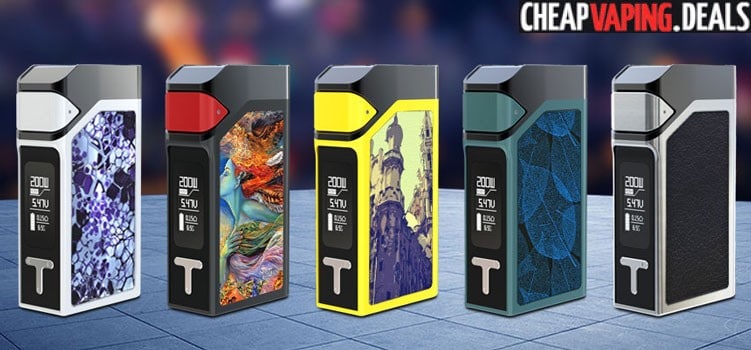 Update: The
Ijoy Solo V2 Pro 200W Box Mod
Has Been Discontinued – Check  Newer 200W Box Mod  Deals Below
Or
All Mod/Kit Deals
Overview
The Ijoy Solo V2 Pro is the updated version of the Solo V2.  With this version of the box mod, there's several improvements including an easier sliding battery cover, five alternate colors and interchangeable plates that can be further customized with a wide variety of stickers.
With 200 watts of power and a number of temperature control modes , including TCR, the device is very adaptable to your vaping preference.  Thanks to its Iwepal chip board, the mod features brand new taste control mode and temperature control with nickel, titanium and stainless steel coil wire types.  And, atomizers can be operated down to just 0.06ohm to ensure maximum compatibility with devices in the marketplace.  Future firmware upgrades are also possible via the USB port, ensuring the device will always stay up to date with new vape technologies.
As far as the design, the mod looks familiar with identical dimensions of  25mm x 54.8mm x 94.3mm to its predecessor and the same zinc alloy build materials.  But, the new mod comes in five finished colors that have unique designs and colors including white, black, yellow, teal and silver.  Another improvement is that the plates of the mod are interchangeable for a customized mod look or you can use the included stickers with an amazing range of designs.  On top of the mod, you will see 510 connector that is built with a spring-loaded center pin for maximum build or tank installation compatibility.
Two 18650 batteries power the Ijoy Solo V2 Pro and are easily retrieved because the battery panel uses a sliding mechanism to reveal the bay.  Batteries can be charged via the USB port while they are located inside the mod.
Overall, if you liked the previous version of the Solo V2, you will certainly enjoy the new designs and interchangeable plates of the Pro.  And it's an affordable mod with all the technology you may need to maximize your vape experience.
Features & Specifications
Built with latest IWEPAL chip
Power mode range: 5W to 200W
Resistance range: 0.06Ω to 3.0Ω
Output voltage range: 1V to 9V
Output current range: 1A to40A
Two memory slots
Puff counter
Temperature control with Ni, Ti, SS, TCR
Taste control
Two TCR mode memory slots
Utilizes two external 18650 batteries
Micro USB charging
Micro USB Firmware upgrades
Measurements: 25mm x 54.8mm x 94.3mm
Constructed  from zinc alloy
Colors: white, silver, army green, black, yellow
Interchangeable sliding plates
Random design stickers included for personalization
Large fire button
OLED with vertical menu
Three adjustment buttons for easy mod operation
Rotate screen 180 degrees
Sliding battery cover
Pictures
Total Views Today: 1 Total Views: 47