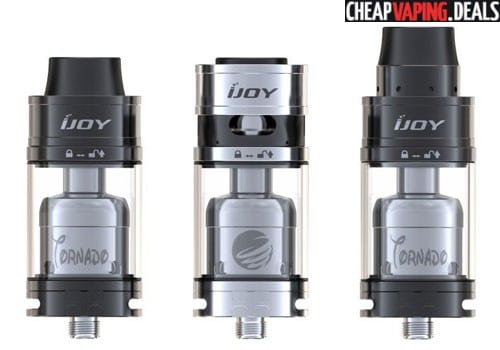 Here's a great deal on the brand new iJoy Tornado RDTA.  
Overview
The iJoy Tornado RDTA was designed by Southern California's AW.  This RDTA is said to be able to handling up to 300 watts of power.
The RDTA is constructed from durable 304 stainless steel to ensure longevity and is available in black or silver.  To ensure the best electrical conductivity, the Tornado sports a 24 karat gold plated connection pin which is designed to reduce voltage drop.
The device features a two post design.  It was made specifically to allow high wattage tank vaping with all the benefits of an RDA such as amazing flavors and vapor production.  The Tornado's T4 build deck has a two post setup with two 2mm post holes which allows for easy use of dual coil builds. With the optional T6 Tornado deck, you get a two post, 6 holes setup which allows for massive builds & power up to 300W with amazing wicking.  The Tornado's wide surface area perfectly works in combination with the massive 15mm x 2mm dual adjustable airflow.  There's also two 5mm diameter inner air holes and four 5mm diameter wicking ports to give the entire setup an out-of-this world ability.  And, the device will stay cool due to its large airflow which keeps the entire sub-deck at a fairly low temperature.
The Tornado utilizes a top fill system which is accessed via it's simple sliding lock gasket.  Adding liquid to the 5ml tank has never been easier and is said to be leak proof.
Overall, with a large build deck and dual 15mm by 2mm air slots with direct airflow, the Tornado RDTA puts out a massive amounts of vapor.   This one is definitely perfect for cloud chasers!
Read a review of the Tornado RDTA
Features & Specs
Dimensions: 24mm x 24mm x 50 mm or 0.94″ x 0.94″ x 1.97″ inches
Weight: .063kg
Constructed from 304 stainless steel
Glass tank
Tank capacity: 5ml
17.8mm two post build deck
24K gold plated 510 connection pin
Large surface keeps deck cool
Easy top fill system
Delrin wide bore drip tip
Peek insulator
Optional T6 two post/6 holes deck for high powered vaping
Video Review