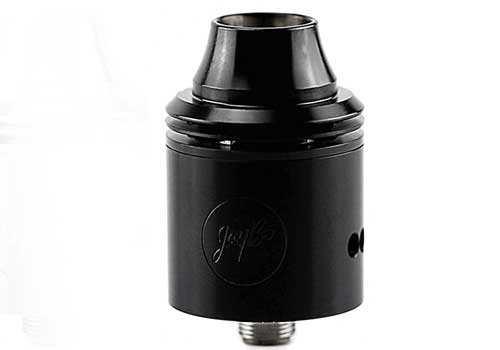 You will never see a cheaper price for the Wismec Indestructable Atty RDA By Jaybo Designs.  The Wismec Indestructible, designed by Jaybo, is a stylish, innovative dual airflow RDA with an integrated two-way adjustment airflow system for precise top airflow control. The deck is one the easiest to build on due to its wide open terminals and oversize e-juice well.
Overview
The Indestructible  Atty combines the best new designs from today's latest rebuildable dripping technology.  The device features a washer adjusted top airflow, vortex flow, signature side airflow and open system terminals resulting in a top-of-the-line RDA atty.  Each side has four 2.5mm airholes producing incredible airflow in the chamber. The side airflow has been made to be used with a single coil centric offset airhole cluster, making it the best atty for single coil vapers.
The Wismec Indestructible has a one-of-a-kind design of the post terminals.  There's a cyclops style center post that permits vapers to use virtually any coils.  The deckmilled negatives feature a shelf terminal  that makes sure there's always contact. Made with the large juice wells, the Wismec Indestructible is able to handle virtually any build.   It is constructed using 303 stainless steel, Peek insulators and a gold plated 510 connection.
Overall, the flavor and vapor production on this atty is out of this world.  And, it's a steal at $31.49 so get yours before they are gone.
Features
22mm Diameter
Innovative Top Cap Designs

Airflow Washer
Quad 3mm Airflow On Both Sides
Vortex Flow Sloped Airholes
Adjustable Via Tension From Threaded Sections

Single Coil Specific Airflow

Enlarged Offset Airhole Cluster
Standard Airholes Measure 2.5mm
Able to Be Closed Entirely

Signature Jay Bo Side Airflow

Triple 2.5mm Airholes On Each Side

Open System Post Terminals

Large Cyclops Style Center Post

Allows for Incredibly Large Coil Configurations
Hexagon Screws

Deckmilled Negative Posts

Shelf Style Terminals
Ideal Conductivity
Accommodates Large Coil Configurations
Phillips Screws

Stylistically Enlarged Juice Wells

303 Stainless Steel
10mm Integrated Sloped Drip Tip
PEEK Insulators
Gold Plated 510 Connection
CNC Engraved on Base
Video Review
Total Views Today: 1 Total Views: 215