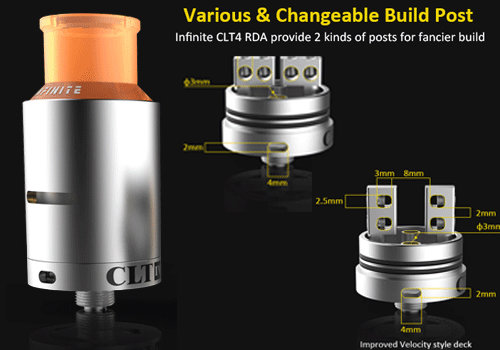 Here's a great deal on the brand new Infinite CLT V4 RDA.
Update: This Item Is Out Of Stock Everywhere – Check  Similar RDA Deals Below
Overview
The Infinite CLT4 is the first RDA that includes two different deck options with unique posts that are easily swapped out.  It is said to be very easy to use with intricate builds and there's also an amazing airflow design.
The device has a 23mm diameter, is made of stainless steel and features a silver plated 510 connection pin for better conduction.  It comes with a 12mm Bore PEI drip that is made of materials that resist high temperatures, oxidation and is also used for adjusting the horizontal airflow via cutouts that can be found near the bottom of the drip cap.
The deck on the CLT V4 includes two interchangeable kinds of posts to allow for various builds.  The first set features horizontal dual terminal posts that have humongous 3mm diameter wire holes.  The other is a vertical dual post with rectangular holes that have a dimension of 3mm x 2.5mm.   The entire deck's design was created in such a way that its easy to interchange between the sets of posts.
The CLT4  is built with a unique dual airflow system.  Air is sucked in via the 12mm x 2mm airslots on the AFC ring and is directed just above the deck into the chamber via a 3mm diameter corridor.  The airflow hole in the chamber is adjustable by rotating the deck and the exterior AFC ring is easily twisted to simultaneously close off both interior and exterior airflow.
Overall, this RDA looks very unique because of the very well built deck with two alternate post setups and amazingly versatile airflow.
Check out the CLT4 on the Infinite website
Features & Specs
Diameter: 23mm
Made from stainless steel
Silver plated 510 pin
Easily interchangeable included two post setups
Dual wire hole horizontal posts
Dual wire hole vertical posts
Easily swap out posts
Large diameter terminals
Peek insulation
5mm juice well
Bottom side adjustable airslots: 12mm x 2mm
Bottom airflow from base to deck via 3mm hole
Change airflow by rotating deck
12mm corrosion & temperature resistant bore PEI drip tip
Video Review
Not available yet.
Total Views Today: 1 Total Views: 83