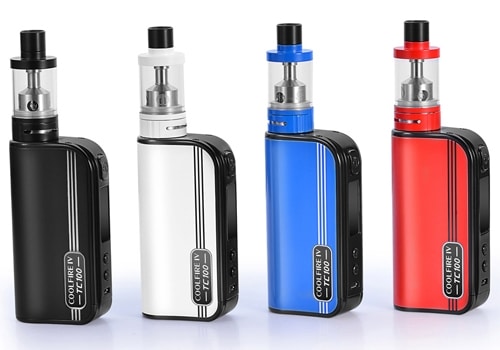 Here's a great deal on the Innokin Coolfire 4 IV TC 100W Mod. 
Update: This Item Is Sold Out Everywhere – Check  Similar 100W Box Mod & Kit Discounts Below
Overview
The CoolFire 4 TC100 is the brand new box mod from Innokin.  The device features the latest Aethon chip permitting power up to 100W and temperature control with a wide range of coil heads. With more efficient power use, accurate resistance readings, and the fastest firing in the marketplace, Innokin says this mod is their best.
The device features a sleek design, and its dimensions make it very compact.   It is available in red, white, blue, or black.   The chassis is curved to fit comfortably in hand, and the power button is ergonomically located to ensure a pleasurable experience.  All materials in the box and buttons are durable. There's also a crystal clear OLED display on the base. At the top of the device, you will find a flush 510 standard connection with stainless steel threading and a springloaded/gold-plated positive pin.  This ensures the mod fits most atomizers and improves electrical conductivity.
Innokin's new Aethon Chip powers the TC100.  It will provide power to the atomizer within 0.2 seconds of being fired, so it responds extremely fast.  It features a maximum output of 100W and high-tech noise cancellation.  And, due to the Aethon chipset, it has faster coil readings, improved resistance detection, and better power efficiency.   The Coolfire 4 features variable temperature modes compatible with stainless steel, nickel, and titanium coil heads.  Although the lowest resistance is not listed in the specifications, it is a sub-ohm compatible box mod. Chances are excellent that it will work with most tanks, RDAs, and atomizers.
A powerful built-in 3300mAh battery powers the mod to reduce the need to recharge continuously. The unit features faster 2 amp charging via its micro USB port.   And it's passthrough capable so continue vaping while it's plugged in.
Overall, the CoolFireIV TC100 looks like it's a well-designed device with fast firing, excellent battery life, accurate temperature control, and plenty of power.  And it's compact and portable, making it a good mod to take with you when you leave the house.
Check out this device on the Innokin website
Features & Specs.
Dimensions: 44mm x 86mm x 25mm or 1.73″ x 3.39″ x 0.98″
Weight: 120g or 4.23oz
Amazing design
Compact & Portable
Power range: 1W to 100W
Sub-ohm compatible
TC mode compatible with Ti, Ni200, and SS
25W to 100W TC mode ramp-up boost
Dry Hit Prevention in TC mode
Calibrates quickly
Fires within 0.2 secs
VDC power output
ClearWave noise cancellation.
More precise resistance readings: to the 5th decimal
Uniform coil heating prevents hot spots.
High-quality stainless steel 510 threaded connection
Spring loaded gold plated center pin
Powered by a massive 3300mAh battery
Long battery life
USB charging
Passthrough-capable.
Low power consumption in standby mode
Review
https://www.youtube.com/watch?v=zDYLa-Yin14
Total Views Today: 1 Total Views: 739