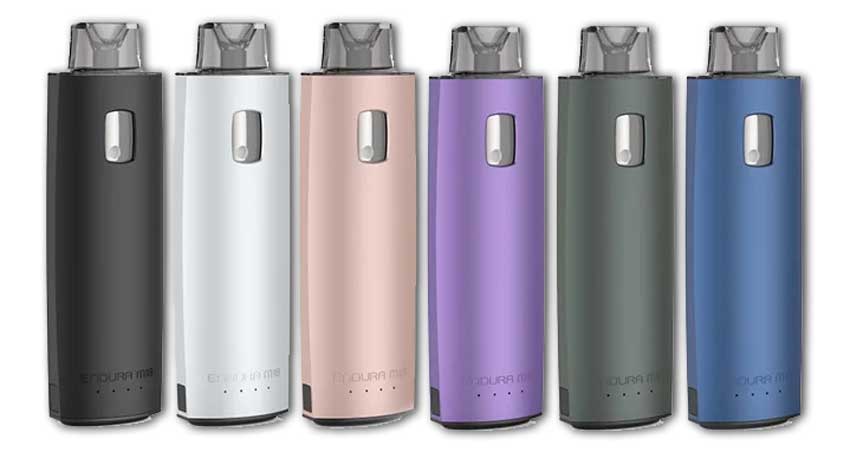 Here's an awesome deal that just posted on the  Innokin Endura M18 Kit.  It features a slick design, a 700mAh internal battery, puff activated firing, 4mL capacity pods, adjustable airflow control, upgraded BVC coils, and a bottom Type-C USB port.
Design
The Innokin Endura M18 is the first pod system in the Endura series of devices such as the Endura T18.  What is different about the M18 is that it utilizes refillable cartridges instead of tanks which means it is more compact than its predecessors.  As you can see from the specifications, the entire kit only measures 86.5mm by 30.2mm by 17mm, so it will easily fit in your pocket or purse.  The appearance looks to be simplistic, yet the matte finishes in rose gold, blue, black, midnight green, purple, and silver make it stand out.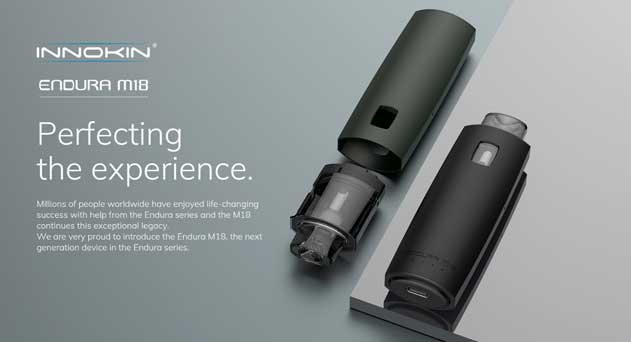 BVC Coils & T18E Coil Compatibility
Each Endura M18 Pod  uses upgraded BVC coils for a mouth-to-lung style of vaping with nicotine salt or other high nicotine vape juices.  Pre-installed. you'll receive a 1.6ohm BVC coil and there are 7 other coil options to choose from that were included with other Innokin devices.  Check the cart below for more information.  Each pod can hold 4mL of e-liquid and is effortlessly refilled.  And, you can remove the pod and reinsert it 180 degree to make airflow more open or more closed.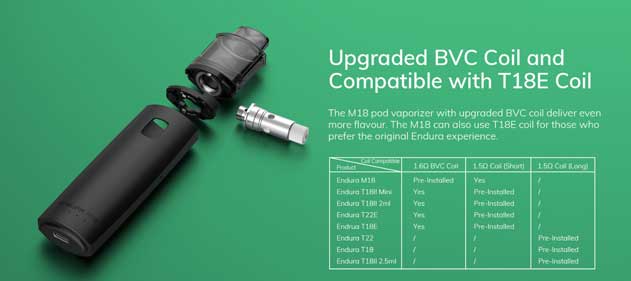 Puff-Activated Firing In Two Modes
To power up the Innokin Endura M18, simply click the power button times.  You don't actually press a fire key to vape, but simply draw on the mouthpiece to take a puff at 10 watts of power.  Or, you may  use boost mode that fires at 13.5 watts for more heat and additional vapor production.   Power comes from a 700mAh integrated battery that is charged via a bottom USB Type-C port. 3 LEDs clearly display the amount of voltage left in the cell.  With three lights on, the battery percentage is above 60 percent, two lights 20 to 60 percent, and if only one LED is lit, it's time for a recharge.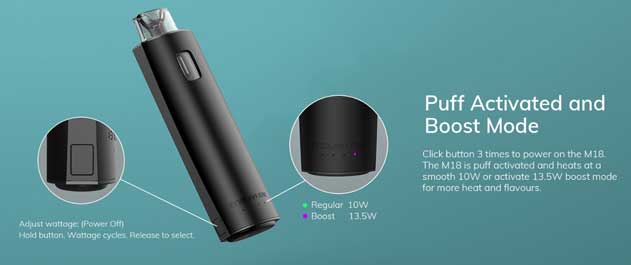 Innokin Endura M18 Features & Specifications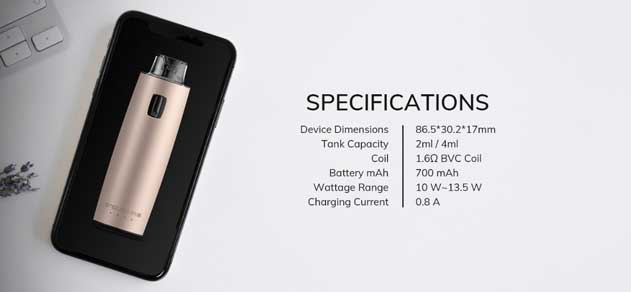 In The Box
With purchase, you will receive the Endurra M18 Kit, 2 M18 coils, a pod base, a Type-C charging cable, a quick start guide, and a warning booklet.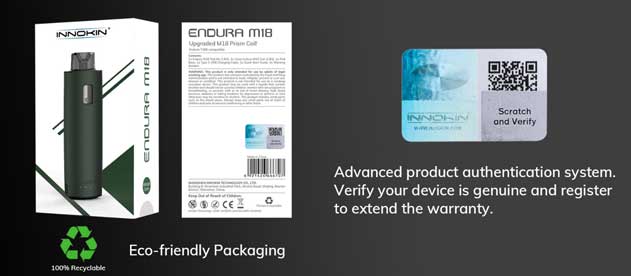 Related
Total Views Today: 1 Total Views: 262