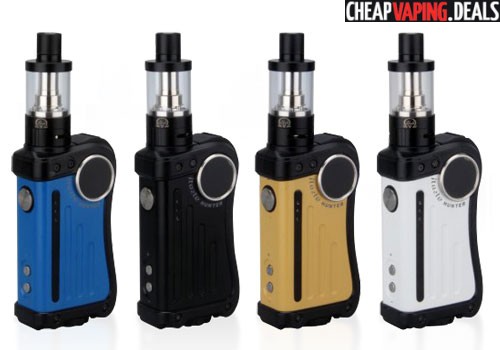 Update: The
Innokin iTaste Hunter 75W Box Mod Kit
Has Been Discontinued – Check  Newer Innokin Mods & Kits Below
Overview
The iTaste Hunter kit is a brand new bundle from Innokin and features an ultra-fast chip board, 75 watts of power, temperature control with all types of coil heads and a 3ml iSub V sub ohm tank with fully adjustable airflow and a mess-free top fill system.  The kit is available in blue, black, gold or white.
The box mod in this kit measures 72mm x 50mm x 25mm and features a unique design that is rugged for outdoor vaping.  It is constructed from stainless steel with what looks to be a rubberized finish.  At the top, there's a 510 connection bezel for easy atomizer installation and the control face on the side features the firing button and two adjustment buttons.  What's unique about the iTaste Hunter mod is that the OLED screen is located on the front of the device and is circular.  This gives this mod a very unique look.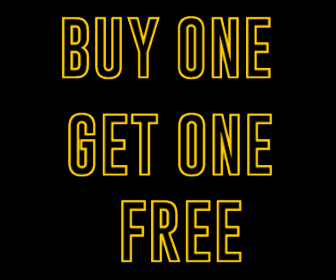 The device is built with an Aethon temperature control chip board that features lightning fast operation, variable temperature mode, dry puff protection and balanced even coil heat up.  The Hunter's specs indicate it is capable of 75 watts of power and temperature control with nickel, titanium and stainless steel heating elements.  Temperature control from 300°F to 600 °F and is adjustable in increments of 0.5W.  The mod uses a single external 18650 battery cell that is easily accessed by opening the battery cap at the bottom.  You'll need to use an external charger to top off the cell as there is no USB port.  The device is said to be built to preserve battery life, so there won't be a need for frequent recharges.  For more information, check out the iTaste Hunter Box Mod's manual.
With this kit, you'll also get the 5th generation iSub V, which is also known as the Vortex tank.  This atomizer produces plenty of vapor with flavor, has a 4ml e-juice capacity, a simple top fill design, a removable drip tip, fully adjustable airflow and is made of stainless steel with glass.  You'll receive two iSub SS316L 0.5Ω coil heads with purchase.  These are easily swapped out due to the tank's no-spill coil design.  For more information on the iSub V, check out this page.
Video Review
Features
Innokin iTaste Hunter Box Mod
Dimensions: 3-1/2″ x 2″ x 1″ or  72mm x 50mm x 25mm
Made from stainless steel with rubberized shell
510 threaded connection
Circular OLED screen
Power mode range: 6.0W to 75.0W
Tempeature range: 300°F to 600°F or 150°C to 315°C
Variable temperature compatibility: SS, Ni200, Ti
Maximum output current: 27.5A
Maximum output voltage: 7.5V
Balance coil heating
Device stays cool with ultra low heat generation system
Precision variable temperature mode
Direct current output
Dry puff prevention
Dry puff monitoring
Low power consumption in standby mode
Use a single external 18650 battery
Screwed/adjustable bottom battery cover
iSub V – Vortex Edition Tank
Dimensions: 2″ x 7/8″ or 50mm x 22mm
Made from stainless steel
Tank capacity: 3.0ml
Easy mess-free top fill system
Adjustable airflow
Removable 510 drip tip
Simple leak-free coil swaps
Works with all iSub coils
Total Views Today: 1 Total Views: 248