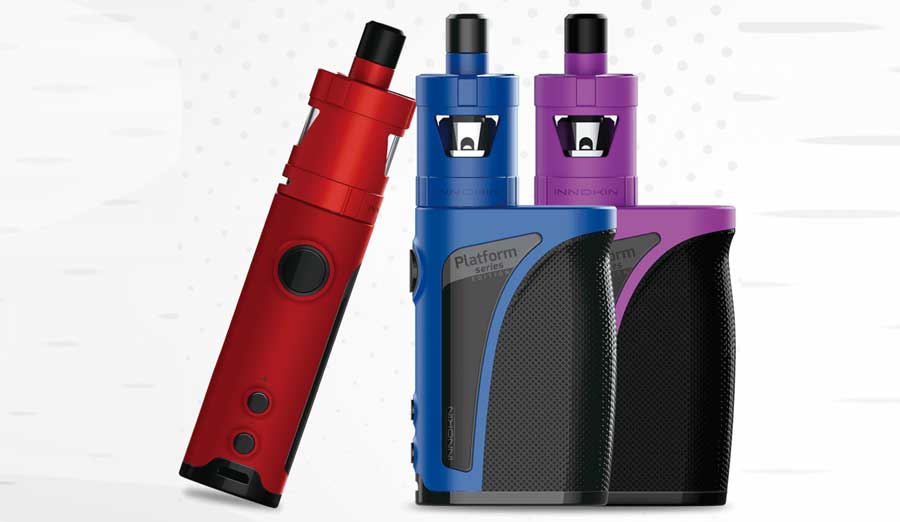 Innokin Kroma-A Zenith Kit: 75 Watt/2000mAh TC Box Mod  w/ 4mL Tank
Here's are cheap deals to buy the Innokin Kroma-A Kit.  The Kroma-A mod in this kit features 75 watts of power, temperature control modes, a 2000mAh battery, an Aethon intelligent chipset, an intuitive OLED display, a 2 amp fast-charging USB port, and a multitude of safety protections.  The Zenith Tank has a 4mL juice reservoir, a sub-ohm coil, a 1.6ohm coil, four different airflow adjustments, and convenient top fills.  This setup is for sale in red, black, white, blue, and purple.  As of September 2020, Innokin is FDA PMTA compliant, so this kit is available in the United States.
Ultra Compact & Ergonomic Design
As soon as you see the Kroma-A Kit, you can see that this vape system is very small, although the exact dimensions are not listed anywhere, the height is only 82mm.  The curved design makes this kit ergonomic and small holes permit a strong grip so the kit won't slip from the hands.  Appearance-wise, the mod features modern lines with color options of purple, blue, white, black, and red.  At the top of the Kroma-A, there's a high quality 510 connection that features a set-in/lowered profile to further decrease the kit's size and a stainless steel bezel is sure to stand the test of time.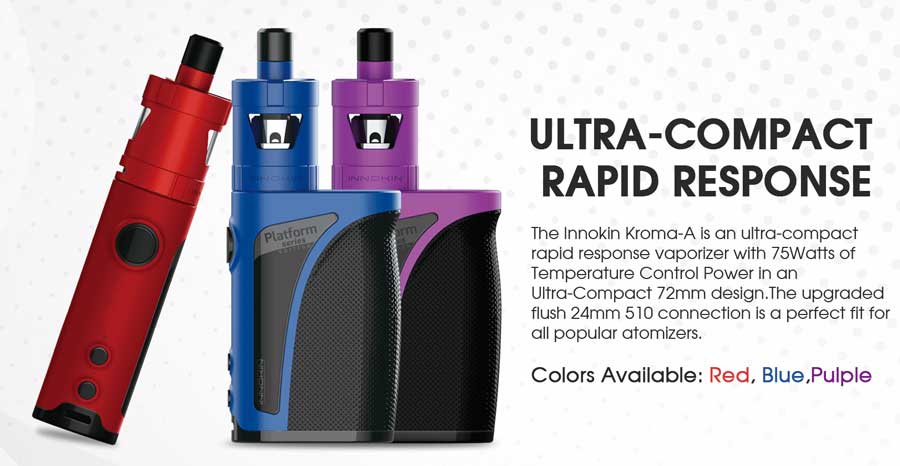 2000mAh Battery & 75 Watts Of Power
On the control face of the Kroma-A Kit, you can see a fire button, two adjustment buttons, and a 2 amp quick-charge USB port that permits a fast recharging process of the powerful 2000mAh integrated battery. A battery life indicator on the side-mounted OLED display will indicate green (fully charged), yellow or red (time for a recharge). Moreover, the cell permits up to 75 watts of power and, thanks to the latest Aethon chipset, there are a plethora of available modes including variable wattage mode and three temperature control modes.  Another benefit of the chipboard is that the mod operates extremely accurately and has a 0.2 second response time when fired.  In temperature mode, you may set your preferred output in the range of 300 to 600 Fahrenheit with atomizer resistance as low as 0.1ohm.  Best of all, the Kroma-A Mod features pre-boost technology, so you ramp-up the initial wattage and let it wind down to your target output as you take a puff.  And, there are several safety protections to ensure a safe vape experience:  low voltage, short circuit, atomizer connection, over-discharge, and overheat protection.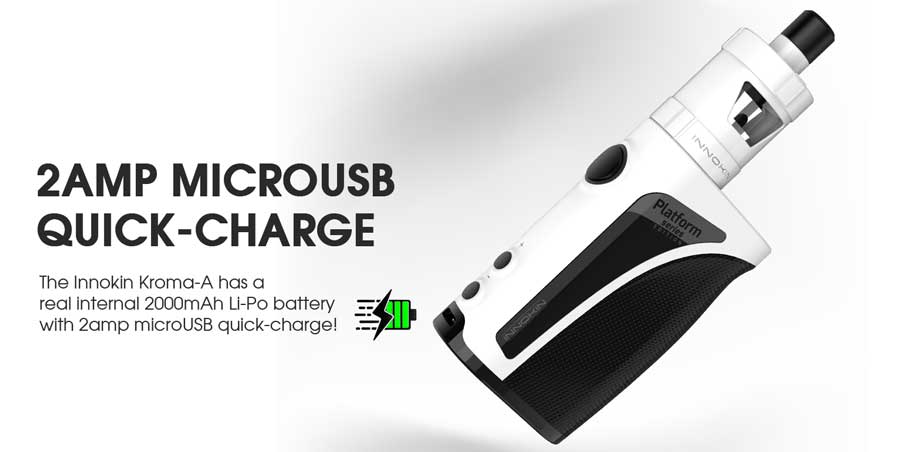 Side Mounted OLED Display
On one of the sides of the Kroma-A, you will find a bright OLED screen that features a user interface with a three row menu.   Vape data includes atomizer resistance, current wattage/temperature, current mode, current material (temperature control modes), and the previously-mentioned battery life indicator.  For the benefit of left-handed users, you may also rotate the screen 180 degrees.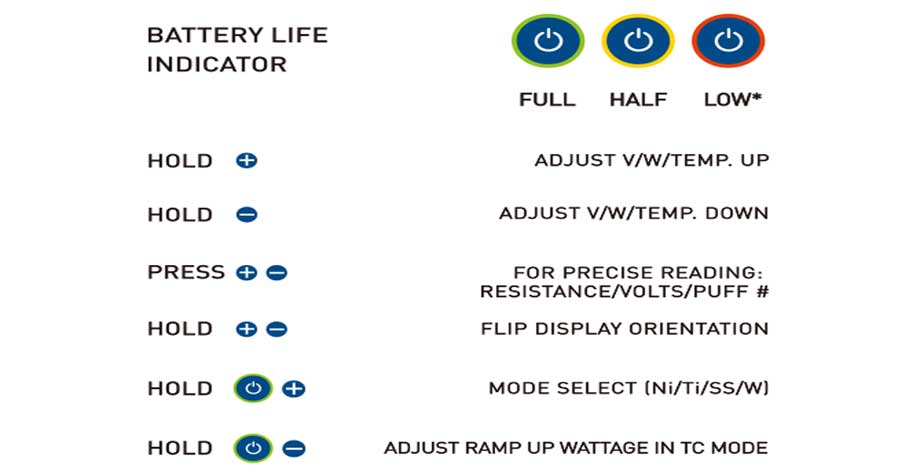 4mL Juice Reservoir & MTL Vaping
The Zenith Tank in the Kroma-A Kit is the result of a partnership between Phil Busardo, Dimitris Agrafiotis, and Innokin.  They set out to make an effortless mouth-to-lung atomizer, but they were sure to also include a sub-ohm coil. In the package, you will find a 1.6ohm coil pre-installed for nic salt-based juices or you can swap it out with the included Plexus Z 0.5ohm sub-ohm coil for standard e-liquids.  For versatility and flavor production, there are four different air intake settings and a dry-hit protection system means that you can enjoy the vape style you want in the range of 6 to 75 watts.  Available in both the USA and EU, you'll get eitherget a 4mL or 2mL Kroma-A edition, both of which feature an easy top fill twist design. This makes adding e-liquid effortless as it involves a small twist of the top cap to expose a decent-sized refill slot.  Best of all, e-liquid flow is automatically shut off  during the refill process which prevents gurgling and flooding of the atomizer.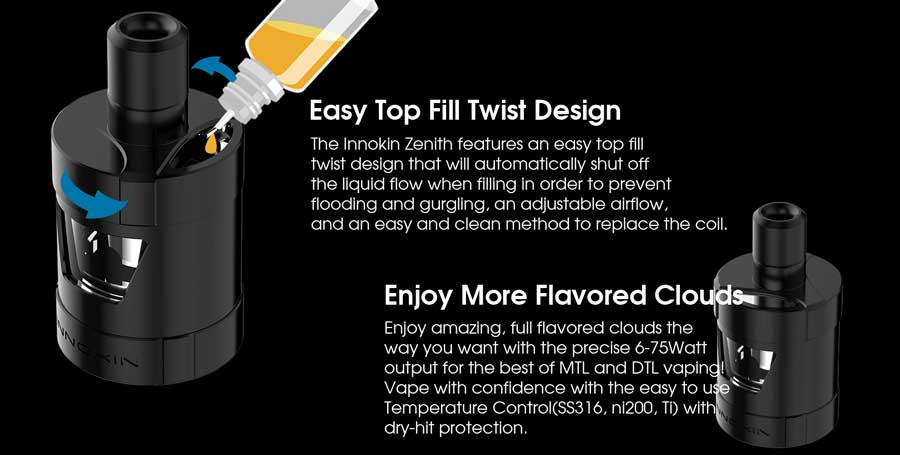 Innokin Kroma-A Zenith Kit Features & Specifications
Dimensions: 22mm x 50mm x 72mm
Mod material: durable stainless steel
Tank material: stainless steel & pyrex glass
Compact and portable
Modern design
Many colors available
Set-in SS 510 bezel to reduce the size
510 atomizer adapter included
OLED display with intuitive menu
Built-in 2000mAh battery
Fast 2A Micro-USB charging
Pass-through technology: vape while charging
Built with Aethon TC Chipset
Power output range: 6W to 75W
Temperature range: 150°C to 315°C or 300°F to 600°F
Temperature control resistance range: 0.1Ω to 0.5Ω
Power mode resistance range: 0.2Ω to 0.5Ω
Maximum output current: 35.5A
Maximum working current: 27.5A
Maximum output voltage: 7.5V
Dry hit prevention
Variable temperature supports SS316L, Ni200 and Ti
4ml juice capacity
Top-fill system
Leak-proof tank
0.5ohm Zenith Z coil
1.6ohm Zenith coil | 10W to 14W
Four airflow settings
4mm 510 Delrin drip tip
5mm 510 Delrin drip tip
In The Box
In the package of the Kroma-A Zenith Kit, you will find the Kroma-A Mod, the Zenith Tank, a Plexus 1.6ohm coil (pre-installed), a Plexus Z 0.5ohm coil, a micro USB charging cable, spare o-rings, an extra drip tip, a quick start guide, a warranty card, a warning booklet, and a battery warning card.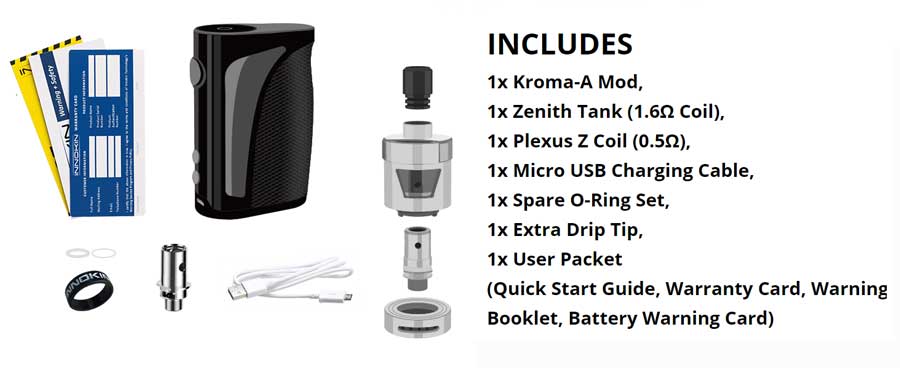 Related
Total Views Today: 1 Total Views: 804