Innokin MVP5: 5200mAh/120W TC Box Mod Kit w/ 5mL Ajax Tank
The Innokin MVP5 is available as a standalone box mod or kit with Ajax Tank. The mod features 120 watts of power, an integrated 5200mAh battery, type C micro USB charging, power bank functionality, an LED flashlight setting with 6 modes, a full-color display screen, 3 wattage modes, curve modes, and a sensor suite with a compass, temperature, altitude, and a barometer.  The Ajax tank features DTL & MTL vaping, z-coils for flavor/vapor, DTL or MTL style vaping, bottom adjustable airflow, and a 5mL juice capacity with an easy top fill setup.  This box mod kit is old, so please check alternative starter kits.
Many Modes
Available in black, forest, grey, sand, or white colors, the MVP5 features many modes. These include three wattage modes which you may customize to normal, boost, or soft taste settings. Temperature control functionality is compatible with all standard heating elements (nickel, titanium, stainless steel) and a TCR mode for a more personalized vape experience and four memory slots. If you buy the kit with Ajax Tank, you can choose the "Easy Select" setting with wattage presets for Z-Coils, also found in Zenith and Zlide tanks.

Powerful Internal Battery & Fast Type-C Charging
Built with a 5200mAh integrated battery, the device can operate for extended periods without a recharge. The internal cell is recharged via a USB Type-C charging system which is easier to plug in and operates with two amps of current to complete the process in no time. When the MVP5 box mod is plugged in, the screen will show the time left in the charging process. This way, you will know when charging will end or if there is a problem with the cable or battery.

Power Bank To Charge Other USB Devices
If your smartphone or tablet runs out of charge, don't worry if you have your Innokin MVP5. Thanks to the mod's power bank function, you can recharge your phone by plugging it in. The screen on your mod will indicate the charging current and the amount of charge remaining in your MVP5.

LED Flashlight With 6 Modes
This mod is unique in that it has an LED flashlight system for use in dark environments, outdoors, or in case of emergencies. Press the flashlight button to turn on the "far beam" LED flashlight set to maximum, medium, minimum, SOS, beacon, or strobe setting. The device remembers the last mode and displays the time left before the battery runs out with the current flashlight setting.

Sensor Suite
In addition to the flashlight function, the mod has an entire sensor suite, making it great for the outdoors and camping. Sensor data includes a compass, a thermometer, a barometer, and an altimeter. All this data is displayed on one menu for easy access.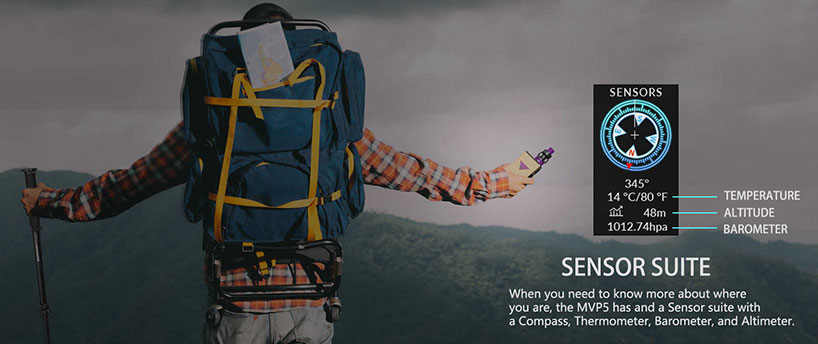 Starter Kit With Ajax Tank
Attach the Ajax Tank included in the kit for amazing direct-to-lung style vaping. The MVP5 mod will automatically set the wattage and range to ensure ideal vapor production and prevent coil damage. Use the Ajax with a Z-Coil for mouth-to-lung vaping, and the mod will automatically go to the ideal power setting. Because the Ajax tank uses lower wattage, the MVP5 can operate for as long as a week without recharging.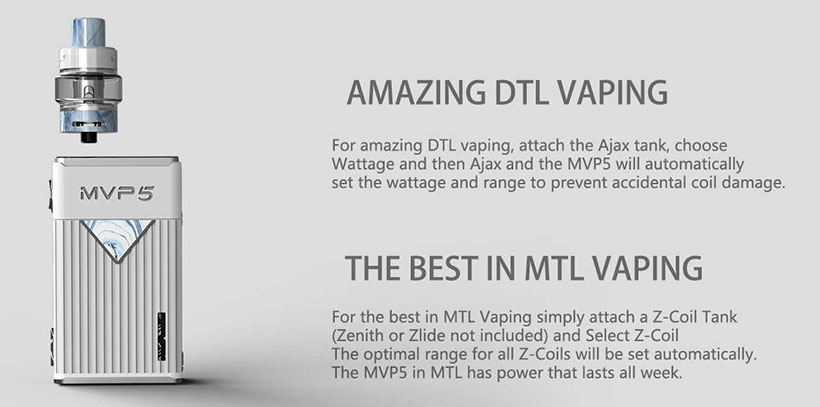 Features & Specifications
MVP5 Box Mod
Dimensions: TBD
Color options: black, forest, grey, sand, white
Full-color TFT display
Large fire button
Two adjustment buttons
Threaded 510 connector
5200mAh integrated battery

Micro Type-C USB charging port
Fast 2A charging
A power bank to charge phones or tablets

Operating modes: Power/TC(Ni, Ti, SS316)/TCR
Taste modes: normal, boost, soft
 Temperature control mode
Programmable curve
Easy select wattage presets for Ajax tank or any atomizer with Z-coils
Maximum power: 120W
Temperature range: 300°F to 600°F
Resistance range power/variable temp: unknown
Current temperature sensor
Current altitude sensor
Barometer
Compass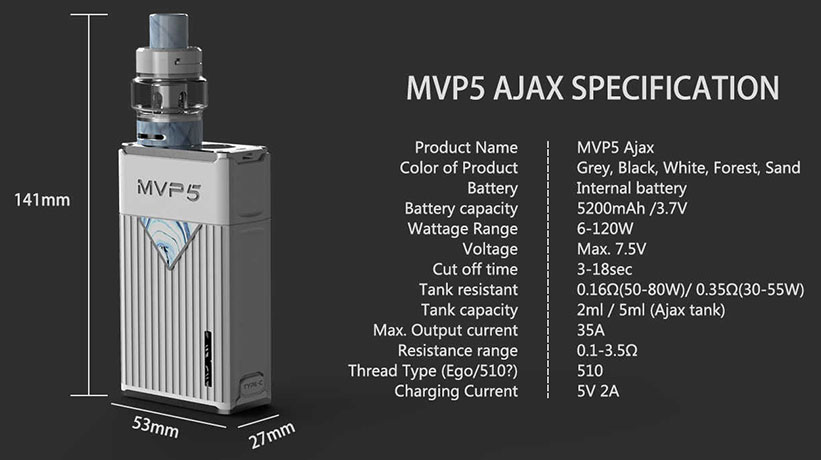 AJAX Tank
Dimensions: unknown
Colors: black, silver
5ml juice capacity
Easy swivel top fill setup
Dual bottom adjustable airflow control
810 widebore drip tip
Ajax & Plex3D coils
Total Views Today: 1 Total Views: 4,367