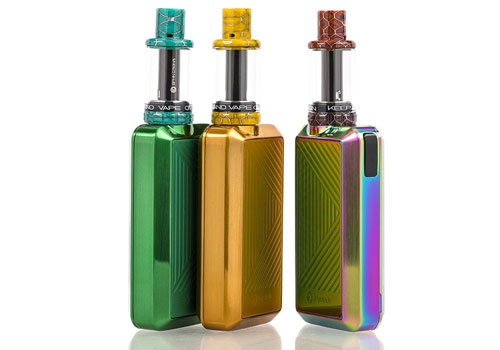 Here are cheap deals for the Joyetech Batpack Mod Starter Kit. This extremely tiny mouth-to-lung style vaping kit is unique because it uses AA batteries that will last long thanks to ECO tech that allows for up to 800 puffs. Perfect for use with nicotine salt and high nicotine e-juices.
Review
Overview
The Batpack Starter Kit features AA battery compatibility for convenience, new eco technology to work well at low wattage, a pocket sized design and restricted airflow to work perfectly with higher nicotine juices.
What sets the Batpack mod in this kit apart from the crowd is the fact that it works on AA batteries which you can easily purchase at any convenience store or you may use rechargeable ones. This unique capability is due to the ECO technology that the box mod is built upon which allows for 1.85V constant voltage output while ensuring your batteries last a long time. As a result, two fully charged AA cells will allow you to take up to 800 puffs, so it may last you all day long.
Design-wise, the Batpack Box Mod is pocket sized, so you can simply place it into your pocket. Even with the included Joye ECO D16 tank installed, the measurements come in at just 112.5mm x 37.00mm x 18.0mm and a weight of 88 grams. The shiny design also looks bright thanks to color options that include dazzling, green, gold, red/gold, black/blue, dark blue/pink.
If you purchase the full kit, you will get the Joye ECO D16, a tank that has a 2ml juice capacity and a top fill system that allows for easy refills. Airflow on this atomizer is not adjustable, but that is because it was designed for mouth-to-lung vaping. Airflow has been restricted to dual single holes on the base of the mouthpiece. The coil inside the tank is made with a 0.5ohm heating elements and will work perfectly with high nicotine and nicotine salt e-juices for the best possible cigarette like vape experience.
With purchase of the Batpack Kit, you will get the mod, a Joye ECO D16 Tank, a BFHN 0.5ohm coil, a user manual, a warning cardm a warranty card and some spare parts.
Features & Specifications
Dimensions:112.5mm x 37.00mm x 18.0mm
Pocket sized for ultimate portability
Weight: 88g
Mod colors: dark blue/pink, black/blue, red/gold, green, dazzling, gold
Uses brand new ECO technology

Good performance at low voltage
1.85V constant output
Works with AA Ni-MH or standard batteries

Tank capacity: 2ml
 BFHN 0.5ohm coil

Optimized for high nicotine juices and nic salt e-liquids

Restricted airflow on mouthpiece

Mouth-to-lung vaping experience
Gallery
Total Views Today: 1 Total Views: 3,378