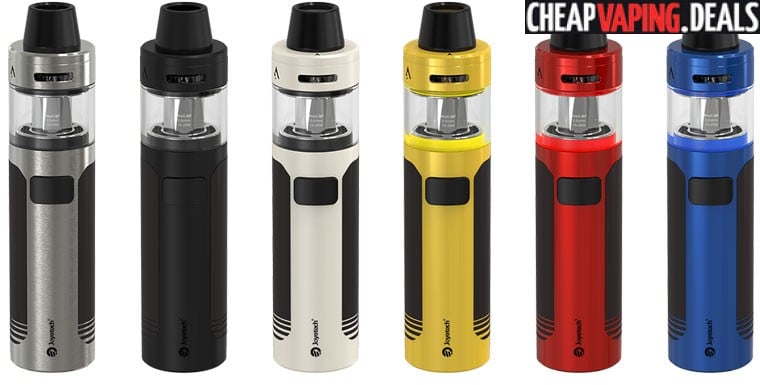 Update: The
Joyetech CuAIO D22 1500mAh Starter Kit
Has Been Discontinued – Check  Newer Tube Mod & Kit Deals
Or
All Mod/Kit Deals
Video
Overview
The CuAIO D22 starter kit is a new pen-style bundle from Joyetech.  It features a tiny design, an internal 1500mAh battery, either a 2ml or 3.5 ml tank capacity, a top fill system, top adjustable airflow, a child-proof mechanism, brand new ProC-BF coils and was designed for mouth-to-lung vaping with flavorful vapor output.
With dimensions of 22mm x 93mm, it is one of the smaller tube-style mod and tank combos in the marketplace.  The design is also sleek and comfortable to carry or transport.  Battery mod colors with matching atomizer include silver, all black, white, yellow, red and blue.
The power button at the top of the CuAIO D22 mod is rectangular and features an LED to keep track of the 1500mAh integrated battery's charge level.  If the light stays lit,  it means there is over 60%  charge level while frequent flashing indicates its time to plug the kit into a computer or other USB outlet with the included cable.  This kit will put out up to 50 watts of power with a fully charged cell.
Included with this starter kit, you will receive a tank that has either a 3.5ml or 2.0ml tank capacity for those who are located in Europe.  The top cap conveniently slides & flips open to reveal holes in which you can inject e-juice into the reservoir. Refills have never been more effortless and the top cap is built with a child-proof mechanism for homes with young children.
Airflow control is located at the top and is adjusted by rotating its ring in either direction. Air intake on the CuAIO D22 was designed for mouth-to-lung vaping, making it perfect for those who are in the process of converting from smoking or who have just started their vaping journey.
Included with purchase, you will receive the new ProC-BF coil that has a resistance of 0.6ohm and is rated from 15W to 28W.  If you decide to get the 2ml version, the included coil will be the ProC-BFL that has an identical rating, but is bigger to reduce the tank capacity.
Features & Specs
Measurements: 22mm x 93mm
Weight: 92.5g
MTL vaping system
Sleek design
Portable and convenient
Colors: blue, red, yellow, white, all black, stainless steel
Mouthpiece compatible with 510 drip tips
Utilizes an internal 1500mAh battery
Micro USB charging
Battery LED on rectangular fire button
50W maximum output
Tank capacity:  2ml (TPD compliant version) or 3.5ml
Sliding/flip open top refill setup
Childproof
3.5ml kit coil: 0.6Ω ProC-BF rated 15W to 28W
2.0ml kit coil: 0.6Ω ProC-BFL rated 15W to 28W
Dual circuit protection
Overcharging protection
Over-current protection
Over-discharging protection
Pictures
Total Views Today: 1 Total Views: 69