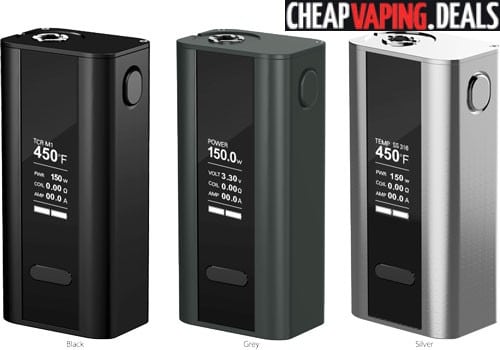 Joyetech has a new temperature control box mod coming out at the beginning of January and it's available to order right now.  This is your chance to get an authentic Cuboid 200W TC Box Mod at a cheap price.  This device comes with 150W of power, but can easily be upgraded to 200W by visiting the Joyetech website and downloading the V3.10 firmware
Overview
The Joyetech Cuboid is the latest box mod from Joyetech.  It is a powerful, yet compact device which makes it perfect to take with you when you are going out.  It's constructed of  stainless steel which gives it a cool look and makes it ergonomic.
Out of the box, the Cuboid has an adjustable power output from 1W to 150W.  But, with the latest firmware, the unit can now fire atomizers all the way up to 200W.   The device features several temperature modes which can control  the temp in the range of  200℉ to 600℉.   And, with a 510 connector and a minimum resistance of just 0.05Ω, this mod is compatible with the majority of atomizers and sub ohm tanks in shops today.
The Cuboid can be fired in 4 different modes: variable wattage mode, TC mode with Titanium coil, TC mode with stainless steel coil or TCR mode.  In TCR mode, you can customize the temperature coefficient of resistance according to the coil type installed.
The Cuboid box mod runs on two external 18650 batteries which are hidden behind a sliding battery panel.  It is recommended to use high amp 18650 batteries with a discharge current of 25A or more.  Because the batteries are installed in series, the Cuboid should have excellent battery life.  In case the batteries are put in the wrong way, the mod has reverse polarity protection to protect the device from damage.
The unit features a 0.96″ attractive OLED screen with many colors and customizable indicators,  including a new double battery bar display to keep track of charge levels for each power cell.
The firmware on the Cuboid is upgradable by using VT desktop software.   With the new V3.10 firmware which was just released, the maximum power output has been increased to 200W.
Overall, if you are looking for a compact dual battery mod with massive power and temperature control functionality, the Cuboid may be the one for you.  And at this price, it's a steal.
Features
Dimensions: 91.5mm x 42mm x 28mm
Made of stainless steel
510 connector with stainless steel threading
Connector has wide border to be compatible with larger atomizers.
Spring loaded center pin
Power output range with firmware V3.0: 1 to 150W
Power output range with firmware V3.1: 1 to 200W
Temperature control range: 100°C to 315°C or 200°F to 600°F
Adjust temperature in increments of  5℃ or 10℉
Four modes: TCR, TC-Ti, TC-Ni, Variable wattage
Adjust temperature coefficient of resistance according to coil type
Variable wattage mode resistance range:0.1Ω to 3.5Ω
TC mode resistance range:  0.05Ω to 1.5oΩ
0.96-inch OLED screen with many colors
Powered by two 18650 batteries
New easy sliding battery panel
Micro USB port for charging
Firmware upgradable through VT software
Rotate display for left handed use
Stealth mode
Lock/unlock function
More information on the Cuboid's homepage
Informational Video
Total Views Today: 1 Total Views: 100