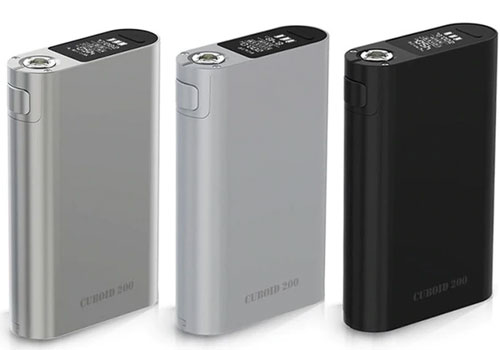 Update: The Cuboid 200 Mod or Kit Has Been Discontinued – Check  Newer 200W Box Mod  Deals Below
Or
All Mod/Kit Deals
Here are some fantastic deals for an authentic Joyetech Cuboid 200 Mod. This device features triple 18650 batteries (not included), easy bottom battery access, 200 watts of power, various temperature control modes, TCR mode, ramp modes,  a top located display screen for easy viewing and a plethora of safety protections.
Overview
Joyetech has upgraded their Cuboid line of bod mods with their brand new Cuboid 200.  It features a premium finish, 0.96 inch display, TRC mode, preheat functionality and utilizes 3 batteries for longer vaping times.  Best of all, this mod is extremely affordable!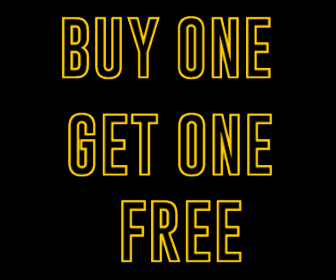 The mod is capable of 200 watts of power which it gets from three external 18650 cells.  The unit has several output presets including variable wattage mode, three variable temperature modes and a TCR mode for a very customized vape experience.  Temperature control operation works with nickel, titanium and stainless steel heads with a resistance of 0.05ohm or higher.  During power operation, the lowest atomizer resistance comes in at 0.1ohm.  From a technological standpoint, this mod seems to have all the technology you may need to fire a wide number of atomizers, builds or tanks available today.
This mod also has a preheat function with which you can ramp up the starting wattage for a specific period of time when firing.  This allows for faster coil heating and a more customized vape experience.
From a design perspective, the Cuboid 200 has a new style and is made from zinc alloy with a durable glossy finish that is available in grey, silver or black.  And, it's quite portable for a triple cell mod,  with dimensions that come in at only 22.00mm x 63.00mm x 99.00mm.  Compared to previous Cuboid devices, this mod's 0.96″OLED screen has been moved from the side to the top and has an intuitive menu in vertical formation.  The menu shows mode, temperature, wattage, resistance, puffs and individual charge levels of each battery.  Adjacent the display, you will find a 510 threaded connection that is springloaded for easy atomizer installs and also adjustment buttons.
The Joyetech Cuboid 200's three batteries are located on the bottom of the unit and are accessed with great ease via a hinged cover.  The batteries can be charged via the USB port on the side of the device or you can upgrade the firmware in case new features come out.
Features & Specs.
Dimensions: 22.00mm x 63.00mm x 99.00mm
Made from zinc alloy for durability
Glossy premium finish
Three colors
Springloaded 510 bezel with stainless steel threads and large atomizers
Clear 0.96″ OLED on top for easier access
Custom logo
Adjustment buttons at top
Utilizes triple 18650 batteries
Hinged bottom battery cover for convenient access
Micro USB charging and upgrades
Output modes: VW/VT (Ni, Ti, SS316)/TCR mode
Power output range: 1W to 200W
Resistance range with temperature control: 0.05Ω to 1.5Ω
Resistance range with power mode: 0.1Ω to 3.5Ω
Preheat/Ramp up modes
Reverse polarity protection
Dual circuit protection against over-charging, over-discharging and over-current
Video
Pictures
Total Views Today: 1 Total Views: 1,104