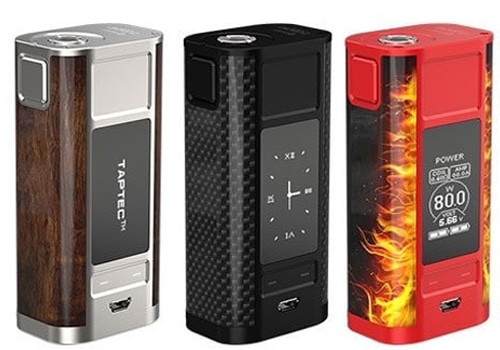 Here are the best prices for the unique Joyetech Cuboid TAP.  The kit features many modes, a pressure-sensitive vibration motor, fast 2A charging, an OLED screen that displays a clock or custom logo, 228 watts of power, and dual 18650 batteries.
Joyetech Cuboid Tap Mod
The Joyetech Cuboid has been upgraded with more power, new technology, and a new design.  The Cuboid TAP features TAPTEC technology, a pressure-sensitive technology for mod adjustments or firing.  In addition, the device utilizes dual 18650 cells and features quick 2A charging, a large OLED, a wide range of temperature modes, and a reverse charging system.
A pressure-sensitive TAP system sets this latest Cuboid apart from similar devices in the marketplace.  By applying pressure in a particular sequence on the bottom of both sides of the mod, you can lock/unlock the device, activate the menu, turn stealth on/off, set the TCR value, flip the screen or check battery voltage.  The resulting vibration will let you know that an adjustment has been made. But that's not all: while there is a physical side fire button, you may also engage a firing mechanism by simply tapping above the OLED on the front.  The adjustment buttons also function in this way.
Centered in the middle of the control face, the OLED measures a massive 1.3 inches to display an innovative vertical menu.  Vape data such as current mode, coil type, resistance, wattage/temperature, voltage, and battery levels are indicated in large font.  The display can also be changed to a real-time clock or your customized logo.
Powering the Cuboid TAP are dual 18650 cells behind a flip battery door on the bottom.  The batteries can be charged while onboard by plugging the micro USB port into any wall outlet or PC.  The balanced charging process is lightning fast as it takes place with a high 2 amp current.  The mod can also be used as a power bank if you lose power on your smartphone or tablet.
The TAP is a technically competent box mod.  A wide range of preset modes is built into the operating system, including power mode, clock mode, three temperature modes for nickel, titanium, and stainless steel, and a TCR mode that can be saved in three memory slots.  The mod's highest power output is 228W, the temperature can be altered up to 600 Fahrenheit, and the minimum atomizer resistance is a very low 0.05ohm.  Power output is also said to be stable thanks to buck-boost technology.  Finally, it is safe to use this reliable box mod thanks to reverse battery protection, dual circuit protection, over-charging protection, and over-discharging protection.
Design-wise, the Cuboid TAP looks somewhat similar and features the same dimensions as its predecessor, but there are many new colors, including silver, black, red, yellow, and blue.  The unit measures 28mm x 41mm x 134mm and weighs 175g.  Compared to competing box mods, the 510 connection bezel on the top is larger and deeper.  The depth comes in at 5.5mm deep, and the connector will easily handle atomizers with a diameter of up to 25mm.
Mod Features & Specifications
Dimensions: 28mm x 41mm x 134mm
Weight: 175g
Colors: blue, yellow, silver, black, red
5.5mm deep/25mm diameter 510 connection
1.3″ OLED display with vertical menu
Customize screen logo
Screen clock mode
Operating modes: Power/Clock/Temp (Ni, Ti, SS316)/TCR (M1/M2/M3)/Power bank mode
TAPTEC technology

:

 pressure-sensitive to change settings
Use the physical button or TAP mod firing
Vibration motor
Power output range: 1W to 228W
Power mode resistance range:  0.10Ω to 3.50Ω
Temperature control range: 100°C to 315°C or 200°F to 600°F
TC resistance range:  0.05Ω to 1.50Ω
Maximum output current: 50A
Utilizes dual 18650 cells
Flip open the bottom battery door
2A Micro USB on-board charging port
Use as a power bank
Micro USB firmware upgrades
Wide range of safety features
Gallery
Total Views Today: 1 Total Views: 716