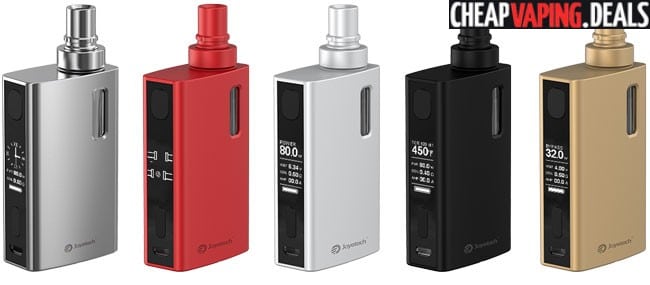 Here are cheap deals to buy the Joyetech Egrip 2 Kit.  This new all-in-one mod with an internal tank features a powerful 2500 mAh internal battery, a 3.5mL internal tank, Notchcoil for improved vapor production, a screen with a real-time clock option, 80 watts of power, and many settings including power, temperature, and bypass.
Overview
The eGrip II is the next generation of Joyetech's eGrip with improved design.  This new all-in-one mod with an internal tank features the latest TFTA tank technology, the most up-to-date firmware, a powerful 2100 mAh internal battery capacity, and the latest Notchcoil for improved vapor production and flavor.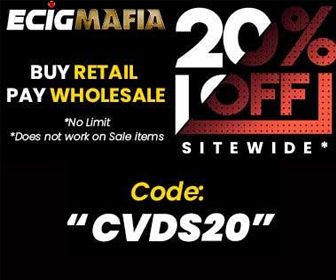 The device is portable and compact with dimensions of just 24mm x 45mm x 99mm, including the mouthpiece.  The design is elegant and available in various colors, including silver, gold, red, black, and white.  There's also an adjustable light inside the tank that makes this setup stand out.  It can be changed to blue, green, yellow, red, purple, cyan, white, or completely off.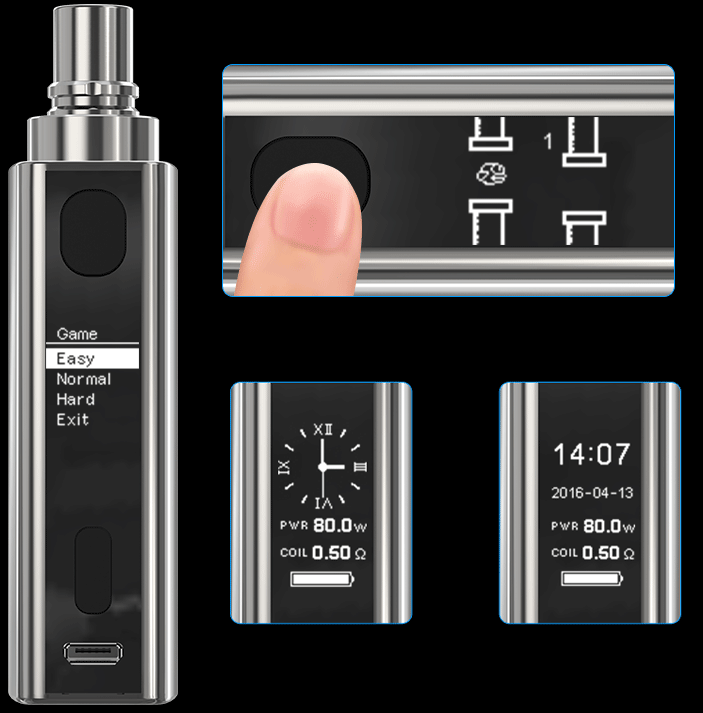 The eGrip II applies the new V4.03 firmware and features a large 0.96″ OLED.  There are quite a few new features with this latest firmware.  With Real Time Clock technology (RTC), the screen can display time in digital and numeric clock formats. And there's a  newly added game mode so you can be entertained and vape simultaneously.  The eGrip II will always stay in sync with the latest technologies because firmware upgrades are a breeze. Simply download the new software to your PC, plug in the eGrip II via the micro USB port and install the mod's latest operating system.   The micro USB port is also used for charging the internal batteries that power the unit.  They have a total capacity of 2500mAh, allowing for all-day vaping without frequent recharges.
The box mod features several modes, including RTC mode, power mode, three variable temperature modes, and three TCR modes.  The maximum output power is an adequate 80 watts, and the device can fire atomizers down to a very low 0.05Ω in temperature control mode. Variable temperature mode is compatible with Titanium, Nickel, and SS coil heads, or you can input your wire's specs in TCR mode for a more personalized vape. The temperature range is 200°F to 600°F.
The eGrip II's internal tank can hold up to 3.5ml of e-liquid.  The system utilizes the brand-new TFTA-Tank technology, which features a top-fill system and top-located airflow.  To add e-juice,  remove the mouthpiece, and you can also swap out the coil at the same time.    Airflow is adjustable via the ring on the atomizer cap.  Turn the ring right or left to adjust the air intake from fully open to closed.
Joyetech also set out to improve vapor production over previous releases of the eGrip.  This new kit utilizes a NotchCoil 0.25Ω DL head to enhance the vaping experience.  Many other heating elements are compatible, such as BF SS316 coils, BF Clapton-1.5ohm coils, BF Ni, BF Ti, and BF RBA coils.
If you want to use your atomizer or build with the mod, this can be achieved with the included atomizer adapter.  Simply unscrew the mouthpiece, screw in the adapter with a coin, and attach your favorite atomizer.
With The eGrip II, vaping is safer and more reliable as built-in circuit protection prevents battery cells from over-charging, over-discharging, and firing at high currents.
In addition to the standard Kit, the eGrip II also comes in a special kit that features a child-proof mouthpiece.
Gallery
Features & Specifications
Dimensions: 24mm x 45mm x 99mm or 0.94″ x 1.77″ x 3.9″
Weight: 380g or 13.4oz
Constructed from stainless steel
Internal tank
Tank capacity: 3.5ml
Adjustable airflow
Fashionable tank light with 7 alternate colors
TFTA tank system with top airflow and top fill system
Notchcoil
Output Modes: RTC/VW/VT (Ti, Ni, SS316)/Bypass/TCR (M1, M2, M3)
Powerful 2500mAh built-in batteries
Power range: 1W to 80W
Bypass & power mode resistance range: 0.1Ω to 3.5Ω
Temperature control resistance range: 0.05Ω to 1.5Ω
Temperature control range: 100°C to 315°C or 200°F to 600°F
Latest firmware version, 4.03
Firmware upgrades
Large 0.96″ OLED
Real-time Clock allows for digital or analog clock display
New game mode
Dual circuit protection
Atomizer adapter
Childproof mouthpiece with the special edition
Total Views Today: 1 Total Views: 358