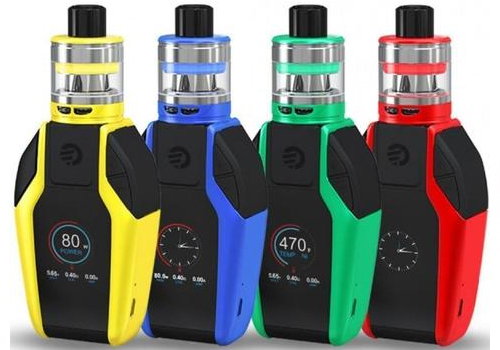 Check out these cheap deals to buy the Joyetech EKEE Box Mod or Kit at a low price.  This mod features 80 watts of power, a large full-color display screen, a 2000mAh internal battery, fast micro USB charging, and versatile temperature control and TCR modes.  Update: the Joyetech Special Edition Kit is now also available.
USA Deal: Kit & Free 5-Pack Of Matching Coils

$25.49

Use coupon EKEE at checkout – a small popup window at checkout will allow you to add free coils to your cart
Overview
The EKEE Box Mod is Joyetech's latest mid-wattage device. It features an ergonomic form, a massive 1.3-inch full-color TFT screen, up to 80 watts of power, fast 2 amp charging, an integrated 2000mAh battery, and a car smart key-inspired design.
This unit features all the technical bells and whistles you may need to ensure most atomizers are compatible.  The highest output is 80 watts, the lowest resistance capability is 0.05ohm, and the maximum temperature output is 315 degrees Celsius or 600 Fahrenheit.  And its operating modes are also versatile to satisfy most people.  These include power mode, bypass mode, three temperature modes (TC Ni, TC Ti, TC SS), and the capability of setting a TCR level in three easily accessed memory slots. A decent 2000mAh built-in battery should give satisfactory vaping times at the highest 80W output. The internal cell is recharged via the side micro USB port.  The charging system is built with fast 2 amp charging and temperature protection technology that will automatically stop the process if temps get too high while the device is plugged in. Firmware upgrades via the USB port ensure the operating system remains state-of-the-art.
What stands apart on the EKEE mod is the full-color TFT display on the front that measures 1.3 inches to allow for easy viewing of vape data.  The menu is vertically orientated and shows all your standard indicators. A real-time clock may also be displayed, or you may upload your screensaver background pictures.  The specs also show that one sub-menus allows you to calculate nicotine intake levels.
From a design perspective, the Joyetech EKEE looks like a car remote. The device measures 27mm x 47.5mm x 75.5mm, weighs 151 grams, and is available in green, blue, yellow, red, or silver.  It is a portable box mod that is said to be comfortable in hand.  At the top of the mod, you will find a standard 510 connection compatible with atomizers up to 25mm and a depth up to 5.5mm.
Features & Specs
Measurements: 27mm x 47.5mm x 75.5mm
Weight: 151g
Colors: silver, red, yellow, blue, green
Car remote design
Portable and ergonomic
Standard 510 atomizer bezel

Spring-loaded for compatibility
Depth: 4.0 to 5.5mm
Diameter: 25mm

1.3 inch TFT screen

Full-color display
Vertical vape data
Set wallpaper
Real-time clock
Nicotine intake calculator

Integrated 2000mAh battery

Long vaping times at 80W
Fast 2A charging system
Temperature protection system while charging

Operating modes:

Power
Bypass
TC Ni
TC Ti
TC SS
TCR (3 memory slots)

Power mode range:1W to 80W
Temperature control range : 100°C to 315°C/200°F to 600°F
Resistance range

Power/Bypass: 0.1Ω to 3.5Ω
Temp/TCR:  0.05Ω to 1.5Ω

Max output voltage: 9V
Max output current: 30A
Gallery
Total Views Today: 1 Total Views: 645