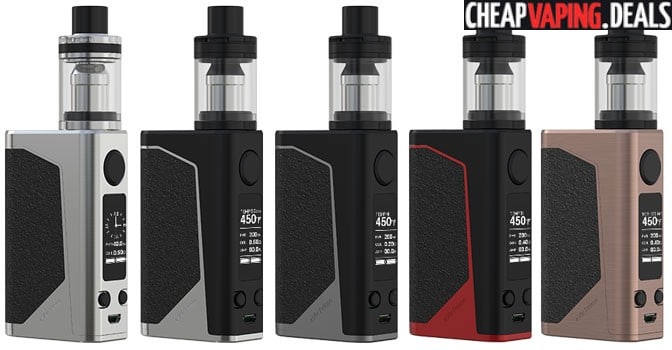 Update: The Joyetech eVic Primo 200W Mod Or Kit Has Been Discontinued – Check  Newer 200W Box Mod  Deals Below
Or
All Mod/Kit Deals
Overview
The Joyetech eVic Primo Kit features a high powered box mod and the Unimax 25 tank.  The mod puts out up 200 watts, has temperature control, features balanced/fast charging and is powered by two 18650 batteries.  The Unimax 25 tank is built with a unique TFTA system, massive adjustable airflow control, a top fill system and a decent 5ml tank capacity.
On its own, the eVic Primo mod weighs 156g and measures 53mm  in length and 26mm in width. The height of the entire with kit with tank comes in at 134mm. The mod is available in silver, bronze, black with silver, black with red and black with grey.  The device looks to be made from zinc alloy with a leather-like battery cover.  The atomizer bezel at the top has a diameter of 25mm, so you can install large builds/tanks without any overhang.
To be able to put out 200 watts of power for extended periods, the unit utilizes dual 18650 batteries that can be removed for external charging.  The device is also built with an on-board USB charging setup to top off the cells while they are installed inside the mod.  Charging occurs at a fast 1.5A and uses new balanced charging technology to make sure levels of each battery are equal.  The USB port can be found on the bottom of the control face and is also used for future firmware upgrades to keep up with any future vape technologies.
The eVic Primo box mod uses the latest firmware from Joyetech which allows the large OLED, which features an easy/effective menu, to display a real time clock, a custom logo and reverse charging. The latter allows the mod to be used as a power bank in case your phone or tablet needs an emergency charge.
Firmware 4.05 also allows for the Primo to be used in a wide range of modes: variable wattage, variable temperature with nickel, titanium or stainless steel, TCR mode for custom resistance settings, smart mode, RTC (real time clock) mode and USB charge mode.  The maximum output comes in at 200 watts, the lowest resistance is just 0.05ohm and temperature operation is possible in the range of 200 to 600 degrees Fahrenheit.  Moreover, the box mod uses a new buck-boost technology to provide steady output and preheat ramp firing for faster initial coil engagement.
The Unimax 25 tank has a 5 ml e-juice capacity and is refilled from the top by removing the top cap. For better flavors and to prevent leaks, airflow is also changed by rotating the top cap.  The tank is said to work well for those who enjoy mouth to lung or direct to lung vaping.  If you would like to use this tank with a tube battery system, check out this Unimax 25 Kit.
Included with this kit, you will get a Kanthal BFXL head that is said to provide decent vapor with amazing taste.  The head fires in the range of 30 watts to 50 watts and has a resistance of 0.5ohm. Other coils that are compatible with this tank is any found in the Cubis or Cubis Pro, but you will need a BF adapter sold by Joyetech.
Features & Specs.
200W eVic Primo Mod & Unimax 25 tank
Measurements: 53.0mm*26.0mm*134.0mm
Colors: bronze, silver, black/silver, black/red, black/grey
Box mod weight: 156.0g without batteries
Tank weight: 58.0g
Output modes: VW/VT (Ni, Ti, SS316)/TCR/Smart/RTC/USB Charge mode
Utilizes dual 18650 high drain cells
Fast 1.5 amp charging
Balanced charging
Use as power bank for smart phone or other USB device
Clear OLED with convenient menu
Customize logo
Real-time clock
Steady output power with buck-boost technology
Ramp vaping
Power range: 1W to 200W
Temperature range: 200°F to 600°F or 100°C to 315°C
Resistance range power mode: 0.1Ω to 3.5Ω
Resistance range variable temperature mode:  0.05Ωto 1.5Ω
Maximum output current: 50A
Tank capacity: 5ml
Top fill system
Top adjustable airflow
Uses BF (Cubis atomizers), BFL or BFXL series heads
Pictures
Total Views Today: 1 Total Views: 83