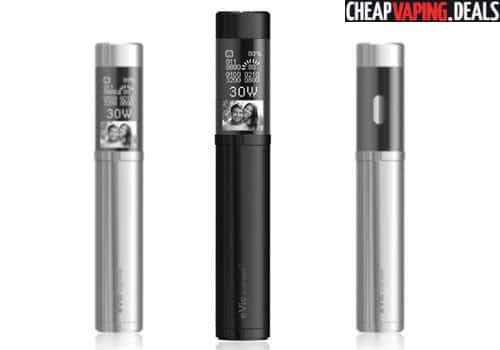 Update: The
Joyetech eVic Supreme Mod
Has Been Discontinued – Check  Newer Tube Mod & Kit Deals
Or
All Mod/Kit Deals
Overview
The eVic Supreme by Joyetech looks very similar to previous eVic battery mods, but has a ton of unique features.  The mod sports an amazing design, as well as a completely customizable OLED display that supports image uploads and even has a screensaver.
The tube-style battery measures 23mm x 139mm and has a stainless steel chassis.  The design is familiar, but  features a more angular form factor for amazing ergonomics and a modern look.  At the top, there's an interchangeable 510 atomizer ring that features a spring-loaded connection that was designed for maximum electrical conductivity.
The Supreme utilizes a single 18650 battery that can be found by removing the cap at the bottom.  The cell can be topped of by connecting the mod to any outlet with the included micro USB cable.  Recharging typically takes about 3 hours with standard charging, but a rapid charging option only takes about 60 minutes.
Near the top of the device, you will see a one-of-a-kind OLED display that has a 64 x 128 resolution and measures 0.96 inches.  Thanks to the lastest Myvapors software, you are able to upload any picture to display as the background on the 16 grade gray screen or you may customize the eVic Supreme's screensaver.  To accomplish this, you simply install the MyVapors software onto your PC and connect the battery.  In this way, you may also upgrade the firmware in case Joyetech releases a new version.
From a technical perspective, this new tube mod is also quite capable.  The maximum voltage output tops out at 3.6V and the highest power output is 30 watts. The  mod is capable of reading the resistance of any atomizer to optimize the output and supports atomizers down to 0.5ohm for decent compatibility with many sub ohm tanks.
Safety was also important in the design of the Joyetech eVic Supreme and includes temperature protection, short circuit protection, open circuit protection, over-puff protection and low voltage protection.  You can also lock the mod with a password.
Features & Specs
Measurements: 23mm x 139mm
Weight: 45.0g
Colors: black or silver
Stainless steel body
Unique design and eye catching finish
Changeable 510 atomizer ring with springloaded/conductive spring
0.96″ 64×128 pixels OLED display
Vertical menu with power, voltage, resistance and battery level
myVapors PC software
Upload background picture
Customize screensaver
Two firmware options: V1 or V2 with different OLED display
Firmware upgrades
Maximum voltage output range :3V to  6V
Maximum power output: 30W
Resistance output range: 0.5Ω to 5.0Ω
Detects atty resistance
Utilizes a single 18650 battery
Convenient bottom screwed battery cap
Micro USB charging
Charging voltage: 4.2V
Standard charging time: 180 minutes/100mAh
Fast charging time: 60 minutes/100mAh
Passthrough capable: vape while charging
Password protection
Low voltage protection
Overtime working protection
Output open circuit protection
Temperature protection
Pictures
Total Views Today: 1 Total Views: 133