Here are some good deals to buy the Joyetech Evic VTC Dual Box Mod Kit at a low price.  You can operate this mod with either one or two 18650 cells with two alternate battery covers.  This setup is outdated, so check other Joyetech vape devices or see more mods & kits.

Joyetech Evic VTC Dual Overview
The eVic VTC Dual by Joyetech stands apart from the competition because it includes two replaceable covers, allowing it to be used with one 18650 battery at 75W maximum output or two 18650 batteries at 150W of power.  This capability is similar to the RX2/3, which permits 150W or 200W of power with 2 or 3 cells, respectively.
The eVic VTC Dual is available in a wide range of colors, including orange, blue, burgundy, white, or black.  Regardless of the battery cover, the device always measures 23mm wide and 86mm in height.  But, with one cell installed, the length is 38mm, and with two batteries, the length is 55.5mm. This makes it a versatile box mod at home with the more powerful 150W output or on the go with the more portable one-cell setup.  Both back covers are held in place by four powerful magnets but slide off for easy interchanging between one/two cell operation. With two batteries installed, the cells can also be swapped via a hinged magnetic door at the bottom.  Charging and upgrading are performed by simply connecting the eVic VTC Dual with the micro USB cable to charge or upgrade.  When batteries are full, the charging bar on the OLED will disappear.
In addition to 75W or 150W power mode operation, the box mod also features the latest technology to allow it to be used in the following modes: real-time clock mode, three variable temperature modes (nickel, titanium, stainless steel), TCR mode (set coefficient of resistance for coil) and bypass mode.  Temperature can be varied up to 600°F, and atomizers can be fired with a resistance of 0.05Ω in TC mode and 0.1Ω in bypass/power mode.
The eVic VTC Dual also offers dual circuit protection, which prevents the battery from over-charging, over-discharging, and going over-current.  And there's reverse polarity protection in case you insert the batteries incorrectly.
The OLED on the control face is the same as in many of the latest eVic VTC box mods.  You can set the clock on the screen to either a dial display, numerical display, or screen protection display.  On the OLED, you will find a 5-line vertical menu with all the current statistics of the mod, such as mode, resistance, temperature, battery level, etc…  The device comes with Joyetech's latest 4.02 operating system pre-installed, but, as previously stated, it can be upgraded when new firmware is released.
At the top of the eVic VTC dual, you will find a stainless steel threaded 510 connection for easy installation of your build, tank, or atomizer.
Features & Specifications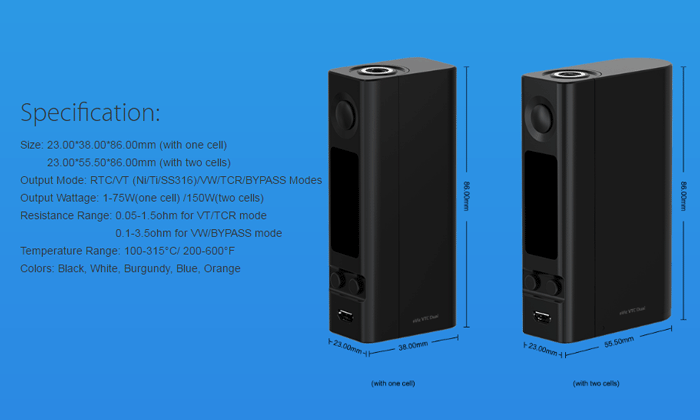 Total Views Today: 1 Total Views: 1,430