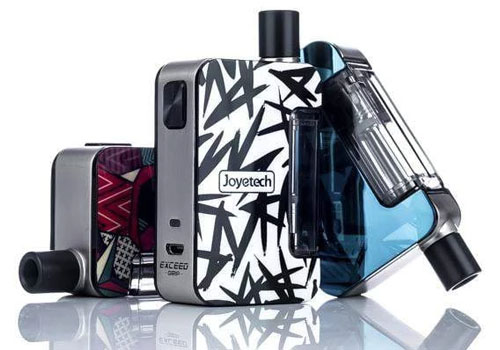 Check out this blowout price for the Joyetech Exceed Grip. This pod starter kit features a classic box style design, a compact shape, colorful IML panels, two types of cartridges (one with EX coils and one with built-in coils), mesh coils or ceramic coils with mesh cotton, a 1000mAh integrated battery and a 3.5 or 4.5ml juice capacity.
Deals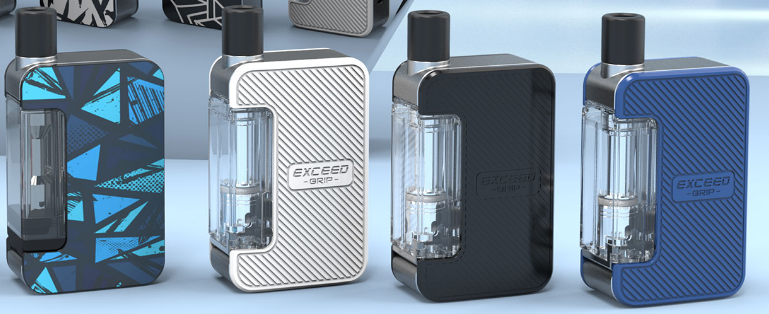 Review
Overview
Dual colorful IML panels can be found on both sides of this exquisitely designed device. This in-mould-labeling coating results in a colorful finish that will easily resist dust, moisture and scratches

The Exceed Grip is compact, so you may simply place it in your compact or purse. And, it is comfortable in the hand thanks to an ergonomic design.

The kit features long vaping times and a massive juice capacity for a pod system. The standard cartridge can hold 4.5mL and the pod cartridge 3.5mL of e-liquid. Combined with the integrated 1000mAh battery, you may vape all day long without a recharge or refill.

The Exceed Grip features innovative DBP technology which is short for Dry Burn Protection. This auto temperature control system stops dry burn issues dead in their tracks and ensures the best possible flavor production.
The cartridges insert into the kit via a brand new sideways method to make it very convenient to perform refills.

There are two different cartridge options. The first has a changeable EX coil system. Simpy unscrew the base and replace the EX coil. Or, you may opt for the easier pod with a built-in coil head.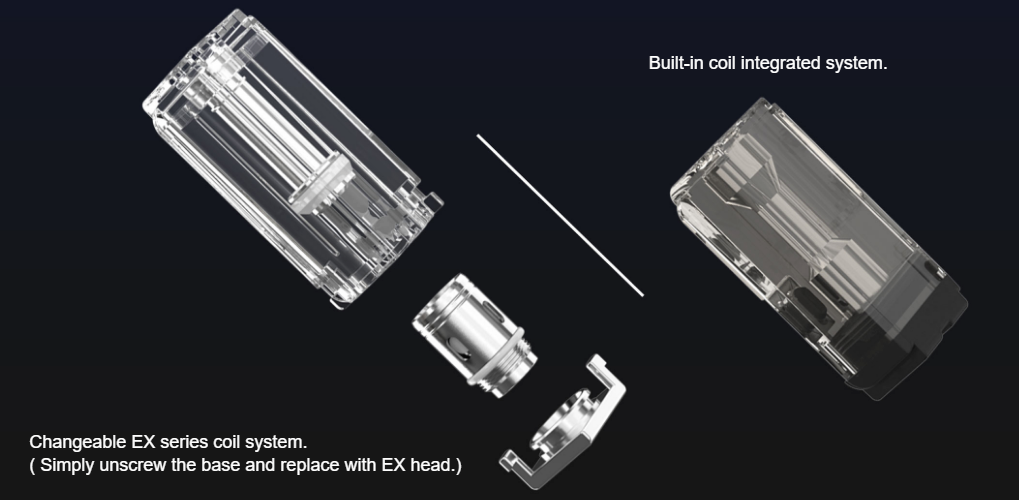 Two different coil options are available. The standard cartridge utilizes 0.4ohm EX-M coils while the pod cartridge works with 0.8ohm mesh and ceramic coil options. All these coils use new mesh cotton as wicking material which is made with plant fibers for maximum and e-liquid absorption. This results in exquisite flavor production.

The standard pod works best with direct to lung vaping while the pod cartridge is suitable for a mouth to lung draw. In this way, you may personalize your vape experience.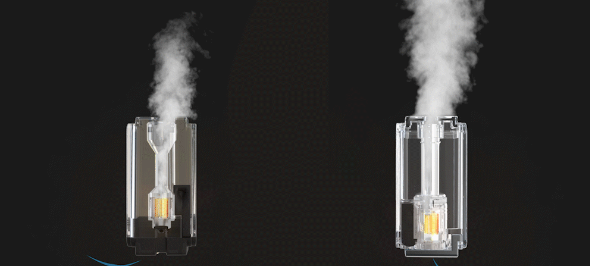 Refills are a breeze on both the standard and pod cartridge. All you do is open a side plug and inject e-juice intp the filling slot.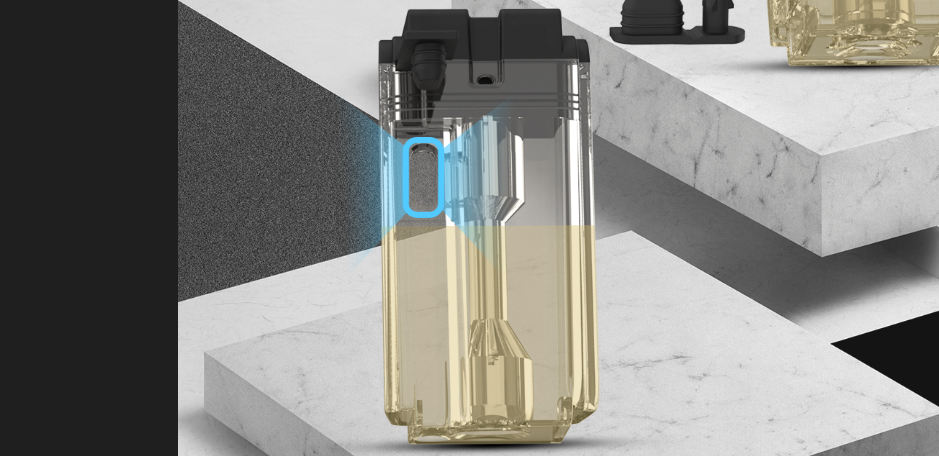 To ensure safe performance, multiple safety features are built into the Exceed Grip. These include over-discharging, overcharging, over-current and short circuit protections. And, there is also a 10 second cutoff system to prevent accidental long firing.

To charge the battery, simply connect the device to a computer or a micro USB wall adapter via a micro USB cable. An LED will light up red during the charging process and different colors to indicate the battery's voltage during regular operation.

Features & Specifications
Dimensions: 40 x 21 x 74mm
Pod Cartridge: 3.5ml | Fixed 0.8Ω integrate mesh coil
Standard Cartridge: 4.5ml juice capacity | Interchangeable EX-M 0.4Ω coil
Built-in 1000mAh Battery
Micro USB Charging
Output Mode: VV
Maximum Wattage: 20W w/ full battery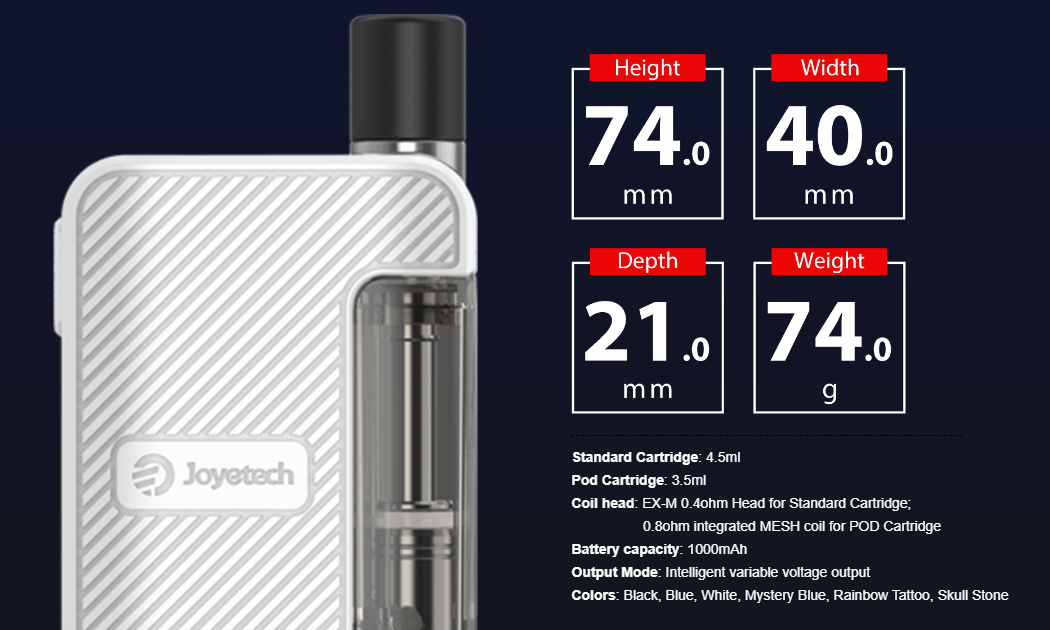 In The Box
Exceed Grip Battery
Standard Cartridge 4.5ml

EX-M Coil Pre-installed
Extra EX-M 0.4ohm Mesh Coil

Pod Cartridge 3.5ml

Integrated 0.8ohm Mesh Coil

Micro USB Cable
Manual
Warranty Info
Similar Products
Total Views Today: 1 Total Views: 1,190