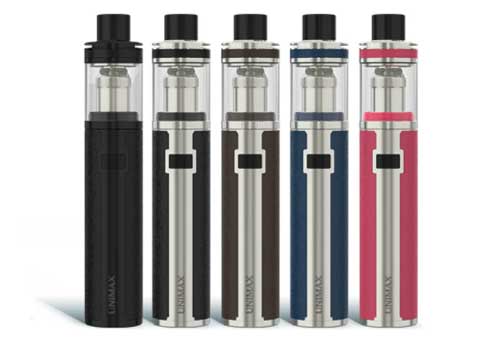 Here's a fantastic deal on the Joyetech Unimax 22 Kit.
Overview
The Unimax is a brand new starter kit by Joyetech and is available in two alternate versions. Compared to the Unimax 22, the Unimax 25 is built with a larger tank capacity, features a more powerful battery and is 2 inches taller.  Both versions of the kit feature two alternate modes, a leak proof design, a top fill system, top adjustable airflow, an LED for battery level/mode and can be used for mouth-to-lung (MTL) or direct-to-lung vaping (DTL).
The Unimax 22 measures 22mm x 139.5mm, has a 2ml tank reservoir, uses a 2200mAh internal battery and weighs 126g with a coil installed.  The Unimax 25 has dimensions of 25mm x 134.5mm, includes a 3000mAh battery, is built with a 5 ml e-liquid capability and is 30g heavier.  Both editions are available in all black, silver/red, silver/blue, silver/brown and silver black.  If you want to change the look and feel of your kit, there are also colorful stickers available.
The Unimax kit utilizes a TFTA tank structure which means it was designed with a convenient top filling (TF) system and easy top airflow (TA) adjustment.  To add juice, simply unscrew the top cap and squirt e-liquid thru one of two large fill ports.  Airflow is adjusted by rotating the top cap.  Because airflow is adjusted from the top , the tank is said to be leak proof and puts out purer vape flavors.
The tank in this kit utilizes the BFL Kth – 0.5ohm coil that should be used if you enjoy MTL vaping and fires in the range of 20 watts to 40 watts.  Other compatible heads include BFXL coils or you can use the same heads found in the Cubis/Cubis Pro with a BF adapter.
The Unimax batteries in both versions are quite powerful to allow for long vaping times.  They are easy to use and can be powered in two alternate modes.  In direct output mode, it is used as an unregulated device, so power output will be based on battery voltage.  In voltage output mode, the device becomes a regulated device with constant voltage operation.  Simply hold the fire button for a few seconds to switch between modes.  A white LED light on the fire button means you are in direct output mode, while an orange light indicates the current mode to be constant voltage output.  The LED will also stay lit/flash slowly if battery level is high.  Fast flashing means it's time to plug the unit in to top off the battery.
To ensure vaping the Unimax is safe, it was designed with over-discharging, over-current and battery protections.
With purchase, you will also receive a 510 drip tip or you can use your own standard drip tip.
Video
Features & Specifications
Unimax 22: 22.0mm x 129.5mm / 126g / 2ml capacity / 2200mAh battery
Unimax 25: 25.0mm x 134.5mm / 156g / 5ml capacity / 3000mAh battery
Colors: full black, silver/black, silver/brown, silver/blue, silver/red
Stickers to change look
Constant voltage output mode
Direct output mode
LED for battery level and current mode indication
Micro USB charging
Dual circuit protection
Uses BFL and BFXL series heads
Compatible with BF series heads with adapter
Easy coil replacement
Top adjustable airflow
Leak-proof
Top fill system
Unimax 510 drip tip
Use your own mouthpiece
Extra tank tube
User's manual
Warranty card
Spare parts
Warning card
Pictures
Video Review
Coming soon
Total Views Today: 1 Total Views: 286