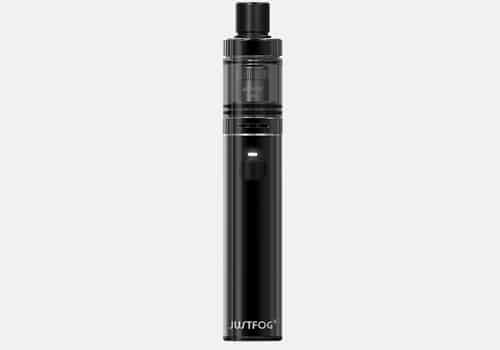 Here's a cheap deal for the Justfog FOG1 2ml 1500mAh Starter Kit.
The JustFog Fog1 Kit features bot direct-to-lung and mouth-to-lung coils, a 2ml juice capacity, a 1500mAh internal battery, a simple top fill system, a childproof system, an anti-spit protection shield and a myriad of safety features.
This kit is quite compact with measurements of just 20mm x 113.5mm and can be purchased in black or silver. At the bottom of the setup, you will find a battery mod that is powered by an integrated 1500mAh cell that is recharged via a Micro 5pin USB port with the included cable. The battery's charge level is tracked via a 3 level LED above the ergonomic fire button. The Fog1 battery is said to put out accurate constant voltage to ensure a constant vape experience and a wide range of protections — short circuit protection, overheat protection, over discharge protection and overcharge protection — ensure safe operation.
Connected at the top of the Fog1 mod, the included tank has a 2ml ejuice capacity, an easy top fill system, a child proof top cap, a stainless steel adjustable airflow ring and an anti-spit protection shield. Depending on the coil that is installed, the tank operates for direct to lung vaping with the included 0.5ohm Justfog coil or mouth to lung vaping with the 0.8ohm coil. Both heads are made with Japanese organic cotton for a healthy experience and are treated with Ni-Cr materials for longevity.
Features & Specifications
Full Kit

Dimensions: 20mm x 113.5mm
Weight: 82.9
Colors: black, silver

Fog1 Pen-Style Mod

Accurate steady voltage output
1500mAh battery

Long vaping times
5 pin USB charging
3 level LED to monitor charge level

Power on/off function
Battery safety ensured

Short circuit protection
Overheating protection
Overcharge protection
Over discharge protection

Fog1 Tank

2ml tank reservoir
Top fill system
Easily replace glass section
Child proof top cap
Dual adjustable airflow slots
Anti-spitback setup
Coils

0.8Ω MTL coil
0.5Ω DTL coil
Japanese organic cotton
Ni-Cr treated for durability
Total Views Today: 1 Total Views: 48