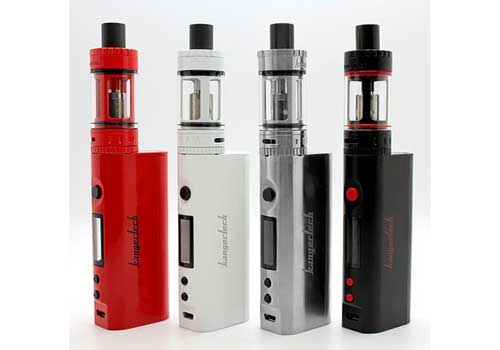 Don't miss out on this awesome deal for a Kanger Kbox Mini Box Mod (Platinum).
Overview
With this platinum edition of the Kbox Mini, you'll never look better while vaping.  This new version of the mod features 60W of output power and has accurate temperature control functionality.  This mod's casing is constructed of stainless steel and has a compact design, making it perfect to take with you on your night out.
Both the device & buttons are shiny, but are not a fingerprint magnets.  While it's a little bigger than the regular versions of the Kbox Mini, it's still a compact device.  And, it also feels heavier and more durable than the other editions of this product.
The Platinum version of the Kbox Mini is temperature control capable and has a variable wattage range from 7 to 60 watts.  The lowest resistance is 0.1Ω, making it compatible with almost every tank or atomizer in the market.
The battery compartment is the same as with other Kbox Minis.  It features a magnetic door panel which houses the external 18650 battery.  The springloaded 510 connector and OLED screen are also the same as the other Minis.
Overall, the Kbox Mini Platinum Edition is a beautiful, compact box mod with fantastic temperature control features and adequate power output for a portable device.  And,  it has all the functionality of the other editions of this product.
Features
Dimensions 82mm x 19mm x 22mm or  3.22 x 1.53 x 0.86 inches
Weight: 0.120 kg
Made of stainless steel (SUS 304)
Temperature Control Capability
Wattage range: 7W to 60W
Lowest resistance: 0.1Ω
Uses one 18650 battery
USB charging
Spring loaded 510 connector
Battery level indicator
Short Circuit Protection
Overheat Protection
Short circuit protection
Over-use 10 second protection
Overcurrent protection
Detailed manual
Video Review
https://www.youtube.com/watch?v=FPqKJftfE-s
Total Views Today: 1 Total Views: 621