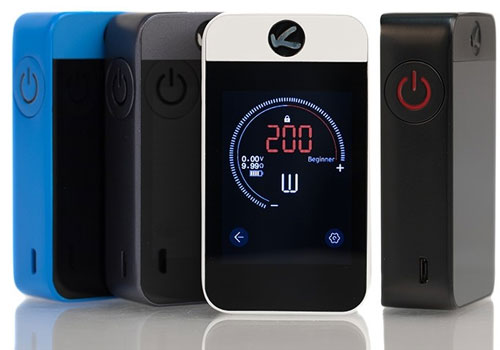 Here's a cheap deal for the Kanger Pollex Box Mod.  It  features a responsive 2.4 inch  color touch screen, 200 watts of output, a powerful 3500mAh integrated battery, a new menu system, taste modes, a full temperature control suite, and TCR mode.
Overview
The Kangertech Pollex Mod features a responsive 2.4 inch touch screen, 200 watts of output, a powerful integrated battery, a new menu system and ramp vaping.
From a design perspective, this mod looks somewhat similar to Smoktech's G-Priv 2 box mod, but fewer color options. With curved corners, the appearance is modern and the available colors include black, white, blue and gun metal.  Dimensions are not yet available, but the unit looks small and portable.  The materials used look to be zinc alloy with aluminum, but this is uncertain.
The center piece of the Pollex Box Mod is the massive 2.4 inch touch screen that is said to respond well to the touch and can be set to four different languages. The main menu looks completely new and features a modern speedometer type display with indicators for wattage/temperature, voltage, resistance and current mode. To make it easy for beginners and more efficient for vape veterans, there's three different menus: beginner, intermediate or expert mode.  It is unknown if the menu's font colors are changeable, but we would imagine that they are.
On the technical level, this box mod is quite versatile. Powering this device is a decent 3500mAh integrated battery that can be recharged via the micro USB port with a lightning fast 2 amps of current.  Keeping track of the cell's current charge level is easy thanks to a battery bar on the home screen. The output of the Pollex tops out at a whopping 200 watts, the highest temperature is 600 degrees Fahrenheit and the minimum resistance is 0.05ohm. Variable temperature control works well with all heating elements and there's also a DIY mode with which you may enter TCR information for your particular coil.  All these details add up to a device that is compatible with the majority of builds and tanks currently in the marketplace.
You may also feel confident when using the Kanger Pollex Box Mod thanks to a myriad of safety features. These include short circuit protection, over charge protection, over-discharge protection, low voltage protection and overpuff protection.
Features & Specifications
Dimensions:  unknown
Made from aluminum/zinc alloy
Modern curved design
Colors: gun metal, blue, white, black
510 threaded connector
Ergonomic circuilar fire button
Massive 2.4″ touch screen

New menu system
Expert, beginner or intermediate screen modes
Responsive to the touch
4 languages
Screen lock button

Built with 3500mAh integrated battery

No need for a charger
Micro USB charging system

Power output range: 1W to 200W
TC output range:  100 to 300℃ or 200 to 600℉
TC mode compatibility: SS, Ni200, Ti, TCR, TC Curve
Power mode resistance: 0.1Ω to 5.0Ω
TC mode resistance:  0.05Ω to 1.0Ω
Output voltage range: 3.2V to 4.2V
Safety features

Low voltage protection
Overcharge protection
Over-discharge protection
Short circuit protection
Overpuff time protection
Total Views Today: 1 Total Views: 196