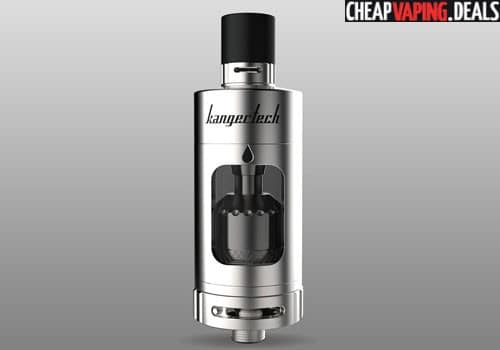 Here's an incredible price for the Kanger Protank 4.
Overview
Kangertech has finally released their latest device in the Protank seriers: the Protank 4 Evolved. Compared to its predecessors, the new tank has a brand new design with a more contemporary look and features the latest technologies, child resistant system and works with ceramic coils.
The Protank 4 is constructed from stainless steel with Pyrex glass and features high quality construction that is bound to pass the test of time.   The tank capacity  is a big 5ml, allowing for longer vaping without refills.  Liquid is added via an easy  side/top fill system.  At the top of the device, there's a 510 stainless steel Delrin drip tip which features its own adjustable airflow.  On the bottom, there's a non-adjustable gold plated 510 connection for adaptability with most mods and to ensure best electrical conductivity.
The tank has a dual adjustable airflow at the bottom.  It can be changed from wide open to fully closed for mouth to lung or direct to lung vaping.
The device also features a child safety lock such as you would find on Kanger's CL tank.  To unlock the tank, simply twist the top cap open and pull it out.
The Protank 4 can be used with SSOCC/OCC Kanger coils.  Included with purchase, you'll get a mouth to lung 1.5Ω coil and a Kanger ceramic coil.
There's also a Velocity style RBA section available for those who enjoy building.  It's not the largest deck so it won't fit a lot of cotton.
Features
Dimensions: 65.5mm x 22mm
Shell made from stainless steel
Pyrex glass tank
SS 510 adjustable Delrin drip tip
Tank capacity: 5ml
Top and Side Fill Design
Dual bottom adjustable airflow
Direct to lung or mouth to lung compatible
Child lock
Works with Kanger OCC/SSOCC coils
1 x ceramic coil
1 ML 1.5Ω coil
Child Lock Design
DIY Kit Included
Velocity style RBA deck with dual Clapton coil
Video Review
https://www.youtube.com/watch?v=-1p06lA_U3Y
Total Views Today: 1 Total Views: 97