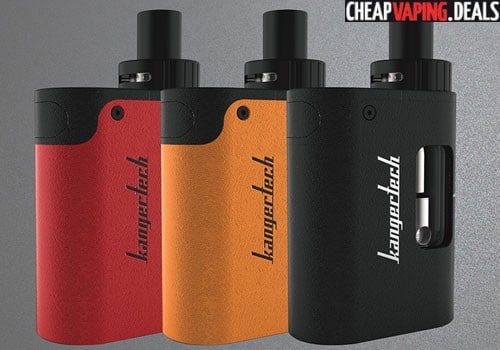 Check out these low prices for the Kangertech Togo Mini 4.0 Starter Kit.
Update: This Item Is Out Of Stock Everywhere – Check  Similar Mini Box Mod & Kit Deals Below
Overview
The TOGO Mini Version 4.0  by Kanger is an all-in-one box mod starter kit.  It features a compact form factor, an internal 1600mAh battery for long vaping times, an increased 3.8ml e-liquid capacity, USB charging, symmetrical airflow and a leak proof design.
This bundled setup is perfect for any vape beginner.  It sports a simple one button operation to make vaping easier than ever.  And, it features a durable finish and an ultra portable design that feels great when held in the hand.  This new look  allows for more symmetrical airflow that results in better vapor production and is also adjustable for a unique experience.  The tank utilizes CLOCC coils that are made of Nichrome to really bring out vape flavors.  The included heads fire with a resistance of 1.0ohm and are rated from 7 watts to 15 watts.
The mod features a leak-free internal tank that can hold up to 3.8mml of e-juice and is easily refilled from the top.  The tank section is made of Pyrex and can be conveniently replaced in case it breaks.
The Togo Mini mod is built with a 1600mAh internal battery that allows for extended vaping times, without a need for frequent recharging.  The mod is easily charged by plugging it into any USB wall outlet with the included cable.  Five LED lights illuminate/extinguish to allow for monitoring of the battery's voltage level.
Overall, if you are just starting your vape journey, the Togo Mini Version 4.0 may be your perfect device.  And, if you were a previous smoker, this bundled setup will bring you a satisfactory mouth-to-lung vape experience.
Features & Specs
Unregulated all-in-one box mod kit
Portable and ergonomic
Perfect for vape beginners
Leak resistant
Pyrex glass cup
Easily replace tank
Tank capacity: 3.8ml
Simple top fill system
Compatible with CLOCC Nichrome coils for flavorful vape
One button fire system
1600 mAh built-in battery
Micro USB charging
LED battery monitoring
Top adjustable airflow
510 drip tip adapter to use your own
Pictures
Video Review
Coming soon
Total Views Today: 1 Total Views: 156