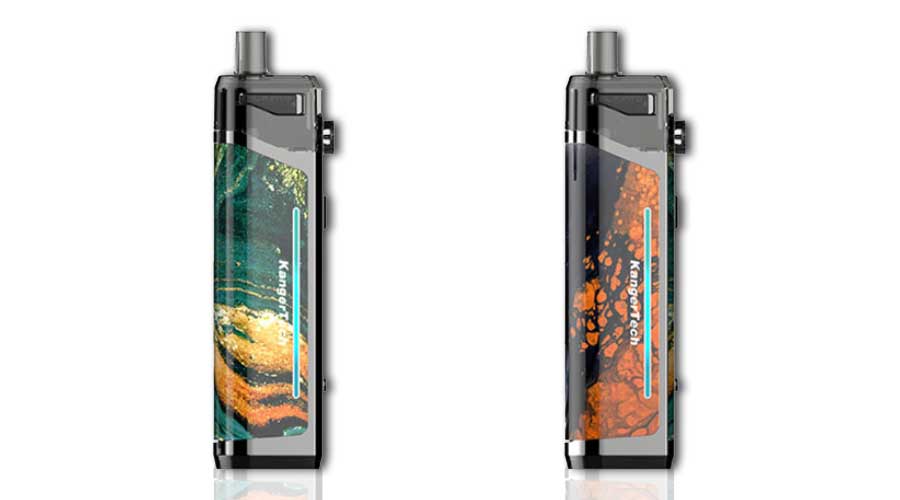 Kanger Ubar: 50 Watt Pod System Kit w/ 2000mAh Internal Battery 
Here are cheap deals to purchase the Kanger Ubar.  This pod system kit features portability, a built-in 2000mAh battery, power mode, 50 watts of maximum power, 4mL capacity pods, intelligent coil recognition, adjustable airflow control, fast charging, a customizable colorful LED, a display screen, a mesh coil, an MTL coil, and a multitude of safety features.
Stylish Design w/ Customizable LED
With beautiful patterns on the grip and dimensions of only 31mm by 23mm by 111mm, the Kanger Ubar Kit clearly does not disappoint as it is easily transported and is sure to turn heads.  However, there are only two finish options, Brown Flame Red and Mint Fluid Turquoise, perhaps because Kanger may be attempting to get the kit on the shelves in the USA and each color would have to go through its own FDA approval process.  On one side of the Ubar mod section, there is a color LED strip that cycles through red, yellow, yellow/green, light blue, purple, and green.  It is uncertain if it is possible to set your preferred color, but we will add this info soon.  On the large face, there's a monochrome display screen with vertical vape data statistics such as the battery charge level, the current power, the atomizer resistance, the current voltage, and a puff counter.  You may navigate the menu and change settings with two adjustment buttons underneath the screen.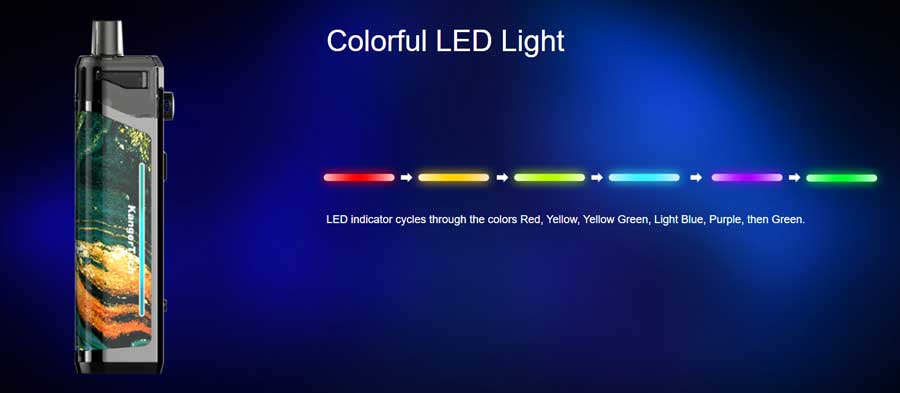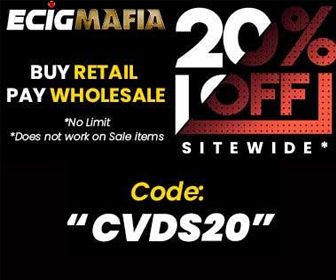 Three Modes
Unlike similar pod mod kits in the vape marketplace, the Ubar has more than just a single power mode.  In auto mode, the device intelligently recognizes the coil and will automatically change output to the best wattage.  In safe mode, the Kanger Ubar suggests a safe output range to avoid accidentally burning out the coil.  More advanced vapers may freely set the wattage anywhere from 5 watts to a maximum of 50 watts in custom mode.  And, an advanced protection system with overtime, high temperature, short circuit, open circuit, low voltage, and low resistance protection, ensures everything is completely safe.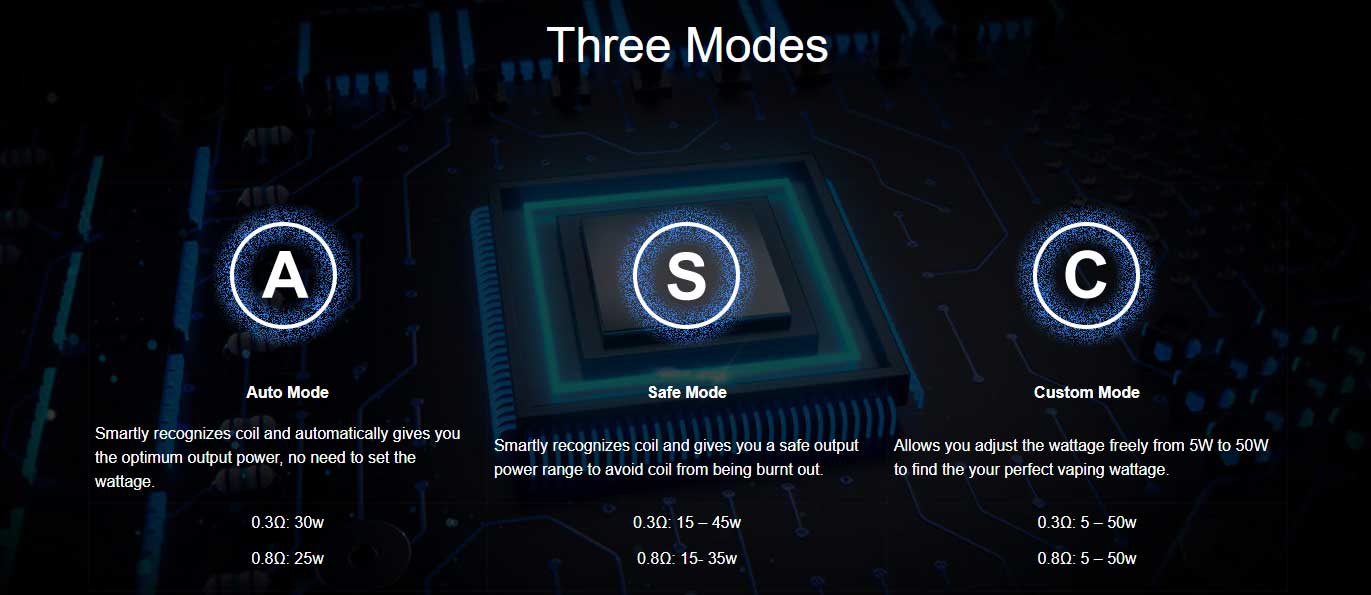 High Capacity Battery w/ Fast 2 Amp Charging
Built with a 2000mAh capacity battery, Kanger may have gone slightly overboard by integrating the Ubar with such a powerful cell.  You see, at 50 watts of maximum power, this cell should last all day without a recharge.  And, the cell is recharged with ease due to a  micro USB port on the control face that operates with a 2 amp current that concludes the process in under an hour.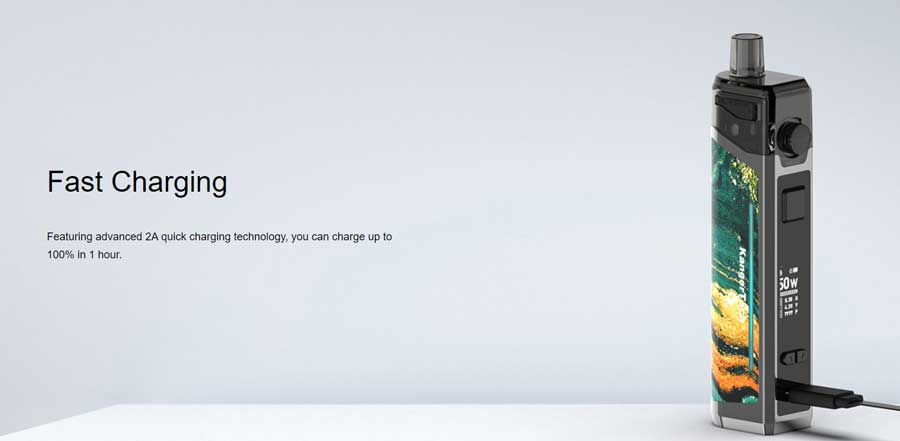 4mL Refillable Pods & 2 Coil Options
For convenience, the Kanger Ubar pod mod kit uses large 4mL capacity pods that should result in less frequent refills.  You may add vape juice via a side rubber plug that exposes a filling slot when opened.  Best of all, there is no need to remove the cartridge from the Ubar mod in order to do so.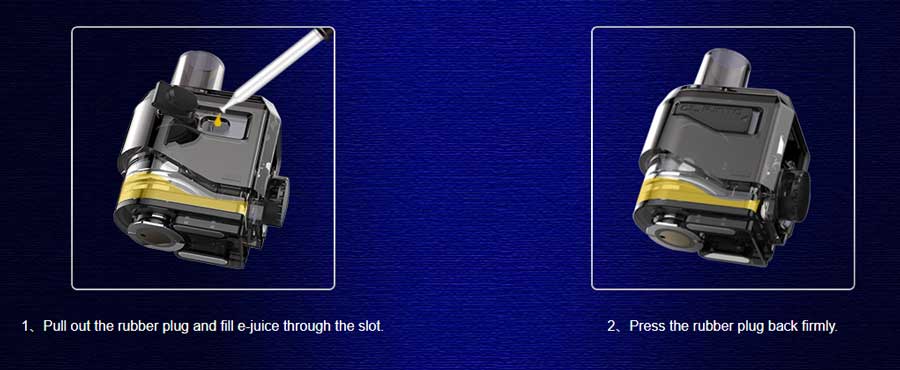 The Kanger Ubar kit uses two different kinds of coils.  For a direct-to-lung experience, there's a BS Mesh coil with 0.3ohm heating element for vaping in the range of 15 to 50 watts.  If you prefer to use a nic salt based e-liquid for a mouth-to-lung style vape, you won't be disappointed with the included BS 0.8ohm coil that operates between 15 and 45 watts.  Plus, a knob on the bottom/side of the cartridge permits adjustments of airflow to your liking.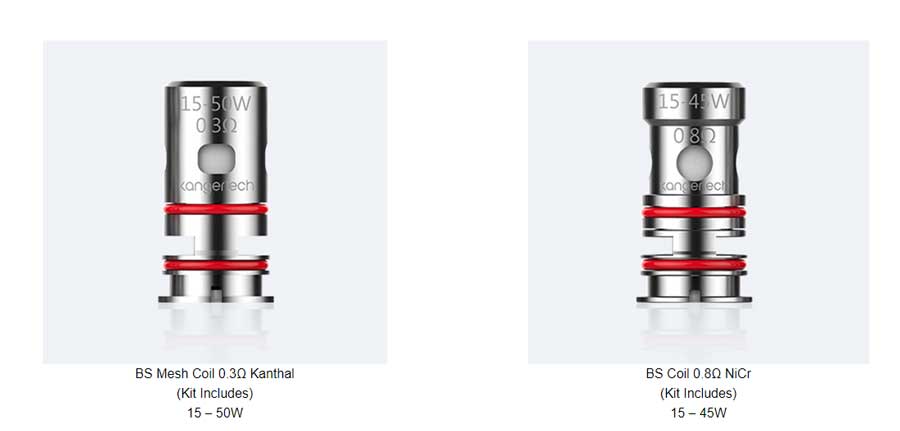 Kanger Ubar Kit Features & Specifications
Dimensions: 31mm x 23mm x 111mm
Weight: 150g
Colors: Brown Flame Red, Mint-Fluid Turquoise
Monochrome display screen
LED strip: cycles thru green, purple, light blue, yellow-green, yellow, red
High capacity 2000mAh battery
Micro USB charging: DC5V/2A
Full charging in less than an hour
Output power: 5W to 50W
Auto mode
 Safe mode
Custom mode
4ml pods
Top/side filling slot
Add e-juice with removing cartridge
BS Mesh Coil 0.3Ω Kanthal: 15 – 50W
BS Coil 0.8Ω NiCr: 15 – 45W
Adjustable airflow control on pod
Ergonomic mouthpiece
Low resistance protection
Low voltage protection
Open circuit protection
Short circuit protection
High-temperature protection
Overtime protection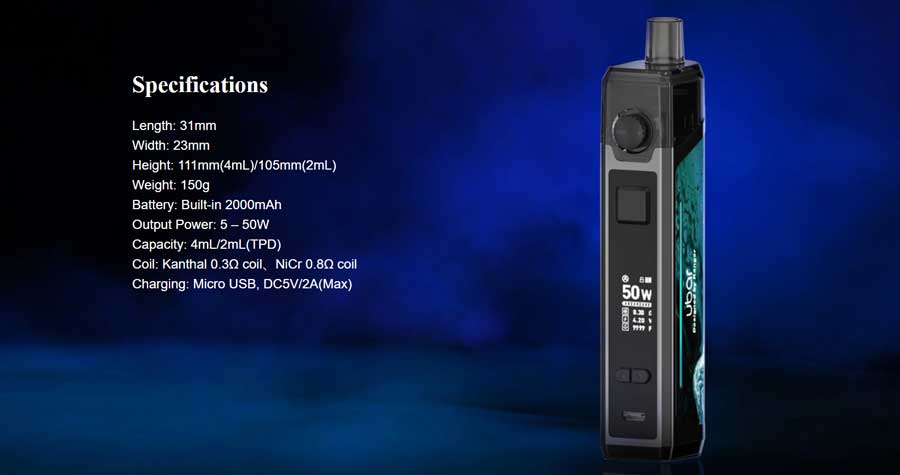 In The Box
The standard edition of the Kanger Ubar kit comes with the device, a 4ml pod, a 0.3ohm BS mesh coil, a 0.8ohm BS coil, a charging cable and a manual.  For those in the EU, the TPD edition replaces the 4ml pods with 2ml ones.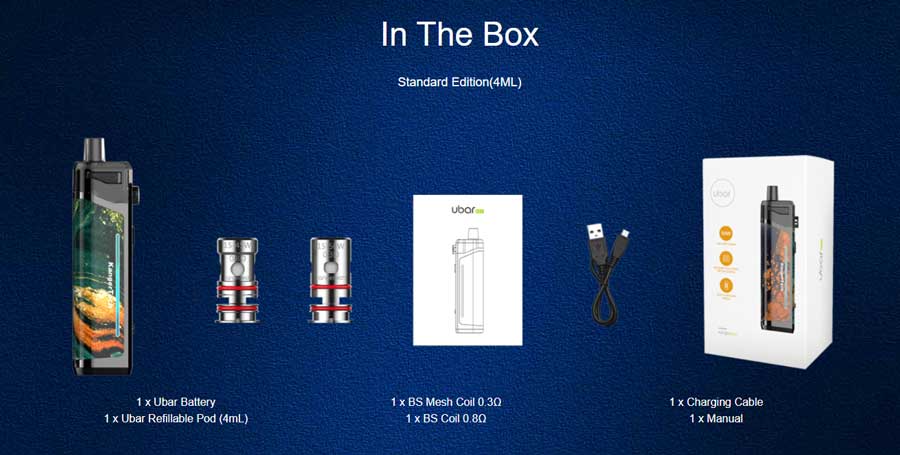 Related
Total Views Today: 1 Total Views: 192