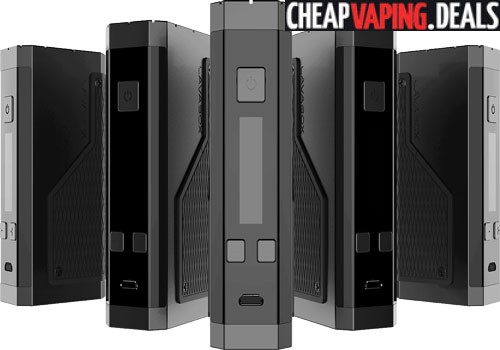 LavaBox DNA200 Box Mod Deal
Here's a great deal on the brand new Lavabox DNA200 from Volcano.
Overview
The new Lavabox DNA 200 by VOLCANO is a very nice looking box mod  that has been made to give the user an awesome vaping experience.  What's special about this device is that it's one of the first DNA200 mods to hit the market at an affordable price.   This Volcano version, featuring Evolv's DNA chip board, is constructed out of aluminum metal alloy, similar to what is used in aircraft wings.  That makes it lightweight, strong and not easily damaged or scratched.  The device itself is covered with oxidized paint making it resistant to slippage and resulting in a hardy  look. It can be purchased in black, red, white or blue.
The box mod is made with a 510-connector, which is enclosed with airflow holes that go into the atomizer itself.  This leads to enhanced airflow and results in huge vape clouds.  Since the center pin is spring loaded, you can ensure that your sub ohm tank or other atomizer will stay in place.  The pin on the connector is gold-plated for maximum conductivity to enhance operation, particularly  when setting the mode to temperature control.
The Lavabox  features a a crystal-clear, high definition OLED display with indicators for voltage, wattage, temperature, battery level, number of puffs taken and the resistance of the attached atomizer.  The device also comes with Evolv's desktop software to manage it.  Simply install the software onto your PC and hook up the Lavabox  via USB.  You can then personalize your vape settings right from your office desk and update to the mod's latest firmware.
It is also a variable voltage & wattage and temperature control device.  It can fire atomizers up to 200 Watts, adjustable in increments of 1W.  If utilized with a Pure Nickel or Titanium coil head, the Lavabox DNA200 can automatically adjust the temperature to ensure a satisfying, rich vape.  Or, you can adjust the temperature to satisfy your preferred vape.
Inside the vape mod, you fill find a powerful 900 mAh lythium battery to ensure you can vape all day on a single charge.  No more changing batteries in the middle of the day.   The internal battery is charged via USB in a very short hour and a half.
Overall, the Lavabox is powerful, well-designed and rich in features, including safety features such as short circuit, over-charge and voltage protection.
Lavabox Features
Made of  6061-Aluminum Alloy
Rubber-coated Polypropylene Plastic Coating
Variable Voltage and Wattage
Temperature Control
High Definition OLED Screen
90-Minute Lightning Fast Charging Via USB
Upgrade Firmware
Over-Discharge Protection
Under & Over Voltage Protection
Short Circuit Protection
Over-Current Protection
Lock/Unlock On The Fly
LavaBox  Review