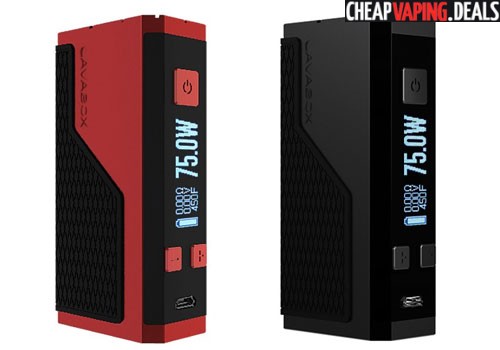 Here's some awesome deals on the Lavabox M Box Mod. This mod has pretty much sold out and won't be back. Check out our Evolv DNA Mods section for alternatives.
Overview
The Lavabox M is the mini version of Volcano's regular Lavabox.  It features a much smaller size, an easy battery panel, can be completely customized and is powered by an Evolv DNA 75 chip.  It is available in black and blood red.
Compared to the larger Lavabox, the Mini DNA 75 is 20% smaller.  It is made from from durable 6061-billet aluminum to make it lightweight and durable.  The design is very similar to the regular Lavabox with a durable black anodized finish which has been treated with an oxidized paint finish for amazing ergonomics and to prevent slippage.  There's also an acrylic screen to further enhance longevity, as well as prevent dents or scratching.
The M mod also features a rubberized grip which is not screwed down, but utilizes powerful magnets to firmly keep it in place.  This allows for swapping of the single 18650 battery which is stored behind the grip that easily slides off.  For battery longevity, it is always recommend to charge the cell externally, but you can also use the box mod's on-board charging technology and simply plug it in to top off the battery.
The 510 connection bezel is located at the top and features a brass plating with a springloaded center pin.  This allows for easy atomizer installs and maximum electrical conductivity.
The OLED on the control face is very similar to other DNA75 box mods and displays all the important info including battery levels, voltage, wattage, mode and much more.
The Lavabox M is built with an Evolv DNA 75  known in the industry for being a highly versatile chip set and providing very accurate operation.   As a result, the maximum output power is 75 watts, the maximum temperature  is 600 Fahrenheit and atomizers can be fired down to 0.15Ω.  Temperature control modes are available with nickel, titanium and stainless steel heating elements and there's also TCR mode to set the resistance coefficient for your particular coil head.
The portable box mod is also fully customizable by using Escribe desktop software which allows to 93 alternate vape options, as well as future firmware upgrades to keep the device current.  You can also input up to 8 different profiles with your favored settings.
The DNA 75 chip also features many safety protections such as patented wattage control, under/over voltage protection, over-puff time protection, over charge/discharge protection, short circuit protection and over current protection.
Features & Specs.
Dimensions: 26.6mm x 85mm x 43.8mm
20% smaller than DNA 200 Lavabox
Made from high quality aluminum alloy
Stealth rubber coated polypropylene plastic shell
Acrylic glass screen
Magnetic battery panel
Bright OLED Display
Powered by the DNA 75 Chipset from EVOLV
Power range: 1W to 75W
Temperature range: 200°F to 600°F or 93°C to 315°C
Voltage output range: 0.2V to 6.2V
Power mode resistance range: 0.25Ω to 3.0Ω
Variable temperature resistance range: 0.15Ω to 1.0Ω
Continuous current output: 30A
Peak current output: 40A
Temperature control with nickel, titanium and stainless steel
TCR mode
Customize with eScribe
Preheat system in TC mode
Firmware upgrades
Powered by a single 18650
USB 1A charging
8 memory slots
Wide range of safety features
Lock device
Total Views Today: 1 Total Views: 75,813