Check out this awesome price for the Limitless  200W Box Mod, now available in new colors: Metal Scratch, Woodburn Triangle & Color Burst.  This mod is so old you literally won't be able to find it, so check out other 200-watt box mods.

Limitless LMC Mod Overview
The latest addition to the Limitless line of devices is the 200-watt box mod that features interchangeable plates for a brand-new look whenever you like.  With 23mm x 92mm x 63.5mm measurements, the mod is quite small for a 200-watt device and will fit comfortably in hand.  Limitless spent six months to make the device perfect, with the main goal being the ability to change the entire look anytime.   As a result, the company integrated interchangeable magnetic plates, of which one side also doubles as the battery door.  The control face of the Limitless 200W has a mirrored display screen with all the indicators you need, such as wattage, voltage, temperature, battery level, and more.
The LMC 200W features a brand-new & unique chipset, giving it 200 watts of power and temperature control functionality.  It can be set to several modes: voltage, power, and temperature control with nickel, titanium, and stainless steel.  This mod also features three alternate fire modes: soft, standard, and powerful.    In temperature mode, you can fire in the range of 220°F to 580°F with a low atomizer resistance of 0.08Ω, making it compatible with a wide range of builds and tanks.
The box mod's battery bay is behind one of the interchangeable magnetic panels and stores two external 18650 batteries.  The battery cells should have a continuous discharge of 20 amps or more.  There are also plenty of safety features, including reverse polarity protection, short circuit protection, low resistance protection, low voltage cutoff, high-temperature protection, over puff protection, and high amperage protection.
Features & Specifications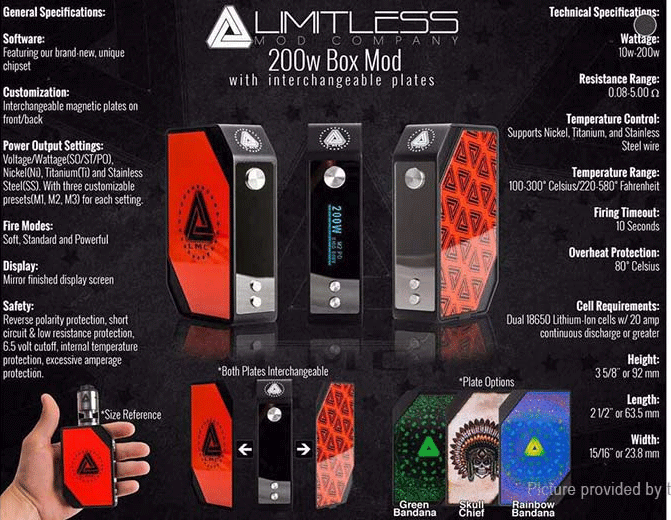 Total Views Today: 1 Total Views: 385