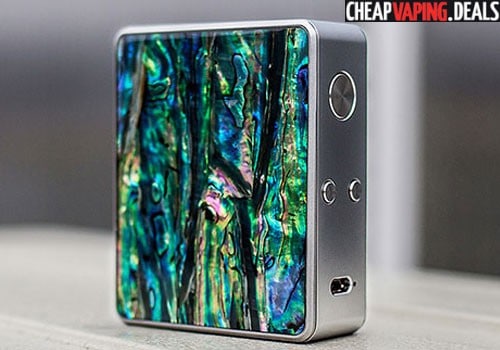 Check out this fantastic deal on the Lost Vape ESquare Box Mod.
Update: This Item Is Out Of Stock Everywhere – Check  Similar Evolv DNA Mods Below
Overview
The Esquare DNA 60 mod by Lost Vape continues the amazing designs of the company's Esquare series.  The new mod integrates a dual battery setup and is built upon Evolv's DNA 60 platform.
An Evolv DNA60 setup features patented power/temperature control, a preheat system, a 0.96″ OLED, DNA buttons and amazing efficiency.  Escribe computer software allows for customized settings and detailed statistics to further enhance the vape experience.  All DNA devices are said to be the pinnacle of vaping technology and the Esquare DNA 60 is no exception.  The mod features a maximum output of 60 watts, temperature control with all coil types and a temperature range of 200 to 600 degrees Fahrenheit with resistance down to 0.15ohm.
Powered by dual 18650 cells, the Esquare by Lost Vape features  long vaping times at its maximum 60 watts of output.  Batteries are conveniently accessed by removing one of the battery panels to reveal the battery bay with gold plated contacts and a ribbon for easy removal of the cells. The batteries can be charged while stored inside the mod via the USB port that charges at a fast 2 amps of current.   The USB port is also used for firmware updates and allows interaction with Escribe software to customize settings and see mod statistics.
The unit is portable, is built from die cast zinc alloy and features three battery panels options to choose from: abalone, wood and carbon fiber.  A 0.91″ screen is located on the side control face and displays a convenient and intuitive menu.  The mod features DNA 60 buttons with a large firing button for easy operation.  At the top, you will see a stainless steel 510 threaded connection bezel with a springloaded center pin that is nickel plated for good electrical conduction.
Overall, if you are looking for a portable mid-wattage mod with accurate operation and long vaping times, the Lost Vape Esquare may be exactly what you've been searching for.
Video Review
Features & Specifications
Made from die cast zinc alloy
Available with abolone, wood or carbon fiber panels
Small and portable
510 threaded connection with springloaded/nickel center pin
Large firing button
0.91″ OLED display
Swappable magnetic battery panels
Powered by dual 18650 external batteries
Battery bay ribbon
Gold plated contacts
Micro USB balanced charging at 2A
Micro USB upgrades
Patened Evolv DNA 60 chip board
Preheat functionality
Power output range: 1W to 60W
Temperature output range: 200°F to 600°F
Temperature control compatibility: Ni, Ti, SS
Resistance range power mode: 0.25Ω to 3.0Ω
Resistance range temperature modes: 0.15Ω to 1.0Ω
Voltage output range: 1V to 9V
Max continuous current: 22A
Customize settings Escribe desktop software
Lock mode
Stealth mode
Resistance lock
Auto-detect resistance
Power preset mode
Power lock mode
Atomizer protection
Low resistance protection
Reverse polarity protection
Low resistance protection
Overheat protection
Short circuit portection
Low voltage protection
Efficiency: 85%
Total Views Today: 1 Total Views: 210